Covid: UK infections continuing to rise
By Smitha Mundasad
Health reporter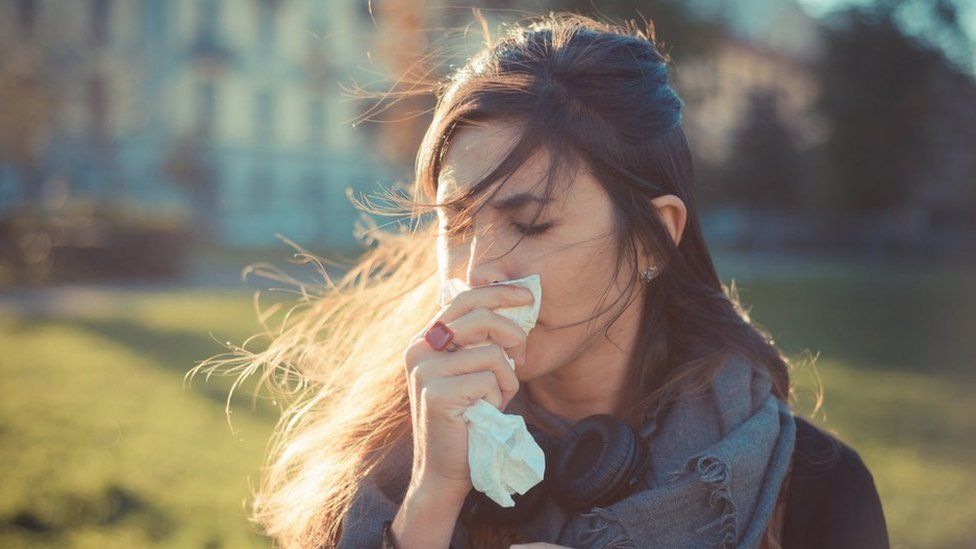 The data suggests about 1.7 million people were estimated to have Covid in the week ending 18 June.
This is about one in 35 people - an increase of 23% on the week before.
Experts say two new fast-spreading subvariants of Omicron - called BA.4 and BA.5 - are likely to be driving new infections.
BA.4 and BA.5 now make up more than half of new Covid infections in England, the UK Health Security Agency (UKHSA) says.
UKHSA officials expect more people to test positive in the next few weeks.
People can catch the newer variants even if they have had coronavirus recently.
But BA.4 and BA.5 Omicron are not thought to be any more lethal than other types of Covid. Vaccines are still saving lives. Most people will not be very ill with Covid.
Prof Sir Jonathan Van-Tam, who until recently was England's deputy chief medical officer, told the BBC the country was in a different situation from the peaks in infections earlier in the year.
He said: "I don't wear a face covering, but if there were circumstances where I felt it was a really closed environment, with very high crowding and very intense social interaction, then those are the situations where I might think 'should I or shouldn't I?'.
"And I think people have got to learn to frame those risks for themselves."
The professor, who is now pro-vice-chancellor at the University of Nottingham's faculty of medicine and health sciences, told BBC Radio 4's Today programme that it was time to start reassessing how we think about Covid, thanks to the success of vaccines.
"In terms of its kind of lethality, the picture now is much, much, much closer to seasonal flu than it was when [coronavirus] first emerged.
"And you know, we just accept in the winter that, if you've got seasonal flu and you're poorly for a few days, it disrupts your life. And so I think we've got start to frame Covid in a little bit more of those terms."
He said experts would continue to watch closely for any large rises in severe illness and more people ending up in hospital or intensive care.
Kara Steel, senior statistician at the ONS, said the latest data suggested the largest increases in people testing positive were in Scotland.
She added: "In England, infections increased across all age groups, with the lowest level of infection seen in school-aged children."
The stats are collated by testing thousands of people from UK households - whether or not they have symptoms - to estimate how much virus is around.
In the week ending 18 June, estimated Covid rates were:
One in 40 in England - up from one in 50 the week before
One in 45 in Wales - the same as the previous week
One in 30 in Northern Ireland - up from one in 45
One in 20 in Scotland - up from one in 30
The number of people in hospital and in intensive care with the virus is still below the peaks of earlier this year, but health officials are stressing vaccinations are still important.
UKHSA data suggests there have been some rises in Covid in care homes, and more people over 75 are ending up in hospital than in recent weeks.
UKHSA epidemiologist Dr Mary Ramsay urged people in this age group and those living in care homes to get their spring booster vaccines.
She said: "Our data also show that 17.5% of people aged 75 years and over have not had a vaccine within the past six months, putting them more at risk of severe disease."
Booster jabs have been available since spring, for people 75 and over, living in care homes and those who are clinically vulnerable.
Related Internet Links
The BBC is not responsible for the content of external sites.