The areas with the fewest GPs revealed
By Nick Triggle
Health correspondent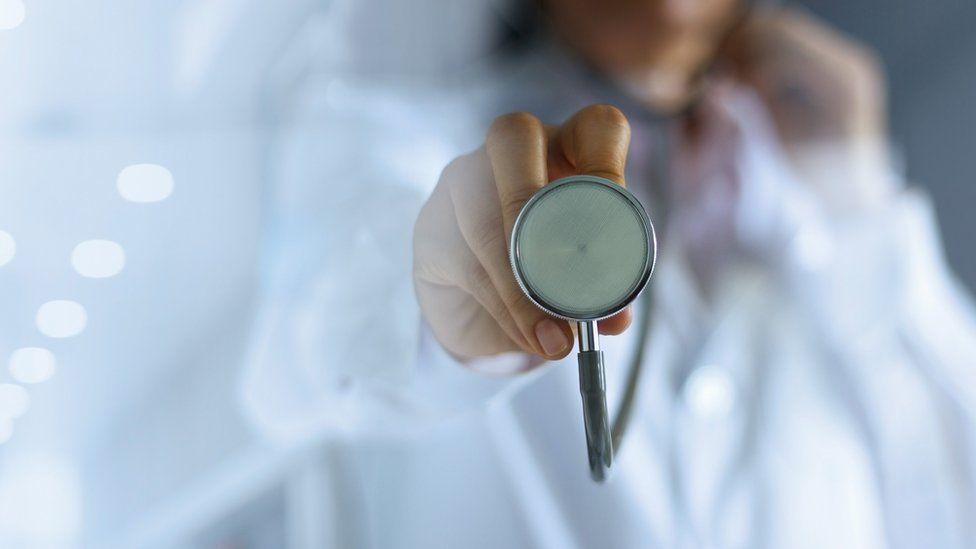 A shortage of GPs has left some areas of England having to cope with half the number of doctors than other areas, an analysis for the BBC has found.
The Nuffield Trust data showed Portsmouth, Brighton, parts of Essex and Hull had the fewest GPs, with fewer than 50 GPs per 100,000 patients.
That is the equivalent of more than 2,000 patients for every GP.
It comes as patient groups warned access to doctors was becoming one of the biggest problems for the NHS.
Billy Palmer, of the Nuffield Trust, said: "In an NHS founded on the principle of equal treatment, such stark differences represent a serious failing."
The two-fold variation in GPs holds even when the age and health of the local population is taken into account to factor in how often patients are likely to need a GP, the analysis showed.
'I spend days on end trying to get GP appointment'
Yolanda Barker has multiple sclerosis. It means she needs more regular GP appointments than most.
But she is finding it increasingly difficult to get the help she needs from her local practice in Kent.
Yolanda, 50, says she can spend "days on end" trying to get through.
"They have an hour in the morning from 8am to 9am when you can make online appointments. If you miss that you have to resort to the phone. I've spent 40 or 50 minutes on hold trying to get through. Sometimes you can't - or you give up.
"I've resorted to looking at the internet to try to self-manage my problems. I've been suffering quite a lot of pain recently and have irritable bowel syndrome.
"But there are other things you need that I can't do myself - it could be that I need a change of medication or physio.
"It is great when you do get a face-to-face appointment, but even then it feels so rushed. It is like a conveyor belt."
Patient watchdog Healthwatch England said a quarter of the complaints it handles from patients now relate to GP services.
National Director Louise Ansari said: "People are telling us about difficulties getting through to their local practice, with online booking systems, long waits on the phone and a lack of face-to-face appointments providing them with challenges.
"The lack of easy access puts people's health and wellbeing at risk, and increases demand on overstretched hospitals."
The sentiments were echoed by GPs working in the areas with the fewest doctors.
Hull GP Dr Matthew Fortnam said: "You have the perfect storm where we have the most need but the least capacity to deal with it. It creates inequity and actually perpetuates it."
The Royal College of GPs said there was a shortage of GPs, with increasing numbers walking away from the profession by retiring early or reducing their hours - less than two-thirds of the workforce now work full-time.
The trend is undermining the government's efforts to recruit 6,000 extra GPs in England during this parliament, college president Dr Martin Marshall said.
Latest data shows the number of qualified GPs has actually fallen slightly in recent years.
While this data relates to England, similar pressures are being seen in the rest of the UK.
Dr Marshall told the BBC the result was that workloads were growing, and the job was becoming "undoable".
"GPs can be seeing up to 50 patients a day. That's potentially unsafe. It's depressing - we know patients are not getting the service they want. The job is no longer enjoyable."
A Department of Health and Social Care spokeswoman said the government was "working hard to support and grow the workforce".
She pointed out the number of trainee doctors was increasing, while other staff - such as practice nurses, physios and pharmacists - were also being invested in, to work alongside GPs.
Additional reporting by Lara McNeil