The bitter fight over abortion clinic protests
By Anna Collinson and Louis Harris-White
Newsnight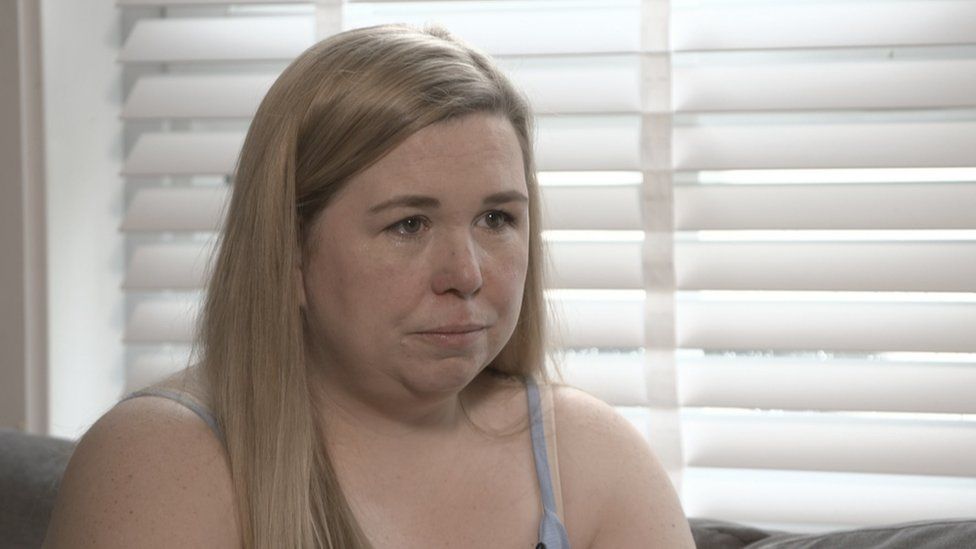 It is more than four years since the UK's first so-called buffer zone was set up outside an abortion clinic in the London borough of Ealing.
The aim was to prevent anti-abortion campaigners approaching - and often upsetting - patients.
Pro-choice campaigners had hoped buffer zones - which are legally-protected spaces - would soon become the norm.
But since 2018, only two more have been created in England, and BBC Newsnight has been told women are being regularly harassed.
Anti-abortion groups deny their gatherings target women, and say that instead they are prayer vigils meant to offer help and support.
They say that rolling out buffer zones would "criminalise prayer".
However, patients say gatherings can make them feel "fear", "distress" or "shame".
Pro-choice campaigners say the current requirement for evidence to support the establishment of a buffer zone is too demanding.
They point to an example in Bournemouth where hundreds of pieces of evidence said to demonstrate the negative impact gatherings have had outside the local clinic were submitted to the council. These included statements from women with learning difficulties, teenagers and rape victims.
A buffer zone has not been enforced.
A study by Aston University found that anti-abortion campaigners draw public attention to people entering and leaving abortion clinics, and sometimes persist in trying to persuade women not to go ahead with the procedure after being told they do not want a conversation.
And pro-choice campaigners believe that a potential change in US abortion law - in which individual states may decide on its legality - could further "embolden" UK gatherings.
With a rise in early medical abortions at home, triggered by the Covid-19 pandemic, it is often now women with more complex cases who are attending clinics and witnessing anti-abortion activity - such as Lauren.
When she was 20 weeks pregnant, her "world was completely shattered" when doctors told her that her baby had little chance of survival because of a heart complication.
The 33-year-old, from Glasgow, spent the following days trying to contemplate whether to end her pregnancy.
She also found out she was due to have a girl, and named her Riley.
"It was the hardest decision I've ever had to make," Lauren says, "but then it was the easiest.
"I knew I was doing what was best for her - but it was hard because I didn't want to give her up.
"I remember every second - I remember saying goodbye.
"It was the hardest time of my life."
Lauren's trauma was aggravated by having to pass gatherings outside the Queen Elizabeth's maternity unit.
"They're a dark presence," she says.
"It's hard enough losing your baby and knowing you've made that decision - but when you see signs saying, 'abortion is murder', you feel so judged.
"I would keep my eyes closed until we reached the hospital."
Ealing Council set up the first buffer zone outside an abortion clinic in 2018 by enforcing a public space protection order, giving local police the power to move, or even fine, anyone who breaches it.
Pro-choice campaigners then hoped protected spaces outside abortion services would become the norm - but only two more have been created, in Richmond in London and Manchester.
More than 100,000 women in the UK attended abortion services targeted by activists in 2019, according to the latest data from the British Pregnancy Advisory Service (BPAS), a leading provider of abortions.
A BPAS clinic in Bournemouth is one of the most affected.
Anti-abortion campaigners stand near the entrance, so that anyone arriving or leaving has to walk past them.
They may try to speak to patients or hand them leaflets the clinic says contain "misleading or medically inaccurate" information.
One staff member says she has been followed and repeatedly called a "murderer".
Fellow midwife Miranda says: "Some take it in their stride - but when those people are outside, there will always be at least one client who is distressed.
"We might have to help bring them in or escort them out.
"Patients come to us for various reasons and that's no-one else's business - but we do see very vulnerable people, and that's the last thing that they need."
The team at this clinic has been calling for a buffer zone for more than five years and showed Newsnight nine folders, including more than 580 handwritten statements, they say demonstrate the negative impact gatherings have had.
Separately, the local Sister Supporter Group has collected more than 100 pieces of "evidence", including photos of babies' clothing in nearby bushes.
Bournemouth, Christchurch and Poole Council has viewed most of this content. It says the situation is under consistent review and if the "evidential threshold is met, formal action will be considered".
One of the largest anti-abortion movements in the UK, 40 Days for Life, which originated in the US, holds prayer vigils outside abortion services every Lent and autumn.
During those 80 days, 25 of the busiest abortion clinics and hospitals in England and Wales experience "regular protests", according to BPAS.
They can range from a few days a month to every day.
"Standing in the street does not constitute harassment - we offer help and we pray," international campaigns director Robert Colquhoun says.
"For a small number of women, that help is of interest and has been taken up many times."
And any volunteer would be "immediately disassociated" if they acted inappropriately.
Efforts to address activity outside abortion services differ across the UK.
Following increasing concerns for women's welfare, governments in Northern Ireland and Scotland are taking steps towards potential national buffer zone legislation.
Northern Ireland recently passed a bill to create buffer zones - but this has been referred to the Supreme Court to decide whether it interferes with rights to protest.
In Scotland, the first minister has promised to chair a round-table summit to discuss buffer zones, after expressing support for them.
The situation remains under review in England and Wales.
Some contributors asked that their surnames be withheld