E-scooter ambulance callouts double in a year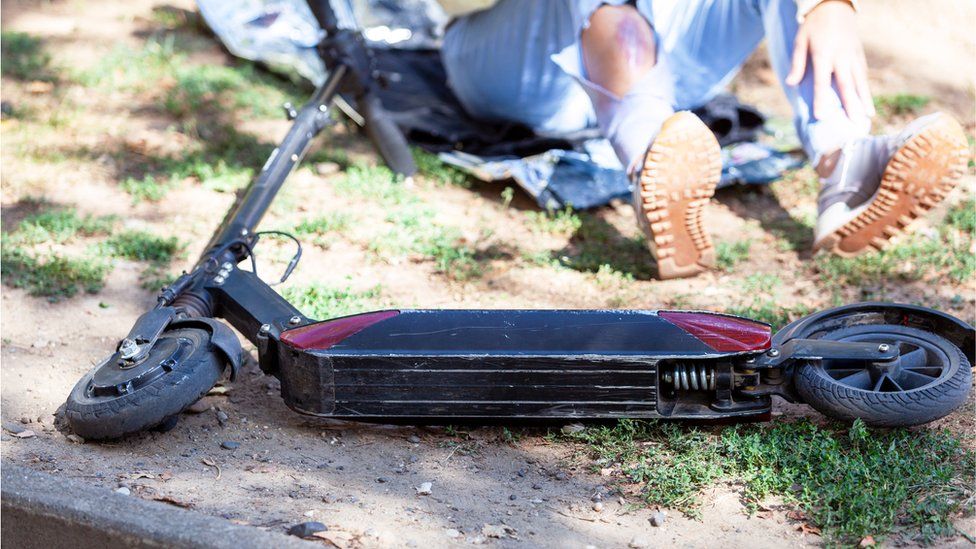 The number of ambulances called to deal with e-scooter accidents nearly doubled between 2020 and 2021.
The emergency services attended 713 accidents in 2021, compared with 392 in 2020, although it is not known how many more scooters were on the road.
NHS Ambulance Trust data also showed a 40% rise in e-scooter riders being taken to A&E in the same period.
The government is considering making e-scooters legal for road use in England next month, after trials across the UK.
The figures cover ambulance callouts for seven trusts in England, Wales and Northern Ireland, and 95% of the injuries were to riders, with the other 5% to pedestrians.
A total of 173 patients were treated at the scene and then taken to A&E in 2021, compared with 124 in 2020.
The Major Trauma Group, which obtained ambulance data from the NHS, wants the government to improve safety standards if it is to go ahead with legalising e-scooters.
The group's chairman, Trevor Sterling, said: "It is essential that we address the serious safety concerns arising from e-scooter trials, for the safety of all road users."
He wants users to need a driving licence, and for there to be a minimum age requirement.
The rules across UK trials vary at the moment, with some companies requiring users to hold provisional or full driving licences, fulfil minimum age requirements and undertake training courses before using the scooters.
The maximum speed limit for e-scooters is 15.5mph (24.9km/h), with some cities also enforcing slower speeds of 8mph in busier areas.
However, private scooters can reach up to 68 mph.
The most common injuries identified in 83 patients were limb, spinal and rib fractures.
Conclusions from the study were that e-scooters were capable of causing serious injury, and operations were often needed after accidents.
Transport Secretary Grant Shapps has indicated that legislation, which includes legalising all e-scooters, could be included as part of the Queen's Speech on 10 May.
Currently they can only be used on England's roads as part of rental scheme trials, but many privately owned ones are often spotted around towns and cities.
Government-approved trials have recently been extended to the end of November as part of a drive to increase local travel and lessen the strain on public transport services.
Rental scooters must have a number of safety features, like maximum speed and automatic lights.
Mr Shapps told the Commons Transport Select Committee that "in the future I want to crack down on the illegal use on roads of non-compliant e-scooters".
Related Internet Links
The BBC is not responsible for the content of external sites.