Covid: React study finds latest wave 'may have peaked' in young
By Jim Reed
Health reporter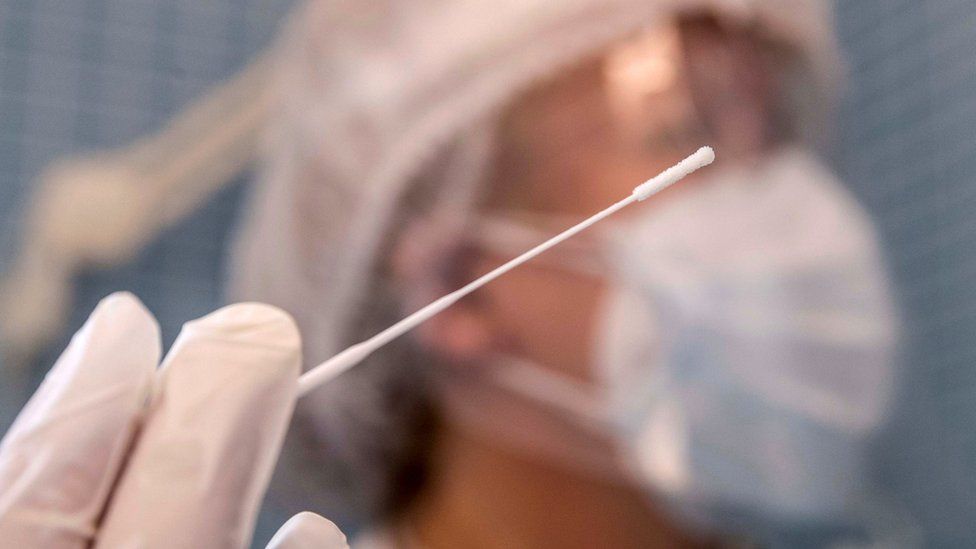 There are signs that the latest wave of Covid infections may have peaked in children and younger adults, according to scientists tracking the outbreak.
But rates in those older groups most vulnerable to severe disease are continuing to increase in England.
Overall infections in March rose to the highest level recorded in the pandemic, Imperial College's React study found.
Based on swab tests taken from a random sample of 109,000 individuals between 8 and 31 March, it was estimated that 6.37% of people in England had the virus - up sharply from 2.88% in the previous month.
The figures showed an "unprecedented" rise in household infections in all age groups and regions since February, when most outstanding Covid restrictions came to an end in England.
But towards the end of the study period, the authors found that infections appeared to have peaked in children and to be "plateauing" in adults aged between 18-54 years.
"We are reassured that [the rates] in younger groups seem to be coming down - they can't go up forever," said Prof Paul Elliott, chairman in epidemiology at Imperial College London and director of the React programme.
But he added it was "worrying" that the virus was continuing to spread in people aged 55 and over, whose health is deemed to be most at risk from a severe Covid infection.
On 31 March, an estimated 8.31% of the over-55 age group would have tested positive, according to the data - nearly 20 times the average prevalence recorded since the React survey started in May 2020.
The team at Imperial said data from mobile phones and other sources suggested there had been a rise in socialising and mixing in recent weeks.
"We also know many older people had their booster way back in October or November last year so it's likely there will be some waning of the vaccine against infection, if not hospitalisation," said Prof Elliot.
Almost 3,400 positive samples taken in March were genetically sequenced in a laboratory to determine the variant involved.
The BA.2 version of Omicron, which is now dominant in the UK, was responsible for around 90% of cases.
But the results also showed five infections were caused by a new form of the virus, currently known as Omicron XE.
It's thought this version is a mix - or recombinant - of the Omicron BA.1 and BA.2 variants which could have emerged when a patient was infected with both at the same time.
The World Health Organization has said early tests suggest XE could be around 10% more transmissible than BA.2, but the findings require more investigation.
The React study, which tests more than 100,000 individuals in England at random most months, has been in place since the first wave of Covid in 2020.
The data it generated helped scientists quickly identify a number of important turning points in the pandemic, including the emergence of what went on to become known as the Alpha variant in late 2020.
It has now reported for the final time, after the government decided to stop funding a number of research projects as part of its Living with Covid strategy.
Prof Elliot described that decision as "disappointing" but said the UK was fortunate that a separate population-wide infection survey, run by the Office for National Statistics (ONS), would continue for the foreseeable future.