Covid: Spring booster jab launches for over-75s and high risk in England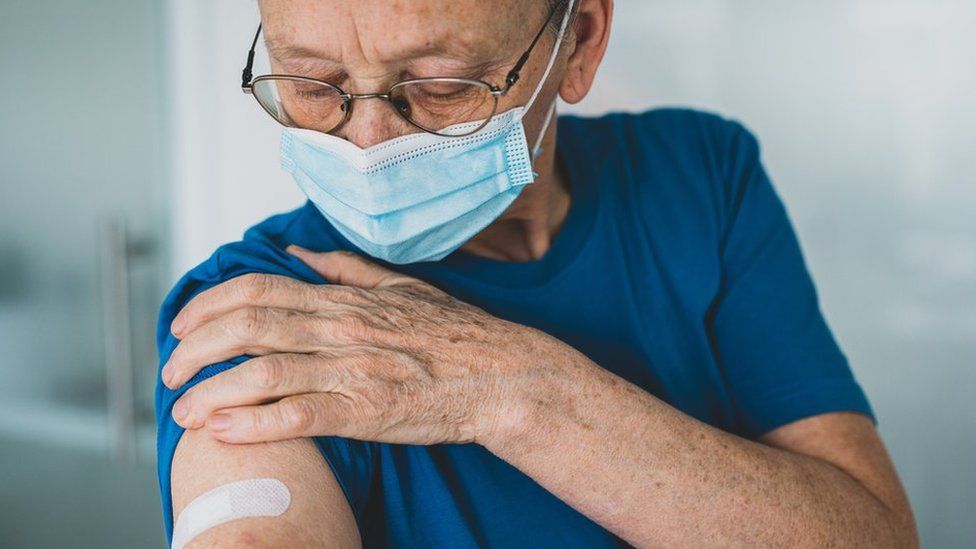 People aged 75 and over, residents in care homes and those with weakened immune systems can now book an extra booster jab against Covid in England.
The rollout follows recommendations from the UK's vaccine advisers who say additional jabs will help boost protection for the most vulnerable.
Spring boosters are already being rolled out in Wales and Scotland.
A wider booster programme - involving more people - is expected this autumn.
Health Secretary Sajid Javid said that people with symptoms of the virus should "behave sensibly" but he said that it would be down to the individual to decide whether or not to take a test.
"I think we need to step back and think about how we learn to live with Covid and focus on our very best form of defence and that's the vaccination programme," he said.
While vaccines have been shown to provide good protection against severe disease, protection wanes over time.
And as many of the oldest received their last jab in autumn 2021, their immunity may now be declining, experts say.
Now, a second booster - to be administered six months after the previous dose, or sooner if deemed appropriate - will be offered to:
adults aged 75 years and over
residents in a care home for older adults
individuals aged 12 years and over who are immunosuppressed, or have weakened immune systems
Over seven million people in the UK will be eligible to have the extra booster jab - with the first 600,000 people in England to be invited from this week.
Dr Nikki Kanani, GP and deputy lead for the NHS's vaccination programme, urged everyone eligible to book their boosters as soon as possible.
She said: "With infections rising this is a really important opportunity for people who are eligible to come forward and get booked and get their spring booster."
Adults eligible for the jab will be offered the Moderna or Pfizer/BionNTech vaccine
Young people aged 12 to 18 will be offered the Pfizer/BioNTech jab
The extra jabs will be given around six months after the last dose of vaccine.
Across the UK more than two-thirds of people aged over 12 have had two Covid vaccines plus a single booster jab.
A first booster dose is currently available for everyone aged 16 and over, and at-risk children aged 12 to 15.
But up until now only people with severely weakened immune systems had been eligible for a fourth dose - three doses plus a booster.
The Joint Committee on Vaccination and Immunisation has suggested further boosters will be offered to a wider group of people in autumn.
Experts believe winter is likely to be the season when the threat from Covid is greatest - for individuals, the NHS and care homes.
Recent research from the UK Health Security Agency has shown that the NHS booster programme has helped prevent around 157,000 hospitalisations since mid-December.
Despite this NHS hospitals have treated more than 100,000 patient with Covid since the start of the Omicron wave.
Related Internet Links
The BBC is not responsible for the content of external sites.