Covid: What Israel tells us about the way out of the pandemic
By Rachel Schraer
Health reporter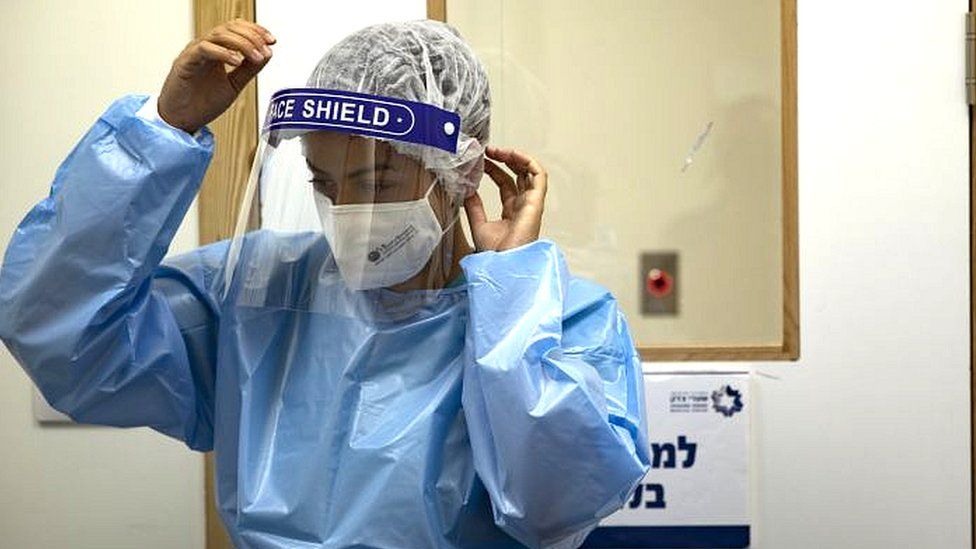 Israel's booster vaccination programme - offering a third shot to over-40s - has begun to show signs of success.
But the country's recent spike in cases has ignited debate about the future of the vaccination programme and the ongoing pandemic.
It had virtually returned to normal life by this spring, cases stayed low and it looked like vaccination had more or less quashed Covid.
From July, though, cases started to rise again.
Since Israel surged ahead in immunising its population last winter, the rest of the vaccinated world has turned to it to understand what might be in store in the coming weeks and months.
The country's own health leaders will be keeping a watchful eye on cases after schools reopened on 1 September, while next week, Rosh Hashanah, the Jewish new year, will see groups gathering.
Although the country rolled out jabs quickly and take-up was relatively high, there are still a million people out of its roughly nine million overall population who are eligible for the vaccine and haven't taken it up.
Israel is also a relatively young country, with about a third of its population under the age of 14. Under-12s are not eligible for the vaccine unless they have particular health conditions.
That means, despite high take-up, only 60% of the total population is fully vaccinated with two doses.
But even without these groups being vaccinated, back in spring the level of coverage appeared to be enough to keep a lid on cases - so what changed?
The more infectious Delta variant seems to have evaded part of the vaccine's protection against infection, although it is still highly effective against severe illness.
But scientists monitoring the data believe a major factor in the recent spike in cases is waning immunity from the Pfizer vaccine, which was initially the only one given in the country.
Prof Eran Segal, who advises the Israeli government on Covid matters, said by month five or six after vaccination, people are probably only 30-40% protected, compared with more than 90% when protection first kicks in.
"That's what was driving the wave," he said - a conclusion drawn from careful analysis of the rates of infection in people vaccinated in different months.
Despite this fall, vaccination still prevents a substantial amount of sickness, with the unvaccinated becoming severely ill with Covid about nine times as often in over-60s, and twice as often in younger people.
The boosters for older people began to be offered just over a month ago, and they appear to be now taking effect, with hospital admissions levelling off in that group.
"This is leading to a halt in the Delta wave," Prof Segal said.
Early data suggests a tenfold increase in protection from infection and severe disease after the third jab, compared with after two.
Dr Anat Ekka Zohar, who is leading the booster programme study, said three doses were "highly protective, against both infection and severe illness".
She added: "The triple dose is the solution to curbing the current infection outbreak."
There are fierce debates over whether booster programmes should be rolled out when so many people around the world haven't even had one vaccine.
And some have questioned whether it is sustainable to top up the vaccines every six months, or once a year as is the case with the flu jab.
While we've built up a large amount of evidence to show the Covid vaccines are safe and effective for almost everyone, there are still areas where we need more information. One of those areas is exactly how long immunity lasts, and whether a third booster shot will provide much more durable protection.
Or it could be that two jabs plus natural immunity will be enough.
People can get good natural protection after catching the virus, but, without a vaccine, that comes with the risk of becoming very ill, developing long-term complications or dying.
With the vaccines now protecting against most of the worst disease, people may still catch milder versions of Covid and boost their vaccine-derived immunity that way.
Scientists have hypothesised that repeated exposure to the Covid infection, now with the protection of the vaccine and natural immunity from past infection rendering it less risky, could over time turn the virus into a potentially recurring, but relatively untroublesome illness.
At the least, Israel's booster programme might provide more answers to some of these remaining questions.