Third Covid jab advised for most vulnerable 1%
By Philippa Roxby
Health reporter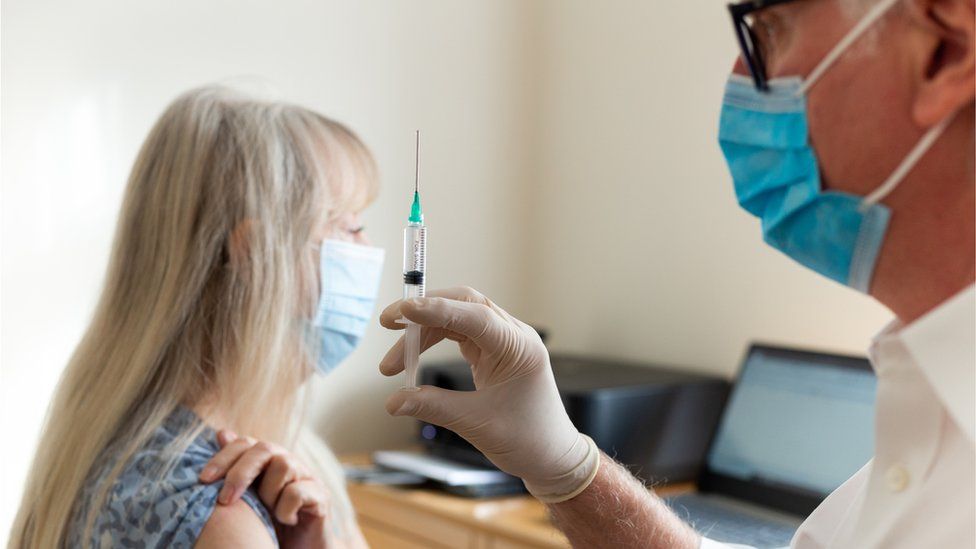 People over the age of 12 with severely weakened immune systems should have a third vaccine dose to top up protection against Covid-19, experts say.
About 400,000 to 500,000 in the UK are eligible and will be contacted soon.
They include those with blood cancer, advanced HIV and recent organ or stem-cell transplants.
The Joint Committee on Vaccination and Immunisation (JCVI) said a separate booster programme for other age groups was still being considered.
Whether all 12- to 15-year-olds will be offered a vaccine is yet to be decided.
'Best chance of protection'
The advice means the most vulnerable - less than 1% of the population - will be offered a third dose, rather than all those on the original list of clinically extremely vulnerable people.
People with severe immunosuppression are also more likely to become seriously ill if they catch Covid-19.
Prof Wei Shen Lim, who chairs Covid immunisation for the JCVI, said: "We want people with severely suppressed immune systems to have the best chance of gaining protection from Covid-19 via vaccination.
"Therefore, we are advising they have a third vaccine dose on top of their initial two doses, as we hope this will reduce their risk of severe outcomes such as hospitalisation and death."
'I can return to normal life'
Hal Cohen, 40, from north London has been taking regular medication to stop his body rejecting a kidney donated by his father.
But these vital drugs also blocked his immune system from developing protection against Covid from two vaccine doses.
He is now looking forward to having a third dose.
"It's going to be really great for me, and will hopefully give me some vaccine protection and the ability to return to normal life.
"But it's not clear if the booster is going to work for people like me," he said.
"So we do need to carry on looking at other treatments too - to give us the best chance."
Health and Social Care Secretary Sajid Javid said people would be contacted "as soon as possible, to discuss their needs and arrange an appointment for a third dose".
He said the separate booster programme prioritising those most at risk from Covid-19 was still planned to begin in September.
The JCVI says either the Pfizer-BioNTech or Moderna vaccine are preferred as third doses, because studies suggest they lead to a heightened immune response in this vulnerable group.
For 12- to 17-year-olds, the Pfizer vaccine is preferred.
Prof Lim said "timing was important" and a specialist doctor should decide when to give the third dose - but it should be at least eight weeks after the second and at a time when patients were least likely to be immunosuppressed.
Those eligible for a third dose include people:
being treated for acute or chronic leukaemia at the time of vaccination
with advanced Human Immunodeficiency Virus (HIV) or Aids
who have had a stem-cell transplant in the past two years
who have had therapy for a solid-organ transplant in the six months before vaccination
who have had immunosuppressive chemotherapy or radiotherapy in the six months before vaccination
who have had high doses of corticosteroids in the month before vaccination
Charities representing people with these illnesses welcomed the decision on a third dose.
"There is good reason to think some people with blood cancer will see an improved immune response as a result of a third dose, and so we urge everyone with blood cancer to get it when they are offered it," said Gemma Peters, chief executive of Blood Cancer UK.
But she advised people to remain cautious after their third dose until it was clear how much protection it offered.