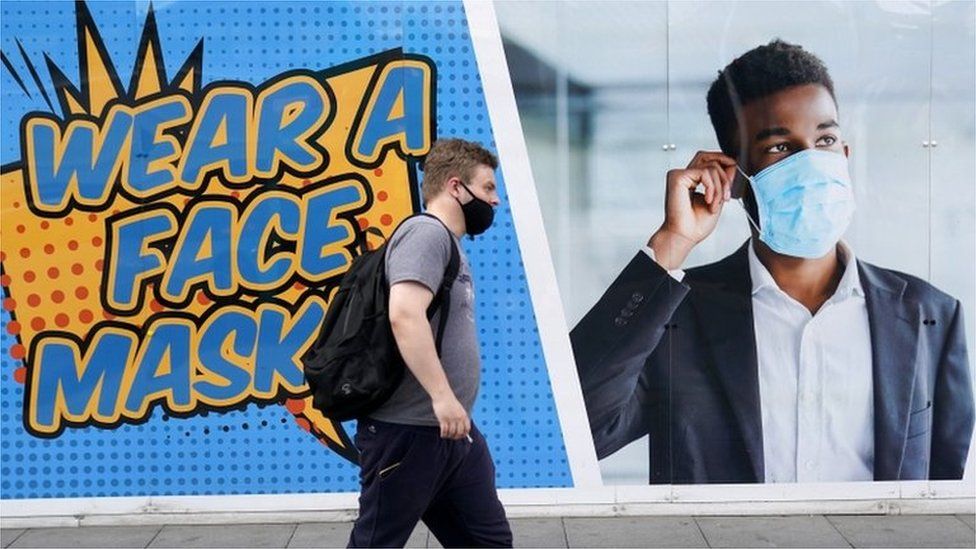 But - just two weeks on from the 19 July unlocking - both infections and now hospital admissions are falling.
A similar pattern is emerging elsewhere in the UK where restrictions have also been eased - albeit not quite as much as in England. Has the gamble paid off?
It is important to remember that despite the warnings government modellers had always suggested this scenario was possible.
At the start of July they were talking about a peak of between 1,000 and 2,000 hospital admissions a day - although there was a large degree of uncertainty.
The hardest thing for them to predict was people's behaviour. At the start of July the number of contacts people were having was still much lower than pre-pandemic - four a day compared with 10 previously.
The scientists predicted if there was a gradual return to normal, hospital admissions would not go above 1,000 - exactly what seems to have happened.
"If it was a gamble, it was a calculated one," says one of the modellers. "This is not some unexpected accident."
What about the doomsday scenarios?
It is true, though, that ministers and government scientists did express concerns that the situation might have got much worse than it has.
Health Secretary Sajid Javid said cases could reach 100,000 a day, while Prof Neil Ferguson, one of the key modellers, said there could even be 200,000 cases.
These scenarios were possible - at the time infection rates were doubling every 10 days - but they were at the upper end of the modelling scenarios.
But there was a reason why the figures were put forward so publicly. It was, in part, to influence behaviour.
"We messed up the communication about masks," said one government source. "We had ministers claiming they were ditching them - it was giving the wrong impression when we needed the public to remain cautious.
"We knew we had to rein things back again."
The falls are, of course, very encouraging. There have been a lot of theories put forward as to why - from the European Championship football tournament ending, to the sheer numbers of people being "pinged" and being asked to isolate.
When it comes down to it, two things basically influence the spread of the virus - the levels of immunity in the population and the contacts we are having.
Prof Paul Hunter, from the University of East Anglia, says it is clear we have reached some sort of "equilibrium" and a further surge in cases related to 19 July is now unlikely, given what is happening.
And by equilibrium he means a situation where the virus is kept in check without the huge surges of the past year and instead ebbs and flows much like we see with other respiratory infections.
But the big unknown is what will happen in the autumn when the weather turns, people are indoors more, are back in the office and children are at school.
This equilibrium is not a fixed state.
Waning immunity and increasing contacts, particularly inside, could easily lead to a rise. Although that could well be offset by a Covid booster campaign for the most vulnerable groups that looks likely to be announced soon, and the continued rollout of second doses to some of the younger age groups over the next two months.
Prof Christina Pagel, a member of Independent Sage and one of the signatories of the letter which branded the unlocking dangerous and unethical, says she is very concerned about what the autumn will bring.
"Covid is so unpredictable. I acknowledge I was wrong on what was going to happen, but that doesn't mean it's over. We need to get cases down even further - if we go into autumn with 20,000 cases a day I would be very worried."
Covid + flu is the concern
A number of government modellers have told the BBC they expect to see another rise at some point, as it is so easy to flip between rising and falling cases.
But Prof Mike Tildesley, one of the modellers from the University of Warwick, says he would not expect this to be "a significant resurgence" unless there is a new variant.
"August is a really odd month in terms of contact patterns, but given the success of the vaccination programme I think we can be pretty confident," he says.
Indeed, what this summer has proved is just how effective the Covid vaccines are and how close we are to living with the virus. Despite infections reaching a similar level to that of previous waves, the number of deaths has been much, much lower.
At the moment there are fewer than 100 a day on average. To put that into context, during a bad flu season there can be more than 100 deaths and around 1,000 hospital admissions every day for months on end.
And therein lies the problem. Lockdowns and social distancing meant flu and other respiratory infections were hardly present last winter, meaning there is likely to be lower immunity in the population than normal.
"If they return on the scale we expect we could see really major pressures build on the NHS that could raise some very difficult questions," says Dr Tildesley.
The worst of Covid may be behind us, but huge challenges still remain.