Marr on catching Covid after being double vaccinated
By Andrew Marr
BBC News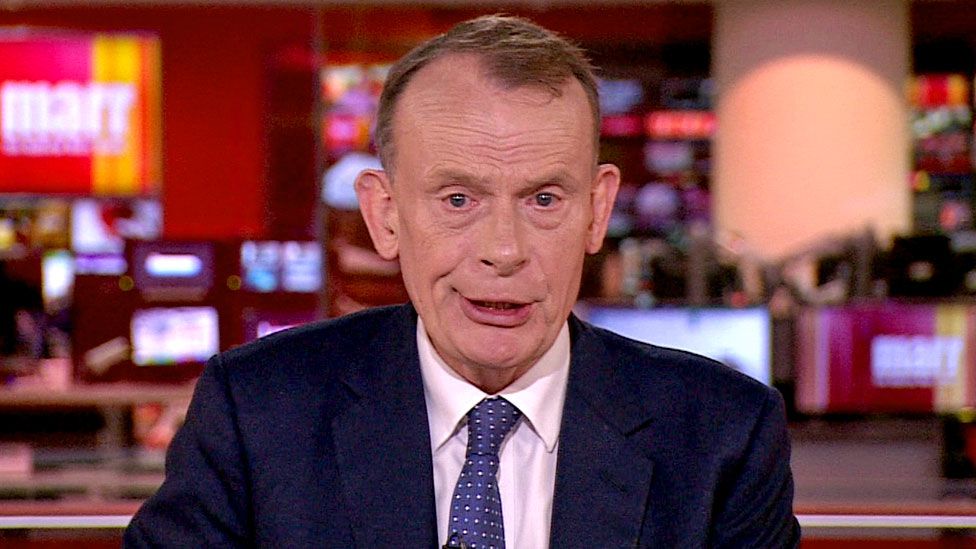 I can't be sure - but working back, I'm pretty clear I caught the Delta variant of coronavirus during the summit of G7 (Group of Seven) nations, in Cornwall, probably on Sunday 13 June.
It was a long day - up well before 05:00, all the hassle and stress of an outside broadcast, with our guests resolutely refusing to move from their "ring of steel", then great transport difficulties trying to return to London, meaning I wasn't home until after 00:00.
If I felt shattered on the Monday, it was hardly a surprise - but I carried on with life.
By Tuesday, I felt I was coming down with a summer cold - sneezing, sore throat, slight headache.
But in the middle of hay-fever season, it seemed nothing at all ominous.
I had received two doses of the Pfizer-BioNTech vaccine long before. I wasn't behaving recklessly - but I did feel pretty much invulnerable.
The following day, the Wednesday, I took two lateral-flow swab tests.
Both were negative and I carried on with life - errands, shopping, delivering pictures for my art show, in Bermondsey, south-east London.
I still felt I had a bad cold.
Candidly, had I not been working at Broadcasting House with younger colleagues who had not been vaccinated, I might well have continued and tried to host my next Sunday programme.
Instead, I went to take a polymerase-chain-reaction (PCR) swab test at the north London site by the Neasden Temple.
At 08:00 the following morning, I received a positive result and was told by NHS Test and Trace I must self-isolate for 10 days from the first symptoms - therefore, in my case, until late on Friday, June 25.
I did. Nick Robinson, bless him, stood in at the last minute for me.
Two days after my first symptoms, I began to feel seriously ill.
I had a high temperature, muscle ache, the shakes, a bad headache and flu-like cold symptoms.
I couldn't smell anything - not aftershave, not coffee, nothing.
I kept starting books and giving them up and creeping back to bed again for yet another sleep.
I wasn't even much interested in the news.
One day, I would feel better, and the next worse again.
I began to worry about "long Covid".
Anyway, for me, all ended happily. I recovered quite quickly and, it seems, completely.
By the time my quarantine ended, I felt fine.
But I have the following thoughts.
First, early symptoms of this new strain, first identified in India, are very, very similar to those of a light cold - and it is incredibly infectious, so beware.
Second, if in any doubt at all, take a PCR test.
Third, with a positive result, for goodness' sake self-isolate. You may think you have superpowers because you have been double vaccinated. And, yes, the vaccine seems it does protect very well against admission to hospital - at no point did I have difficulty breathing.
But that doesn't mean you can't become infected.
And it doesn't mean the illness, hiding behind those bland words, "mild and moderate symptoms", won't be unpleasant.
In short, stay cautious, stay safe.