'Nepal variant': What's the mutation stopping green list trips to Portugal?
By Rachel Schraer
BBC News
Portugal is to be removed from the UK's green list of countries that are safe to visit.
The government said it's partly down to the emergence of a "Nepal variant" - but such a variant has not been recognised by the World Health Organization (WHO). So, what's going on?
Why was Portugal removed from the green list?
Announcing Portugal's move to the amber list, Transport Secretary Grant Shapps said there was a "Nepal mutation of the so-called Indian variant". He said it wasn't known whether it could be "vaccine defeating".
And speaking to the BBC, Communities Secretary Robert Jenrick said the Indian variant was spreading and there was "growing evidence of a further mutation- what's become known as the Nepal variant".
The government said it did not want to take risks before the planned final easing of England's restrictions. Being on the amber list means UK tourists should not visit Portugal and returnees must isolate for 10 days.
Is there a Nepal variant?
A mutated virus has been spotted in Nepal and elsewhere. But that doesn't mean a new variant of coronavirus has been found.
The WHO said it was "not aware of any new variant of SARS-CoV-2 being detected in Nepal", and the dominant variant there was the Delta or Indian variant.
A small number of cases of the Delta variant have been identified as having an extra mutation - called K417N.
The change is in the virus's distinctive spike protein and has been seen before, including in the so-called South African or Beta variant.
Samples of the Delta variant with this extra change have been spotted about 90 times worldwide. Of these, 12 cases were spotted in Portugal, 36 in the UK, 12 in the US and four in India.
It is not clear that 12 cases is enough to count as being "prevalent within Portugal", as Mr Jenrick claimed.
More up-to-date UK data from Public Health England suggests 43 cases have now been spotted through genetic analysis (a process called sequencing). The UK does a lot of genomic sequencing so is likely to find more cases than countries that do less.
The Wellcome Sanger Institute said it had been observed "once in Nepal (which does very little sequencing), and 14 times in Japan, of which 13 are samples from airport quarantine from travellers from Nepal".
When does a mutation become a variant?
Remember that viruses mutate constantly. When the changes are drastic enough, we start describing it as a new variant - like the Alpha variant identified in Kent, the Beta variant identified in South Africa and so on.
There is no scientifically agreed definition of when a mutation becomes a variant. We usually have to wait until a particular set of changes spreads enough that we can see a pattern.
Public health bodies and people who analyse or sequence the virus's genetic material investigate any changes to the virus.
If a distinctive set of changes, or variant, appears to be spreading better, making people sicker or resisting vaccines, then it will be upgraded to being a "variant of concern".
This hasn't happened with the mutation identified in Nepal and elsewhere, so far.
It is mentioned by Public Health England as a "spike mutation of interest", but it is not categorised as a variant.
Other mutations that didn't amount to new variants have been spotted in Egypt, Vietnam and Yorkshire.
In February, a small number of cases of the UK or Alpha variant were found with a mutation, called E484K, that is already seen in the South Africa variant. It was feared this change could reduce vaccine effectiveness, but the mutation never took off.
Will the Nepal mutation become a problem?
This change to the virus's spike protein is also seen in the Beta or South African variant.
It is thought to be part of why that variant is more resistant to vaccines.
"Because of this possibility, and because Delta appears more transmissible than Beta, scientists are monitoring it carefully," the Sanger Institute explained.
What other factors decide the green list?
As well as concerning variants, the government says it looks at factors including how many cases of coronavirus a country has.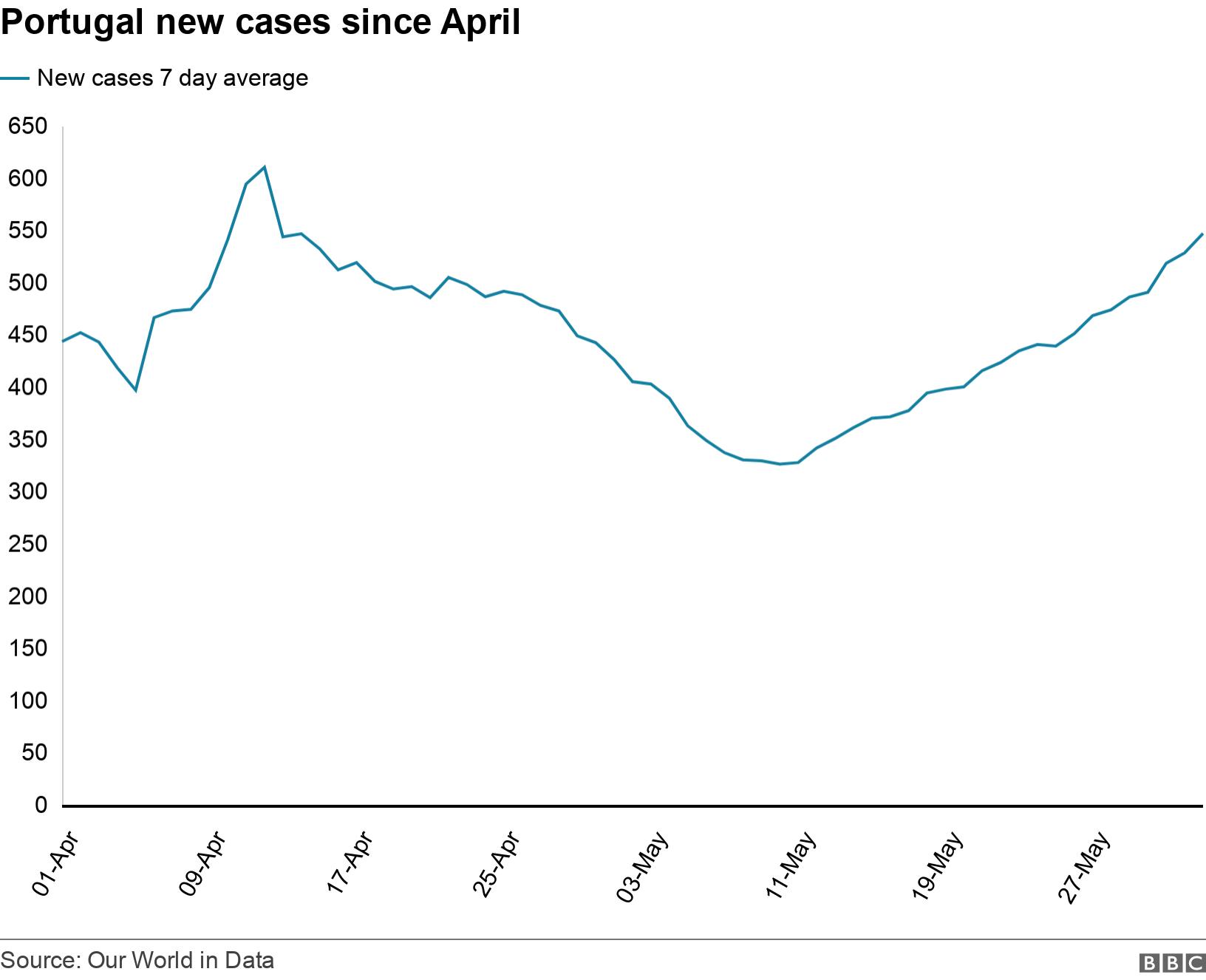 Positive results in Portugal have nearly doubled since the last review, the government said, adding the situation "has required swift action to protect the gains made with the [UK] vaccine rollout".
Mr Jenrick said there had been a "doubling in positivity within three weeks, bringing Portugal to a much higher level than here in the UK".
Cases have risen considerably in Portugal over the last few weeks, but they are in fact only a little higher than in the UK (5.4 new cases per 100,000 compared with 5.1).