Covid: More than 20 million living in areas with zero deaths
By Maryam Ahmed & Becky Dale
Data journalism team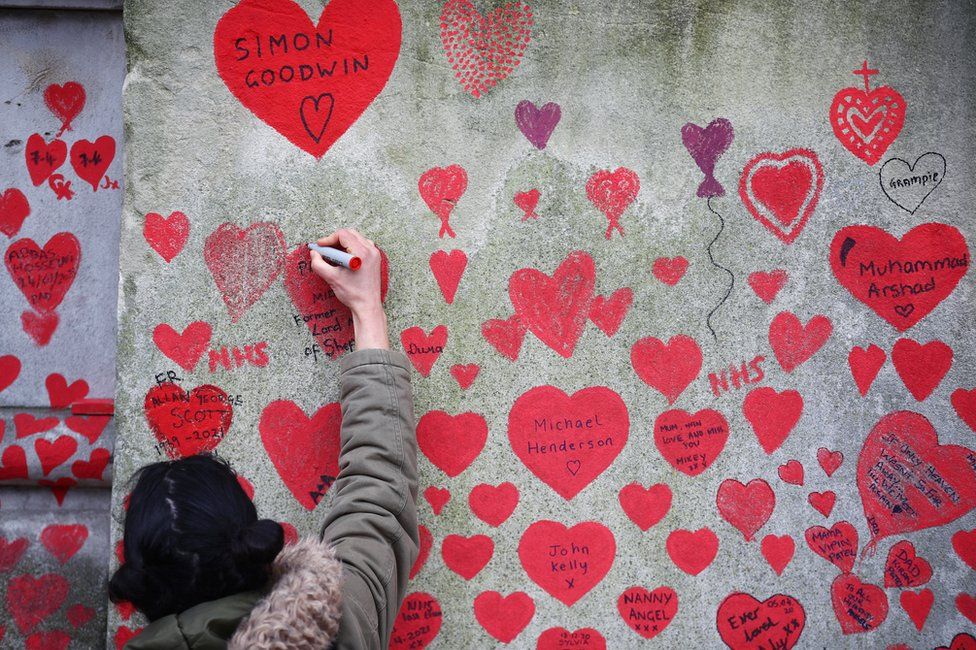 About 22 million people in the UK are living in areas that have not reported any Covid-19 deaths that happened in April, according to BBC News analysis.
By comparison, in a four-week period during January's peak, fewer than 50,000 people lived in such places.
The findings were greeted as "really good news [which] give us confidence" by one expert.
The government has urged people to keep following restrictions and have the Covid vaccine when called.
The BBC's data analysis reveals the extent of the improvement since January's peak.
Fewer than 600 deaths within 28 days of a positive test have been reported so far this month, compared with more than 30,000 in the first four weeks of January.
The figures suggest the UK's pandemic is moving into a new phase, with many areas seeing low levels of coronavirus.
The latest lockdown and the vaccination programme have successfully reduced cases, and as a result, deaths.
"This is really good news," said Dr Mike Tildesley, an expert in the spread of infectious diseases. "It's a really good sign and we've seen several parts of the country where prevalence is really, really low. So, I think it gives us confidence."
But he echoed another expert who urged caution.
"[W]e have seen before, when things go wrong they can go wrong quickly," said Prof Graham Medley, of the London School of Hygiene and Tropical Medicine.
Slowly lifting restrictions means this is less likely to happen, he added.
Areas that did not report any April deaths tended to have fewer confirmed coronavirus cases in March, the data suggests. On average, those places had 150 cases per 100,000 people in March.
By comparison, districts that have reported deaths in April had just under 240 positive cases per 100,000 people in March.
Some parts have gone even longer without seeing Covid deaths. Plymouth, a major city and home to more than a quarter-of-a-million people, has not reported a Covid death in the last 58 days. In Oxford and Maidstone it's 60 days.
But the 19 worst-hit councils accounted for more than a third of the deaths occurring in April.
The areas with the highest death rates include two in Northern Ireland: Mid and East Antrim, and Antrim and Newtownabbey, as well as Sedgemoor in Somerset and Bradford, West Yorkshire.
Scientists advising the government believe that the focus in the coming months will turn to identifying and containing local and regional outbreaks.
There are some differences in the figures from 1-28 April across the UK.
Some 56% of local authorities in Scotland reported no deaths - only Glasgow reported more than nine
In England, 44% of local authorities in 138 areas across all regions did not report deaths, suggesting the situation is improving nationwide
In Northern Ireland, 9% of authorities reported no deaths, and a further 55% reported only one
Every local health board in Wales, which represent many more people than councils, reported at least two deaths, but only Betsi Cadwaladr reported more than seven
These figures are based on deaths that occurred within 28 days of a positive test. There is usually a delay in reporting deaths, so the official numbers for April will increase, but by this point in March, more than 90% of the month's deaths had been reported.
The Office for National Statistics records deaths in a different way, and under this definition more areas may have seen fatalities.
Despite the surge in areas with zero deaths, a government spokesperson encouraged people "to follow the rules so that our roadmap out of lockdown is irreversible".
"We urge everyone to keep coming forward to get their vaccine when called. This is the best way to keep each other safe and see our roadmap through in full."
Additional research by Kristina Gray
Do you live in an area with zero Covid deaths, or where deaths remain high? Share your experiences by emailing haveyoursay@bbc.co.uk.
Please include a contact number if you are willing to speak to a BBC journalist. You can also get in touch in the following ways: