Covid: 82% of positive rapid tests 'were correct'
By Jim Reed
Health reporter, BBC News
Most positive rapid coronavirus tests taken since 8 March appear to have returned a correct result, according to data seen by the BBC.
Analysis of data from Public Health England shows 82% sent off for a confirmatory PCR test returned the same positive result.
All secondary school pupils in England have been asked to carry out two tests a week since schools reopened.
There had been concerns that many would have to self-isolate needlessly.
But this data suggests these fears may be unfounded.
"This suggests that people who test positive using a lateral flow device should definitely take that result seriously, and isolate while waiting for a follow-up PCR test," said Prof Oliver Johnson, director of the institute for statistical science at the University of Bristol.
"The fact that a high proportion of these rapid tests have been confirmed by the slower PCR method means that they can be a valuable tool in controlling the pandemic."
What the data does not show is how many people who received a negative test result did in fact have Covid-19.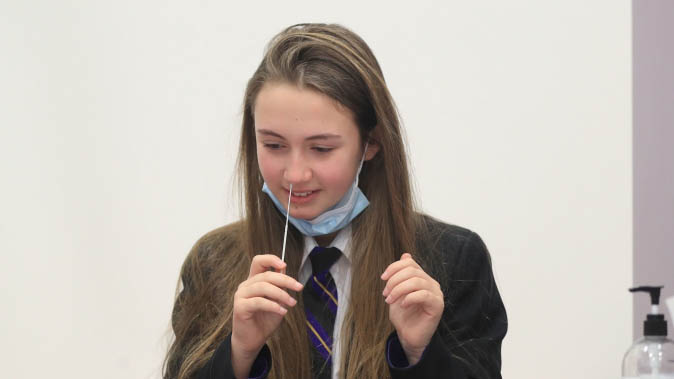 PA Media
Lateral flow tests
82%Positive rapid tests "correct" since 8 March
26,144,449Number of rapid lateral flow results from 8 March to 4 April

30,904Positive cases found

81% Rapid tests took place in educational settings from 4 March to 31 March

15-30 minutesTime it takes a lateral flow test to give a result
Source: Public Health England, NHS Test and Trace
The government has said that rapid testing using lateral flow kits, which can give a result in 30 minutes, will be "fundamental" in helping to prevent future outbreaks of coronavirus.
All secondary schools and colleges in England have been using the devices since 8 March along with care homes, universities and some workplaces.
From April 9 the scheme was extended allowing anyone in England to order the kits from a local testing centre or pharmacy or to be delivered through the post. A similar mass testing programme is being introduced in Scotland.
Unlike laboratory PCR tests, which are typically used on those with Covid symptoms like a cough or fever, rapid lateral flow tests are being used to screen large swathes of the population without symptoms who are unlikely to be infected in the first place.
That means the accuracy of the test is crucial. If even a small proportion are being told they have the virus when they don't - a so-called "false positive" - then, multiplied across the population, it could still mean large numbers being forced to self-isolate unnecessarily.
New data show 26,144,449 lateral flow results were recorded by Public Health England in the four weeks from 8 March to 4 April.
The vast majority were negative for coronavirus, leaving another 30,904 cases where a positive case was found.
Just over half of those were sent off to a laboratory for a follow-up PCR test, which are far slower to process but can detect much lower levels of virus in the sample, although a positive result doesn't always mean someone is capable of passing the virus on to others.
Of those, 3,034 - or 18% - came back negative, suggesting the individual concerned and their household had been self-isolating for no reason. Under the current rules, a negative re-test would mean their quarantine period would be considered over immediately.
But the other 13,918 - or 82% - returned the same positive result, indicating that the original test was accurate and they did have the virus.
"It may be that in future months the prevalence of Covid in the population will fall, in which case a greater proportion of positive lateral flow tests would be false positives," said Prof Johnson at the University of Bristol.
"However, these results indicate that, at the coronavirus levels seen in March, a positive result had a very good chance of coming from an infected person, so that these tests had genuine value as a tool in fighting the pandemic."
The lateral flow data seen by the BBC does not break down the location of the tests - but separate figures from NHS Test and Trace show that 81% of all rapid tests took place in an educational setting, mostly in secondary schools, between 4 March and 31 March.
Academics say analysing the data in this way does have limitations. It assumes that the 55% of positive lateral flow samples sent off for laboratory analysis were representative of the overall number tested, which may not be the case.
The latest data from Public Health England can only give an indication of the accuracy of a positive test.
It does not tell us anything about the millions of negative test results returned by the lateral flow devices and whether they were effective at ruling out people who were carrying the disease.
A recent review of the evidence to date found the main type of kit used in the UK may be only 58% accurate at detecting Covid in symptomatic people and works best in the first week after those symptoms appear.
Jon Deeks, professor of biostatistics at the University of Birmingham, has described it as "quite shocking" that the government is rolling out the mass testing programme across England based on "inadequate evidence" of its effectiveness.