Covid: Ethnic jab gap 'not due to area or education'
By Rachel Schraer
Health reporter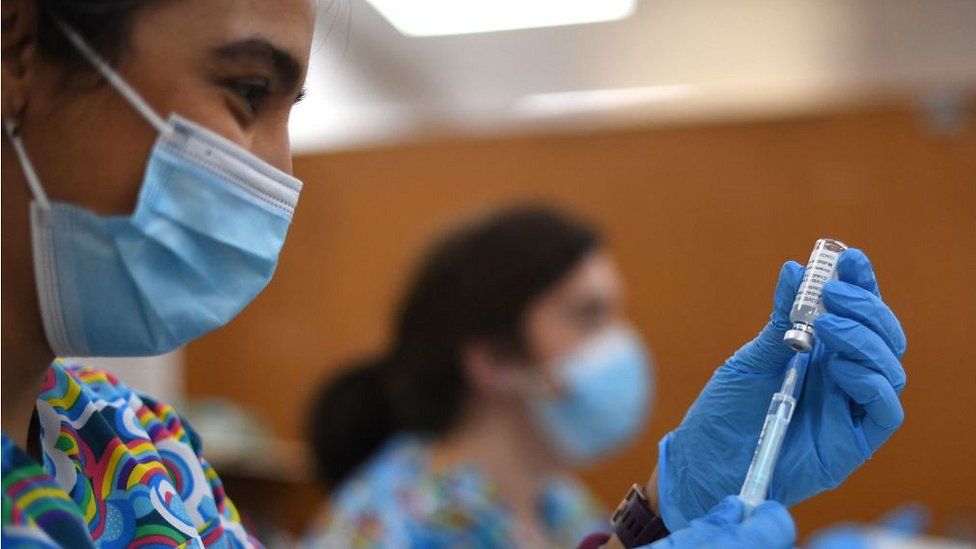 Where people live, how poor that area is and their level of education explains only a fraction of the difference in Covid vaccination rates between ethnic groups, the Office for National Statistics has concluded.
The ONS highlighted higher vaccination hesitancy among some ethnic groups.
White people were the most and people of black African ethnicity were the least likely to have had a jab.
But location, education and health accounted for just 30% of this gap.
GPs have highlighted a history of people belonging to ethnic minorities being treated differently by health services, being experimented on and not represented in clinical trials.
And in an earlier report, the government's scientific advisers said: "Trust is particularly important for black communities that have low trust in healthcare organisations and research findings, due to historical issues of unethical healthcare research.
"Trust is also undermined by structural and institutional racism and discrimination.
"Minority ethnic groups have historically been a under-represented within health research, including vaccines trials, which can influence trust in a particular vaccine being perceived as appropriate and safe."
Language and transport barriers and incomplete medical records making some people harder to contact may also be factors.
The proportion of over-70s among different ethnic groups having at least one dose of the vaccine was:
White - 91%
Pakistani - 74%
Bangladeshi - 73%
Black Caribbean - 69%
Black African - 59%
"These stark figures reveal the deeply alarming low uptake of the vaccine among ethnic minority groups, who we know are particularly vulnerable to serious disease from Covid-19," Layla Moran MP, who chairs the All-Party Parliamentary Group on Coronavirus, said.
"This confirms the evidence our cross-party inquiry heard last month, which underlined the need to work with local communities, leaders and places of worship to build trust in the vaccine."
Similarly, the earlier, OpenSafely study, based on 40% of all GP practice records in England, suggested 95% of over-70s had been vaccinated.
But that disguised ethnic differences as 96% of White over-70s has received the jab compared with 70% of Black people in the same age group.
But looking at different areas' level of deprivation, the ONS found a much smaller difference - 92% in the least deprived areas compared with 97% in the most.
People who described themselves as Christian, meanwhile, were the most likely to have had a jab, followed by those of no religion.
Muslim and Buddhist people were the least likely - and this difference remained once the figures were adjusted for location and other factors.
Local authorities are working to ensure all over-50s have been offered a jab, before moving down to the younger age groups.