AstraZeneca: UK and EU clot reviews confirm safety of vaccine
By Michelle Roberts
Health editor, BBC News online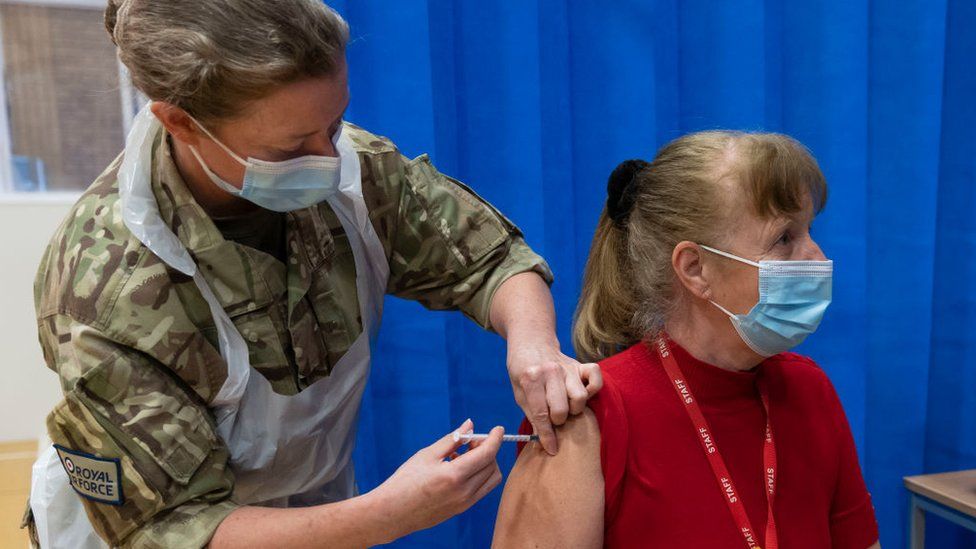 There is no evidence the AstraZeneca Covid vaccine causes blood clots, say UK and EU regulators after a "thorough and careful review".
But anyone with a headache lasting more than four days after vaccination should seek medical advice, as a precaution.
The same advice applies if someone develops unusual bruising.
That is because the regulators have received a very small number of reports of an extremely rare form of blood clot occurring in the brain.
In the UK, five cases of cerebral sinus vein thrombosis (CSVT), among 11 million people who have received the vaccine, occurred in men aged between 19 and 59. One of these was fatal.
The EMA has received an additional 13 reports of CSVT.
CSVT can occur naturally and no link to the vaccine has been established. The patients also had low blood platelet counts - cells involved with clotting.
Covid infection can make clots more likely.
Dr June Raine, chief executive of the MHRA, said regulators would continue to closely monitor the situation and people should have the vaccine when it is their turn: "The public can have every confidence in the thoroughness of our review."
Prof Sir Munir Pirmohamed, chair of the Commission on Human Medicines, said the gains from getting vaccinated were clear.
"Given the extremely rare rate of occurrence of these events, the benefits of the AstraZeneca vaccine, with the latest data suggesting an 80% reduction in hospitalisation and death from Covid disease, far outweigh any possible risks," he said.
Product information on the vaccine will be updated to include information about rare blood clots.
EMA executive director, Emer Cooke, said: "Drawing attention to these possible rare conditions and providing information to health care professionals and vaccinated people will help to spot and mitigate any possible side effects."
The EMA review, based on data from around 20 million people vaccinated, concluded:
the benefits of the vaccine in combating the still widespread threat of Covid-19 - which itself results in clotting problems and may be fatal - continue to outweigh the risk of side effects
the vaccine is not associated with an increase in the overall risk of blood clots (thromboembolic events) in those who receive it
there is no evidence of a problem related to specific batches of the vaccine or to particular manufacturing sites
the vaccine may be associated with very rare cases of brain clots and clots in multiple blood vessels (known as disseminated intravascular coagulation or DIC - the EMA has received seven reports of this so far)
It said any of the following symptoms after vaccination should prompt a medical check as a precaution:
breathlessness
pain in the chest or stomach
swelling or coldness in an arm or leg
severe or worsening headache or blurred vision after vaccination
persistent bleeding
multiple small bruises, reddish or purplish spots, or blood blisters under the skin
These occur very rarely and are different to the common side-effects people can expect with any vaccine, such as some tenderness where the injection was given.
Related Internet Links
The BBC is not responsible for the content of external sites.