Covid: Nurses condemn 'fundamentally flawed' PPE rules
By David Shukman
Science editor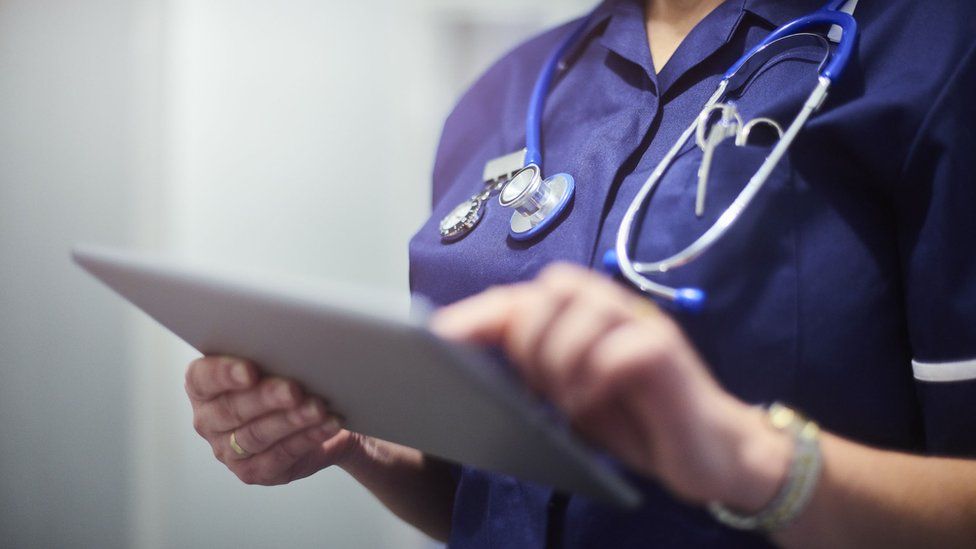 Nurse leaders are lobbying government to update "fundamentally flawed" guidance on personal protective equipment.
The Royal College of Nursing says the existing recommendations are based on out-of-date evidence.
One nurse told the BBC she had not been allowed to wear a higher-grade mask, despite having to go into the homes of patients with Covid.
The Department of Health said staff safety was a top priority.
The nurse, who wishes to remain anonymous, wanted to use what's known as an FFP3 mask that filters out infectious aerosols.
But she says her employers insisted on following national guidance, that most health staff should wear thinner surgical masks, instead.
This comes at a time of mounting concern among many healthcare organisations that personal protective equipment (PPE) is inadequate.
A new report for the Royal College of Nursing (RCN) criticises the official guidelines for PPE as "fundamentally flawed" because they're based on out-of-date evidence.
It says that the risk of infection by aerosols is not given enough emphasis and that key research papers highlighting the possibility of airborne transmission have not been considered.
The focus, it says, is instead on protection against droplets that can reach people within 2m (6ft 6in) and/or contaminate surfaces.
'Let down and frustrated'
The nurse says her role means she has to go into patients' homes, which might be poorly ventilated, and where social distancing isn't possible.
After contracting Covid in January, she remains nervous about the risks from new variants.
"I'm now scared going into work and I feel let down and frustrated because there's clear evidence that we should have better respiratory protection," she said.
The RCN's report concludes that key research papers on aerosols appear to have been ignored and that the terms used to search for new papers were likely to be "biased against" those on airborne transmission.
The lead author of the study, Prof Dinah Gould, says she is "very disappointed" at the review for not taking into account the latest science.
"It looks rather like what I would expect an undergraduate to produce in a university 20 years ago," she said.
"A year into the pandemic, the review needs replacing. It needs updating and we should be able to offer healthcare workers and patients better than what we're offering them now."
Prof Gould, an honorary professor at City, University of London, added: "The guidelines are fatally flawed because they don't meet the standard that you would expect and because they don't take into consideration the number of health workers who become infected. And some have died."
According to one estimate from data up to 4 March, almost 1,000 health and care workers have lost their lives to Covid .
For the RCN, commissioning the report from Prof Gould represents the latest of many attempts to persuade the government to shift its policy on PPE.
Letters pleading for upgrades to better masks and for better ventilation have gone unanswered.
Rose Gallagher, professional lead for infection prevention and control at the RCN, said: "One of the saddest things is that no one is listening to our concerns."
A spokesman for the Department of Health and Social Care said the safety of NHS and social care staff has always been the top priority and that "we continue to work tirelessly to deliver PPE to protect those on the frontline".
The statement added that PPE recommendations were updated in January 2021, and were agreed by an expert group of clinicians and scientists from all four UK nations based on clinical evidence.
"The guidance on PPE is kept under close review," it said.
Related Internet Links
The BBC is not responsible for the content of external sites.