Covid: Urgent cancer ops cancelled in parts of London
By Rachel Schraer
Health reporter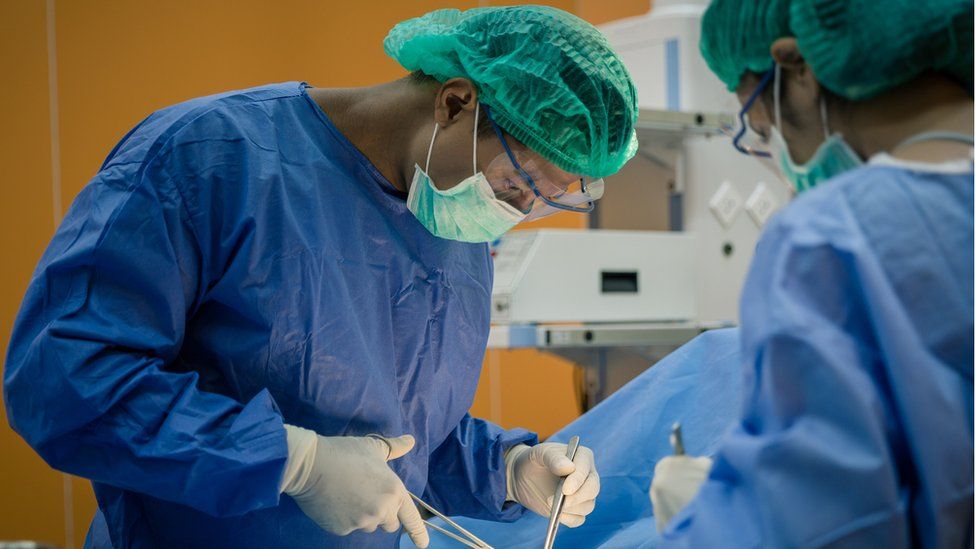 Potentially life-saving cancer operations have been put on hold at a major London NHS trust because of the number of beds taken by Covid patients.
King's College Hospital Trust has cancelled all "Priority 2" operations - those doctors judge need to be carried out within 28 days.
Cancer Research UK said such cancellations did not appear to be widespread across the country.
And surgery has not been stopped on the same scale as during the first wave.
Rebecca Thomas, who has had her bowel cancer surgery at King's College Hospital "cancelled indefinitely", told the BBC she felt like she had been left "in limbo".
Until she has surgery her tumour cannot be studied to see how aggressive it is, and so she won't know until then how significant this wait will turn out to be.
A spokesperson for the Trust, which mainly serves patients in south London, said: "Due to the large increase in patients being admitted with Covid-19, including those requiring intensive care, we have taken the difficult decision to postpone all elective procedures, with the exception of cases where a delay would cause immediate harm.
"A small number of cancer patients due to be operated on this week have had their surgery postponed, with patients being kept under close review by senior doctors."
Prof Neil Mortensen, President of the Royal College of Surgeons of England, said he had heard from members that "hospitals across London are having to cancel cancer surgeries as a result of the huge number of Covid-19 patients being hospitalised."
But it hasn't yet emerged as an issue affecting hospitals outside London.
When Covid-19 hit last March, NHS England developed guidance on prioritising patients who needed operations, with emergency procedures that needed to be carried out within 24 hours coming first.
These life-saving operations have continued throughout the pandemic and there is no prospect of that stopping.
However, patients in the "priority 2" category - who should have surgery within 28 days, to save their life or stop their disease progressing "beyond operability" - have found their operations being cancelled at King's.
The 28-day guideline is based on the patient's individual symptoms and the expected growth rate of their particular cancer.
"Delays further than that could have a negative impact on that person's chance of survival," according to Kruti Shrotri at Cancer Research UK.
And delays in diagnosis and treatment in general can lead to worsening chances of recovery, she said.
This will vary dramatically by person and cancer type, but in some cases, a matter of a few weeks can make the difference between a cancer that can be survived or not.
Genevieve Edwards, chief executive at Bowel Cancer UK, said research showed "even a month's delay to cancer treatment can increase a person's risk of dying by up to 13% - a risk that keeps rising the longer their treatment is delayed".
While this was "really concerning to hear," she said, "it's not by and large something we've heard is happening widespread across the country".
This is an improvement from the first wave of Covid-19 when the NHS had to put a near-blanket ban on non-urgent surgery.
But for those patients who are affected, this news will be "incredibly hard," and Ms Shrotri stressed that patients with any symptoms that could be cancer should not put off going to see their GP.
"The NHS is open," she said.
Surgery is most at risk because of the shortage of intensive care beds - but other forms of cancer treatment, including radiotherapy, should continue.
NHS Providers, which represents hospital bosses in England, said trusts were doing all they could to "prioritise on the basis of clinical need".