Covid: Jab for people who cannot be vaccinated trialled
By Rachel Schraer
Health reporter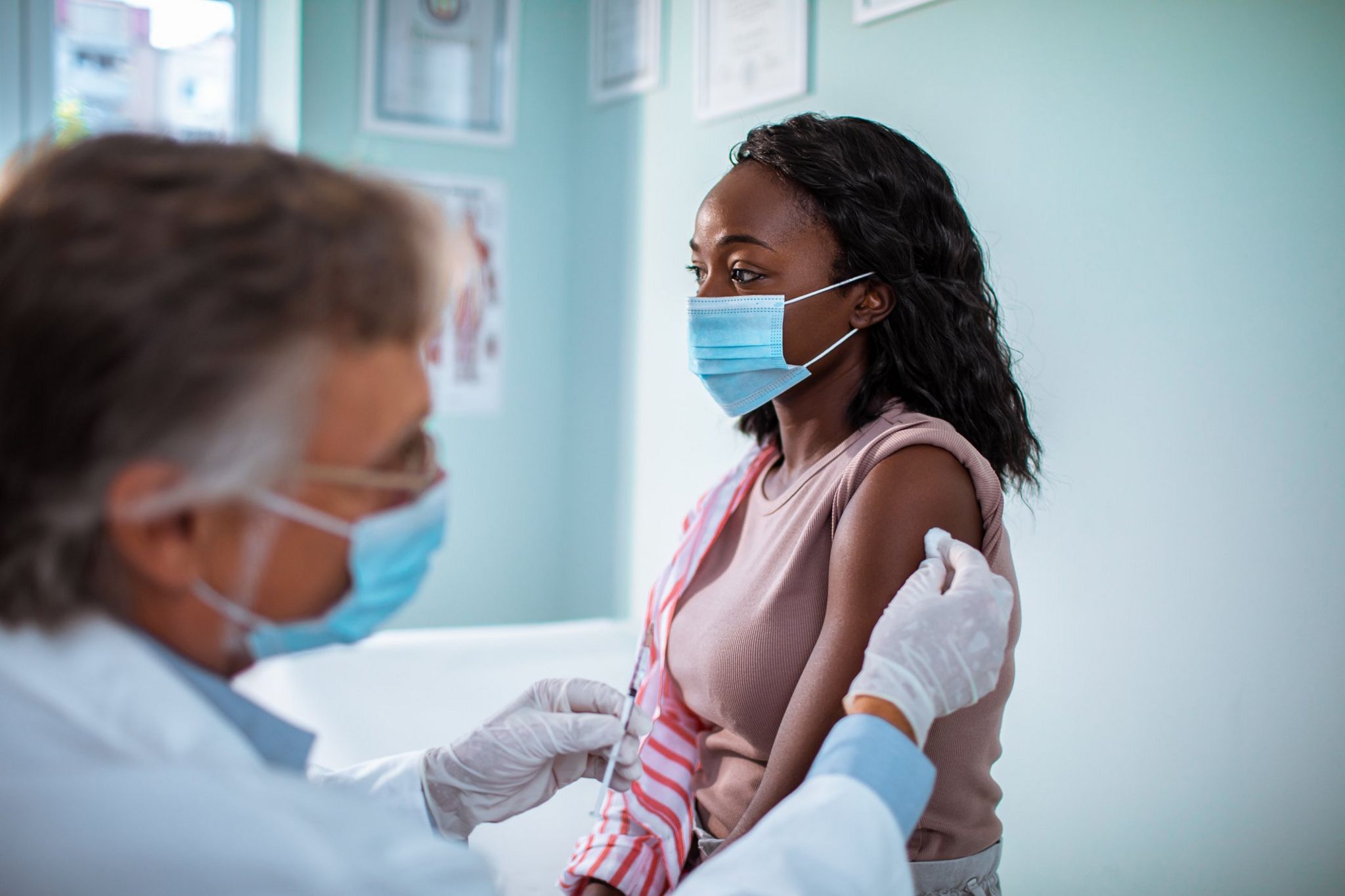 A possible alternative to a vaccine, for people without functioning immune systems, is entering its final stage of trials.
The injection was developed using antibodies - made by the immune system to fight infection - produced by a single Covid patient in the US.
It is hoped it could provide at least six months' protection for patients who cannot receive vaccines.
Trials involving 1,000 UK participants begin in Manchester on Saturday.
A further 4,000 people are involved in the trial globally, which is being organised by pharmaceutical giant AstraZeneca.
Participants will be given either an injection containing two different Covid-19 antibodies, which have been specially engineered to last longer in the body - or a placebo.
In recent weeks there have been promising developments in the creation of a Covid-19 vaccine, which works by priming the immune system to fight off the infection.
But the UK's Vaccine Taskforce chair, Kate Bingham, estimates hundreds of thousands people might not benefit from a vaccine because they do not have a working immune system.
This might be due to an immune deficiency, or because they are taking immune-suppressing drugs, for diseases such as cancer.
"It's crucial that we leave no one behind as we move closer to finding both a vaccine and developing more treatments for Covid-19," she said.
"We particularly need to ensure those who cannot be given a vaccine, such as people who are immuno-compromised, have alternatives available that will help protect them."
AstraZeneca, which is developing the antibody injection, hopes it will offer 6-12 months' protection.
Study lead Prof Andrew Ustianowski said, while vaccines work "by inducing a person's immune system to produce antibodies that inhibit or 'neutralise' the virus", his team are investigating whether similar protection could be given to the immuno-compromised, by injecting antibodies which have been shown to neutralise the virus directly into the muscle.
This bypasses the immune system for those people who "don't respond well to vaccines, or cannot be given them".
However, the therapy is significantly more expensive than vaccination and difficult to produce at scale, so it is unlikely to be used on the wider population.
Nine UK trial sites have been identified so far, in Manchester, London, Plymouth, Southampton, West Yorkshire, Enfield, Rochdale and Preston. The first results are expected next spring.
The trial will assess whether the therapy is effective and whether it is safe.
Additionally, AstraZeneca has suggested another possible use for the jab - to protect care home residents if a case is identified within the home.
Vaccines take a bit of time to build immunity in the body, but this injection should work immediately, so could be given as a preventative measure.
Its preventative efficacy will be tested in a second, parallel trial, on participants in the US and the UK.