Covid: NHS staff helped through crisis by 'wobble room'
By Hugh Pym
Health editor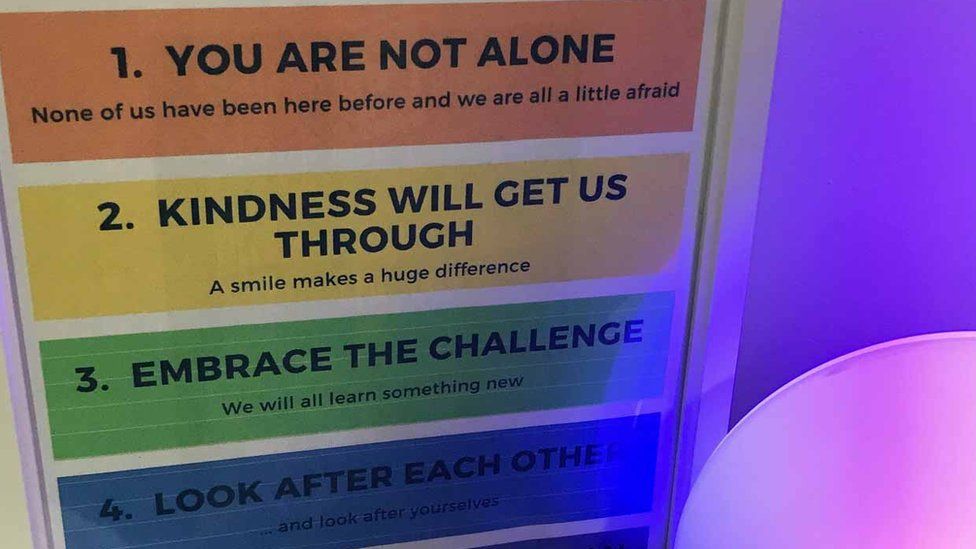 In small room in the Royal Derby Hospital, there's a table bearing a laminated sign. "You are not alone," it says.
It continues: "Kindness will get you through. Embrace the challenge. Look after each other. You are stronger than you think."
This is the "wobble room", set aside not for patients but for front-line staff to get them away - briefly - from the intense pressure and strain experienced in the first wave of Covid-19.
"We made a wobble room because that's what we needed," Kelly-Ann Gurney, an intensive-care nurse, told the BBC.
"It's a room where staff could just go and sit and cry if they needed to and get it all out and then come back and 'put their face on' and get back into it again."
Now the second wave is hitting the hospital, and the need for the room is just as great.
Concerns are growing about the physical and mental health of front-line NHS staff. There has been no lull since the April peak of the virus as normal treatments and operations, postponed during the crisis, have returned to hospitals.
The second wave is now breaking on them, but this time there has been no widespread clearing of beds and cancellations of non-urgent work to create capacity for Covid patients.
To add to the pressure, winter with all its additional health challenges is not far off, and some staff are wondering whether they can cope.
Caroline Swan, a senior sister and manager of the intensive care unit at the Royal Derby, says she is ready to face what is ahead but feels very tired.
"I am also very concerned. My staff are very tired and stressed out. We have a lot of sickness either due to burnout or they are unwell.
"A lot of staff have to self-isolate at home - and that puts a lot of strain on staffing here."
Dr Magnus Harrison, medical director of the University Hospitals of Derby and Burton NHS Trust, says managing rotas is getting harder due to staff sickness and the need for some to self-isolate if family members are infected.
"It is worth acknowledging what staff did in the first wave. They behaved tremendously and worked incredibly hard, and we're expecting them to do it again in winter - and Covid numbers could be higher than in the first wave. People are tired out."
The Royal College of Nursing has said it has "grave concerns" about how services will be safely staffed this winter with the NHS in England back at the highest alert level.
It argues that even with an increase in newly trained nurses and those returning from retirement, there may not be enough staff to cope with the second Covid wave.
Sir Simon Stevens, head of NHS England, said at a recent Downing Street media conference that about 30,000 NHS staff were either off with coronavirus or having to self-isolate.
He added that controlling the spread of the virus in local communities was essential if the NHS was to be fully staffed.
A Department of Health spokesman said it was committed to ensuring the NHS in England had "the funding and resources it needs, including front-line staff".
He added: "We are on our way to delivering 50,000 more nurses by the end of this Parliament - with already over 14,000 more in the NHS over the last year."
Dr Greg Fletcher, an intensive-care consultant, has worked at Royal Derby for 12 years. He points to the unprecedented strain of caring for very sick patients in critical-care beds, some of whom will not survive because there is no cure for the coronavirus.
"I've seen more people die seemingly needlessly or unexpectedly in the last six months than I have seen in the whole of my career. It's been despite trying everything we could to save life. It does take its toll on an emotional and psychological level."
The mood at the Royal Derby is stoical. Staff know what to expect after their experience of the first wave. But this time the days are shorter and colder, and there is no opportunity to take a break in the sunshine.
Kelly-Ann Gurney says "a lot of staff are struggling". But she adds: "We've done it before and we'll do it again. We just have to support each other through it."
Greg Fletcher adds that there will be no let-up and no holidays to look forward to.
"We go into the next few months with a significant degree of trepidation."
Related Internet Links
The BBC is not responsible for the content of external sites.