Coronavirus doctor's diary: 'We blame Eat Out To Help Out for our tragedy'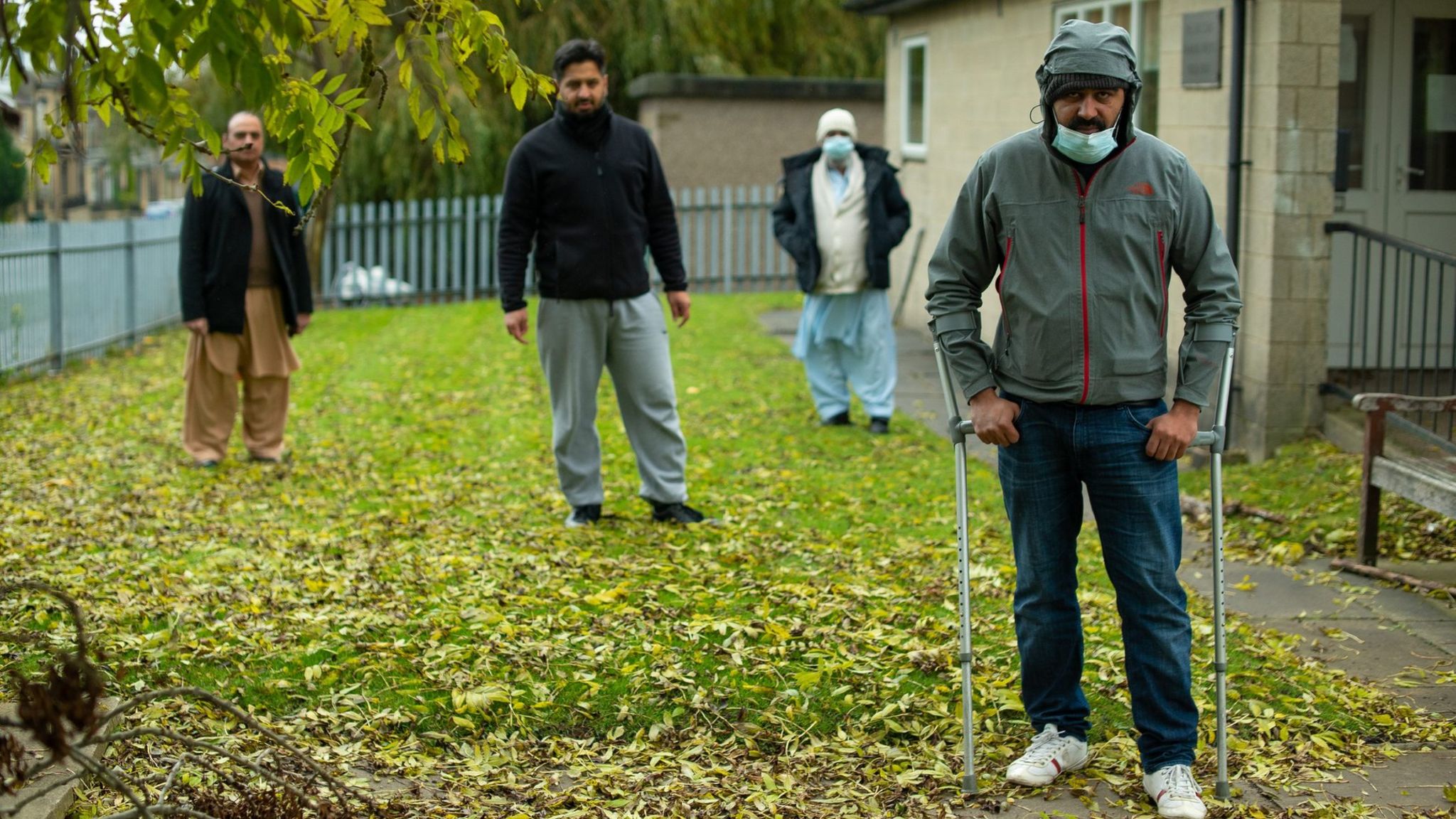 Covid-19 has swept through three streets in southern Bradford causing at least two deaths this month and leaving others in hospital. It's an outbreak that many think grew out of Eat Out to Help Out, and one that a local authority neighbourhood testing scheme is trying to control, as Dr John Wright of Bradford Royal Infirmary explains.
"I was good at science and have a degree in science but I didn't take Covid seriously at the beginning," says Abdul Majid. "I used to laugh. I thought there was no such thing. I laughed at it and now it's laughing at me. It's heartbreaking."
Abdul Majid's father, Abdul Saboor, is in intensive care with Covid-19. His uncle, Nawab Ali, died on 17 October, at the age of 61. Abdul Majid has had Covid-19 himself, as have numerous members of his family and many of his neighbours on three streets in the Parkside area of the city.
"It's not just our family, it's all our street. Every house has had it, every house member has been ill," he says.
The residents of Springwood Avenue, Avenue Road and Parkside Road survived the first wave of the Covid pandemic relatively unscathed, but the second wave has been devastating. The chair of the Parkside mosque, Haji Amir Kabil Raja, who died two days before Abdul Majid's uncle, is being widely mourned, and his brother, Haji Amir Afzal Raja, remains unwell.
There is a strong feeling here that Eat Out To Help Out in August was the moment when people let their guard down and the virus entered their homes, though this cannot be proven.
"It's hit hard here because people didn't take it seriously - or they did for the first lockdown but that all changed with the Eat Out scheme," says Mohammed Mukhtar Khan, who has just returned to his home on Avenue Road after six days in hospital.
"I think this is where the problem came - I think it's people gathering together in the restaurants. In the first wave people were scared, and then when they started promoting the restaurant scheme it made it very bad."
Prof John Wright, a doctor and epidemiologist, is head of the Bradford Institute for Health Research, and a veteran of cholera, HIV and Ebola epidemics in sub-Saharan Africa. He is writing this diary for BBC News and recording from the hospital wards for BBC Radio.
Precisely how many people living in the Parkside area have become ill is hard to say, but local resident Shahid Islam, a senior research fellow at the Bradford Institute of Health Research, echoes Abdul Majid's grim assessment.
"I phoned one resident yesterday and he said all his family have it, and he has it quite badly right now," Shahid says. "A few other people have not been seen recently and when I asked their relatives I was told they are ill at home, recovering."
Two other residents, Bob and Liz, have died in the last few days, though in at least one of those cases it's unclear whether Covid-19 was responsible.
We are increasingly recognising that unlike flu or measles, which spread like tidal waves across communities, the Sars-Cov-2 virus appears to spread in clusters with a small number of individuals and events contributing to the great majority of cases - perhaps only 10% of individuals causing 80% of infections, often in superspreading events such as weddings or funerals.
The most efficient approach to controlling transmission would be to track back to these superspreaders and isolate them. However when the prevalence of cases is so high, the test and trace systems can barely keep up with current cases let alone investigate back to the source.
Last week the national test and trace programme managed to trace less than 60% of contacts, a record low - and in Bradford it is less than 50%.
When they have failed to trace a contact, the case is often handed over to a local test and trace team, and these are proving to be far more effective, tracing more than 90% of contacts.
Losing patience with the failures of national test and trace, local authorities are also taking matters into their own hands by sending testers door to door in neighbourhoods with high rates of infection.
The point of this "shoe leather" epidemiology is to find cases of Covid-19 that are not being detected by other means, and then to provide help - information on how to isolate, how to get treatment, and, if necessary, where to get financial advice. Seven thousand tests have been carried out by Bradford's neighbourhood teams since the start of September.
Contact tracing is a simple but effective process that is part of everyday NHS and public health practice to control diseases such as TB and meningitis
It involves piecing together a careful history of close contacts, starting with those sharing the same house, followed by testing and treatment or isolation, and tracking back to find and treat patient zero
Abdul Majid, who says he once laughed at Covid-19, is one of many to have shared conspiracy theories about the pandemic on social media, and unfortunately scepticism is now widespread. This complicates the task of the testers, who find that there is no answer at about half of the houses they visit, and that residents who do answer often refuse to be tested.
"Some people won't be tested because they are too busy, some don't believe in it and think it's a government conspiracy, some people won't test because if they turn out to be positive they don't want to self-isolate because of financial worries," says Ishaq Shafiq, who runs community testing for Bradford's Covid Response Hub.
"Some people are scared to do the test, some don't speak the language and some women won't do it without their husband's permission. Around 50% in some areas refuse to be tested. There is huge, huge mistrust in national and local government."
Waseem Khan is another of those who blames Eat Out to Help Out for the community's troubles. Working night shifts for the Ministry of Justice he would see the queues of people failing to socially distance on his way to work in the evening.
He was badly ill for four weeks with Covid himself, then his parents were taken to hospital and spent time in ICU. They have since come home to recover, but now Waseem's mother's brother, Abdul Saboor (Abdul Majid's father) is on ICU, having been transferred from Bradford Royal Infirmary to the Calderdale Royal Hospital in Halifax.
Waseem occasionally drives over to Halifax and parks nearby in order to be close to his uncle, even though he is not allowed inside.
"There's a certain comfort you get from it," he says. "It's a very strange and testing time."
Photographs by Pishdaad Modaressi Chahardehi unless otherwise specified