Covid Sage documents: The scientific evidence and what No 10 then did
By Rachel Schraer
Health reporter
Documents have revealed the UK government did not follow the advice given to it by scientists as coronavirus cases began to surge.
The Scientific Advisory Group on Emergencies (Sage) is a committee attended by scientists across a range of fields. While its members may not individually agree, their role is to look at the evidence, work out what it is suggesting, and present an agreed view to the government. It's then for the politicians to decide what rules to make.
What scientists recommended: They did not go as far as recommending a full lockdown on the scale of the one in the spring. This was also an outcome Prime Minister Boris Johnson has been extremely keen to avoid.
Their evidence said: The effect of a full lockdown, including closing non-essential businesses and banning contact between households, was clear: it would have had a big impact on coronavirus cases and deaths. But it would also have had a large knock-on impact - hurting people in other ways, such as their ability to work and socialise.
What happened: The government opted for a three-tier system in England, with household mixing indoors banned only in the areas of highest concern. Businesses will broadly remain open.
What they recommended: Sage said government should consider a short lockdown of two or three weeks, immediately, to bring down the number of cases.
Their evidence said: There were solid grounds to suggest this would have had "similar levels of effectiveness" to that of the national spring lockdown, in turning the tide of the pandemic. But its shorter period would have limited the overall effects - there would almost certainly have been fewer deaths but the line on the graph would look less dramatic. You would also have had to wait until after the restrictions had been lifted to see any benefit, since it takes time for the infections that would have been prevented to translate to lower hospital admissions and deaths.
What happened: This idea was rejected by No 10 in favour of an option that keeps businesses open and household contact going for most of the country, but with the threat that such privileges could be taken away if cases rise. Now Labour leader Keir Starmer has called on the government to think again.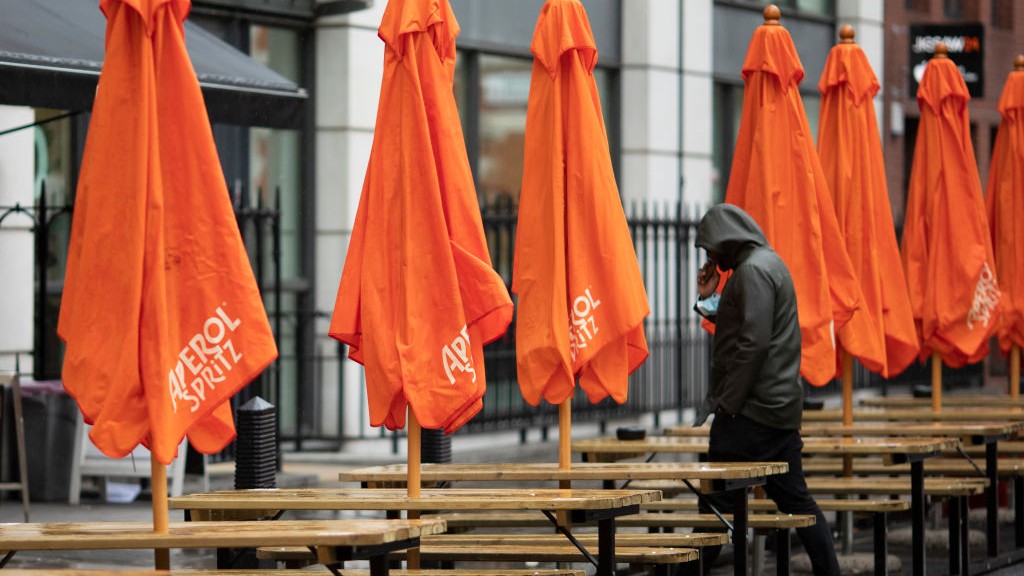 Getty Images
Multiple anecdotal reports of outbreaks linked to bars in the UK, Europe, US... curfews likely to have a marginal impact
What they recommended: The scientists recommended people be advised to work from home if they could.
Their evidence said: This would have been likely to make a significant dent in transmission as about a third of people's total contacts are made at work. But this will vary drastically by industry - and how much it would have dented the current transmission depends on how many people currently at work could have done their job from home.
What happened: Those who can are once again being advised to work from home, in a reversal of the government's drive over summer to encourage more people back to the workplace .
Mixing with other households
What they recommended: The advisory group said government should consider immediately putting a stop to contact between households, unless they were part of a support bubble.
Their evidence said: Being in an enclosed space, breathing the same air and touching the same surfaces, makes mixing indoors a high risk activity. Much of this risk is shared with people you live with, where cutting contact is not really possible. But spreading the virus to other households is what allows the epidemic to be sustained - though scientists say restrictions on different mixing would have been less effective in areas with lots of intergenerational households, where young and old mix within the same bubble.
What happened: Mixing with other households indoors has been banned for people living in areas on "high" or "very high" alert. Outdoor mixing is allowed in groups of no more than six.
What they recommended: Sage said government should consider the immediate closure of closure of all bars, restaurants, cafes, indoor gyms, and "personal services", for example hairdressers.
The evidence said: The risk in bars, restaurants and cafes was "likely to be higher than many other indoor settings" as people sit close together for long periods without wearing face coverings, and potentially talk loudly, risking spraying more virus into the air. Alcohol also affects people's behaviour. The scientists pointed to multiple outbreaks linked to bars - but also indicated the evidence suggested curfews were likely to have only a "marginal impact".
What happened: The government largely rejected the advice. Most of England can continue going to pubs and restaurants, although since cases began to spike, a 22:00 curfew has been ordered. In "very high" alert areas, pubs and bars must close unless they are operating like a restaurant and only serving alcohol as part of a sit-down meal.
Schools, colleges and universities
What they recommended: Sage recommended all university and college teaching should be carried out online "unless absolutely essential", but schools should continue in person. It's possible a "circuit-breaker" could be timed to coincide with school holidays.
The evidence said: Closing schools, particularly secondary schools, might have had a moderate impact on transmission but would come with a high level of harm for children's education and their own and their parents' wellbeing. For adult students, the impact on transmission was considered to be higher and the harm to health and social equality lower.
What happened: Schools and universities remain open - although many universities are beginning to move teaching online anyway due to outbreaks.