Coronavirus: Daily cases highest since mid-June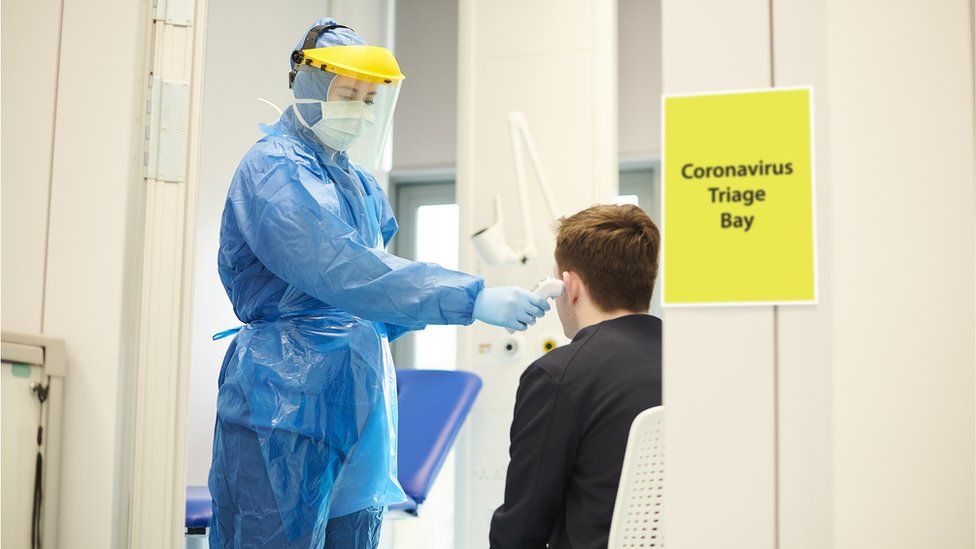 The number of daily UK cases of coronavirus has risen to 1,522 in 24 hours - up from 1,048 on Wednesday - the highest tally since mid-June.
This is still much lower than the 5,000 new cases a day in April, at the peak of the epidemic.
A number of areas have seen a spike in infections, with Birmingham and Northampton the latest places affected.
And experts suspect a relatively small number of areas in the UK are responsible for an increase in new cases.
Testing has also increased over recent weeks and this means more people with the virus are being detected.
Health Secretary Matt Hancock told BBC Breakfast that NHS Test and Trace was now reaching "almost 80%" of contacts and the extra support will help "get the last few percentages".
However, NHS England's Test and Trace scheme is still failing to actually hit its 80% target, with weekly figures showing the time taken to turn around results is getting longer.
The last weekly testing of people in thousands of private households, by the Office for National Statistics (ONS), seen as the most accurate picture of new infections, suggested cases were levelling off.
New weekly ONS figures will be released on Friday.
Meanwhile, the numbers of people admitted to hospital and dying from Covid-19 are on a downward trend.
As of Thursday, the government reported 41,477 people had died in the UK within 28 days of testing positive for coronavirus - a rise of 12 on the previous day.
Separate figures published by the ONS show there have now been 57,200 deaths registered in the UK where Covid-19 was mentioned on the death certificate.
How worried should we be?
This rise needs to be seen in context.
While any increase in cases is worrying, we are now testing more then we did two months ago.
The more you look for the virus, the more you will find.
The increase we have seen since early July - when the average rate was half what it is now - cannot be all accounted for by more testing, but it is certainly a key factor.
The other thing to remember is where we have come from.
At the peak of the pandemic we could not do mass testing so we do not know exactly how many cases there were. But the best estimates are there were around 100,000 new infections a day at the end of March.
It is unrealistic to expect cases to get down to zero.
What is important now is that we keep beating down on the virus - and limit any increases. That requires identifying hotspots and keeping a lid on them.
All the indications are that the areas that have had extra restrictions imposed on them in recent weeks are seeing a declining number of cases.
The national rise - certainly at this point - is not as alarming as it seems. But there can be no room for complacency.
Police in England and Wales have seen a 31% rise in assaults on emergency services workers in the four weeks to 2 August, compared to the same period last year. Martin Hewitt chairman of the National Police Chiefs' Council said he was "disgusted" by the increase at a time when emergency services were on the front line of the coronavirus pandemic
From Tuesday, workers on low incomes in parts of England where there are high rates of coronavirus will be able to claim up to £182 (equal to £13 a day) if they have to self-isolate. The benefit will be trialled in parts of north-west England first
No new coronavirus-related deaths were recorded in Scotland in the past 24 hours, First Minister Nicola Sturgeon said. It comes after the first deaths following a positive test in the nation for six weeks were announced on Wednesday
The take up of the flu jab among people in vulnerable groups has declined, according to BBC analysis, despite plans to double the number of people who receive it. Experts have warned that if fewer people are inoculated the NHS could be overwhelmed in the winter