Coronavirus: England test and trace system identifies 31,000 contacts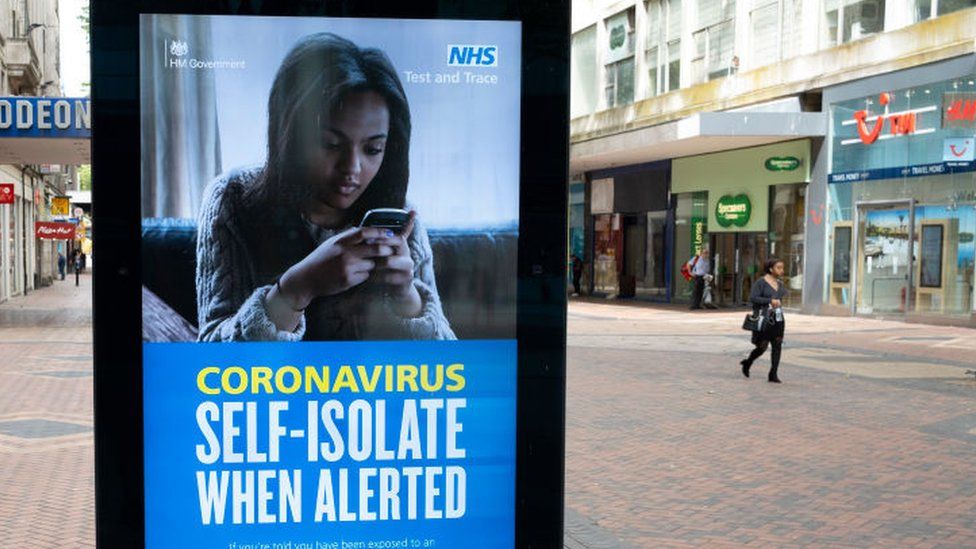 More than 31,000 close contacts of people with coronavirus were identified during the first week of the test and trace system in England, figures show.
Of those, 85% were reached and asked to self-isolate for 14 days.
This was from 8,000 people testing positive for the virus. Two thirds of them gave details of close contacts.
Health Secretary Matt Hancock said it was the public's "civic duty" to follow instructions given by contact tracers.
Speaking at the daily coronavirus briefing, he added he was not ruling out enforcement measures to make people self-isolate for 14 days if asked to do so.
About 25,000 contact tracers were recruited in England and started work at the end of May.
The NHS figures, which cover 28 May to 3 June, are the first to be released showing the progress of the contact tracing scheme.
'Protect your loved ones'
Baroness Dido Harding, who runs NHS Test and Trace in England, said the system was working well but it "can, needs to and will get better".
The system has been unable to reach 15% of close contacts identified - 4,809 people - either because they were unavailable, their contact details were wrong or they did not respond to texts, emails or calls from contact tracers.
Appearing alongside Mr Hancock at the briefing, Baroness Harding said that did not necessarily mean those people had not self-isolated, adding: "Only a small minority don't want to self isolate and we need to understand why this is and what we can do to support them to stay at home."
She said earlier there had been "good numbers of compliance" with 26,985 contacts of positive cases identified, reached and asked to self-isolate.
One contact tracer, Josie, has been working from her home in Redcar, North Yorkshire, to trace contacts.
"Everybody that I've spoke to has been more than happy to share the information that we need," she told the BBC.
Baroness Harding added the "number one thing" that would improve the programme was more people getting tested for the virus once they develop symptoms.
Appealing to people to comply with the measures, Mr Hancock said: "Please do it to protect your loved ones, do it to protect your community, do it to protect the nation and do it to protect the NHS."
In response to a question about potential enforcement to make more people co-operate with the scheme, Mr Hancock said: "We're not ruling it out, but we don't think we need it at the moment."
He said the "best way forward" was to see an increase in the number of people being contacted.
Contact tracers are told to try to contact people 10 times in a 24-hour period.
Most of the people called in the first week were identified by local public health teams as part of investigations into outbreaks.
As lockdown eases, and people start to return to work and go out to shops, it is expected the number of contacts people have will start to grow from a low starting point.
In the first week of the test and trace scheme, contact was made with 5,407 people who tested positive for coronavirus, asking them to provide details of recent contacts. Their cases may also have been investigated as part of a local outbreak.
Some 2,710 with positive tests were not reached, either because their contact details were not correct or they decided not to give out information about their contacts.
The data from the test and trace system in England has been eagerly anticipated - after all, this system will be crucial in helping contain local outbreaks, enabling the country to ease out of lockdown.
It is still early days, but how should we interpret these findings?
Firstly, the system seems to be pretty good at reaching the contacts of people who have tested positive, if those positive cases engage with the contact tracers and provide details in the first place.
The problem is a third of people who test positive are not providing details.
This could be because the contact tracers are not as good as they should be at tracking those who do not engage with the online forms (the first point of call for the system).
There have been suggestions that sufficient translation support is not always available, for example.
But incorrect contact details being provided and people simply refusing to take calls - despite repeated attempts - are certainly factors too.
The key to the success of the system will be both an efficient service and public engagement in taking calls and following the advice to self-isolate.
It's a way of controlling the spread of the virus by asking people who have tested positive for coronavirus to share information on who they have been in close contact with.
If you test positive for the virus, tracers will text, email or call you and ask you to log on to the NHS Test and Trace website to provide details of contacts.
Close contacts will then be contacted and told to stay at home for 14 days, even if they don't have symptoms.
This process is organised slightly differently around the UK.
What happens around the UK?
In Scotland, the system is called NHS Test and Protect. Between 28 May and 7 June 2020, 741 contacts were traced from 681 positive tests for the virus - an average of 1.5 contacts per case.
Contact tracing started in Wales on 1 June and is called 'test, trace, protect'.
Mr Hancock said the contact-tracing app would be brought in "when it's right to do so".
Separately, the Office for National Statistics has suggested that many more people have had the virus but have not been tested.
A recent ONS survey of households in England estimated there could have been 39,000 new cases per week, up to 30 May - in addition to cases in hospitals or care homes.
Related Internet Links
The BBC is not responsible for the content of external sites.