Coronavirus: Care home deaths 'starting to decline'
By Nick Triggle
Health correspondent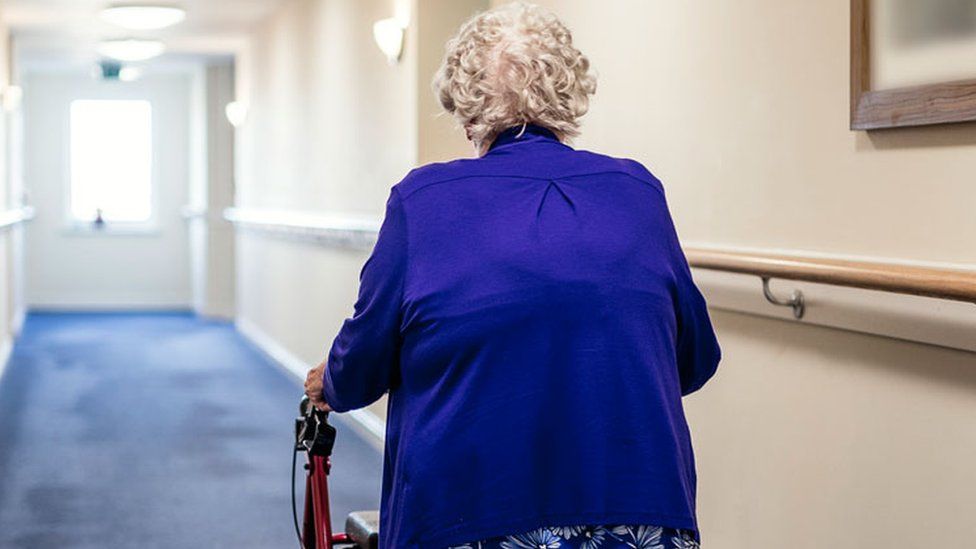 The number of coronavirus deaths in care homes across the UK has started to fall, figures show.
A review of death certificates showed there were 2,800 deaths linked to the virus in the most recent week - down 12% on the week before.
It brings the virus death toll in care homes to more than 9,700.
The data also showed that between mid-March and early May more than 50,000 more deaths have been recorded than would be expected during this period.
This is known as excess deaths and is said to be a better measure of the true impact of the epidemic as it measures deaths linked directly to the virus and others associated with the lockdown.
Have care home deaths peaked?
The number of hospital deaths has been falling since early April.
But the government and care sector had been struggling to contain outbreaks in care homes.
These figures - from the Office for National Statistics and its counterparts in Scotland and Northern Ireland - are the first sign that the corner may have been turned.
While the government's daily figures contain deaths in care homes now, the lack of testing particularly in the early days has meant it has been hard to establish a trend - the daily figures require a diagnosis of the infection.
Despite the drop, the virus has had a major impact on the overall number of deaths in care homes.
The total number seen in recent weeks - 9,700 - is more than two times higher than you would normally expect.
As well as the coronavirus deaths, there have been a large number of fatalities happening where the cause is unclear.
One suggestion has been that the lack of testing in care homes has meant the virus has not always been listed on death certificates when it should.
The Local Government Association said the number of deaths was "shocking" and a "terrible loss" to the families involved.
But England Care Minister Helen Whately said it was a "relief" care home deaths had started falling.
However, she added "our work is not yet done" and the government was "doing everything in its power" to help the sector, pointing out the availability of testing and personal protective equipment was being increased.
Is 50,000 the true virus death toll?
The 50,000 figure refers to the total number of extra deaths seen from mid-March to May.
Normally during this period you would expect to see just under 100,000 deaths.
But close to 150,000 deaths were actually recorded - 36,000 of them mentioned coronavirus on the death certificate.
That leaves another 14,000 extra deaths that may be related to the epidemic in other ways, such as suicide or people who suffer heart attacks and strokes but have not accessed care.
The overall level of extra deaths is on a par with the excess winter mortality seen two years ago, which covers a period of four months whereas this is less than two.