Coronavirus: What is the UK's test, track and trace strategy?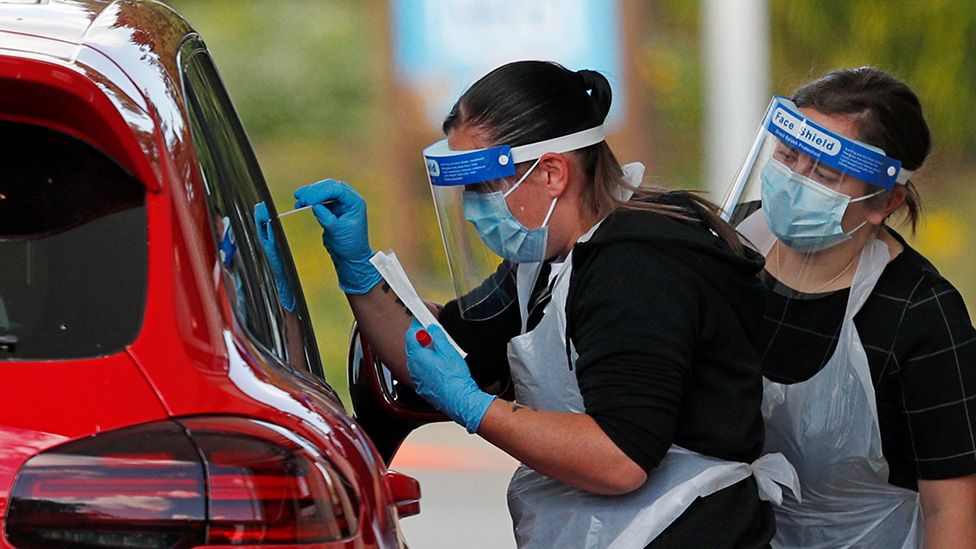 The UK's "test, track and trace" coronavirus strategy is being rolled out - with the National Health Service's all-important app finally live.
People on the Isle of Wight are being asked to download it to smartphones in a pilot test of how well it works.
The app is designed to alert people to possible exposure to coronavirus, and is part of the government's three-part plan which will shape how and when the UK leaves lockdown.
The strategy's three aims are:
Test people to uncover the virus
Track how and where the virus is spreading
Trace people who may be infected
The three parts closely relate to each other - with experts saying success depends on all elements working together.
Part one: Test people to uncover the virus
The government met its target of 100,000 tests a day by the end of April - but this figure included testing kits sent out by post.
Actually daily tests have dropped back to around 80,000 per day since then.
All front-line health and social-care workers
All hospital patients and care-home residents
Essential workers with symptoms
Anyone over 65 with symptoms
People with symptoms who work outside their home
Anyone with symptoms who lives with someone in the above categories
They will either receive a test at home - or be asked to go to a drive-through testing site.
The government has also promised mobile units and further facilities on NHS premises.
The test involves swabbing inside the nose and at the back of the throat with a special cotton bud.
Couriers then take the swabs for analysis.
Three "mega-labs", in Glasgow, Milton Keynes and Cheshire, are processing tens of thousands of tests a day.
Results should be sent back within 48 hours - or 72 hours for home kits.
Part two: Tracking how and where the virus is moving
The government is recruiting 20,000 households across the UK to be regularly tested for coronavirus - with ministers hoping to ultimately have 300,000 taking part.
Volunteers will be tested every week for the first five weeks, and then every month for a year.
They will also answer more detailed questions from a health worker.
Some will also be tested for antibodies.
This is the evidence of immunity to coronavirus, following infection.
The study should provide crucially important data on how coronavirus is moving through the population.
And the results will influence decisions on social distancing and lockdowns.
It is being run by the Department for Health and the Office for National Statistics, with advice from University of Oxford scientists and support from data science company IQVIA UK and the National Biosample Centre, in Milton Keynes.
Part three: Trace people who may be infected
It alerts people potentially exposed to someone with coronavirus.
The app uses Bluetooth - a radio technology that connects devices close to each other.
As users come close to another person's phone, the app registers the other phone's presence.
If an app user develops coronavirus symptoms, they register those with the app - and it then alerts those other app users.
In theory, that means they receive an early warning they may have been infected.
Epidemiologist Prof Christophe Fraser, who has worked on the app, told BBC News the aim was to link the system to results from tests, for even more accurate coverage of the population.
Less than a fifth of Singapore's population are believed to have installed its version of a tracing app - meaning its success has been difficult to measure.
Similar concerns have been raised in other countries.
"If you, your friends, relatives and colleagues install the app, you have a group of people who are protected," said Prof Fraser.
"For this intervention alone to control an epidemic, you would need about 60% of the population to download and adhere to it.
"On the other hand, we're not proposing that this system should work alone.
"If this intervention is sitting alongside other methods, you would need a lower uptake."
The app does not disclose personal details to other users - but the Information Commissioner, the UK's data protection watchdog, says the details gathered in the phones should not be "centralised".
Other experts have warned apps could lead to false alerts of infection because the Bluetooth technology could link phones belonging to people who were, in fact, a safe distance apart.
Apple, Google and others have proposed a different system where data is "decentralised" and processed by users' phones.
Backers of this system say it gives users more control over their data. The NHS says a centralised system gives more insight into where the virus is spreading, and how well the app is performing.
Alongside the app, the government is recruiting 18,000 "tracers".
They will interview people who test positive to find out whom they have definitely been close to - such as family, neighbours or colleagues.
These contacts can then be explicitly advised to self-isolate because of the high risk they are infected, giving the virus less chance to spread.