Coronavirus lockdown: Are the five tests being met?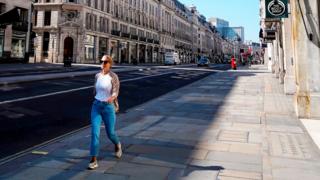 After Easter, when the government announced lockdown was to continue for another three weeks, it set out five tests that had to be met before restrictions were eased.
But with the peak being passed, how close are we to meeting those five tests? And what else needs to be done?
Test one: Making sure the NHS can cope
It has been clear for a number of weeks that the health service is in a good position to cope.
In the first half of April, NHS Providers, which represents hospitals, was saying it was "increasingly confident" the NHS had capacity needed.
This is because of the work done to free beds in hospitals - about a third of the 100,000 plus beds across the UK were emptied as routine work was cancelled and community services agreed to take care of patients recovering in hospital.
Alongside this, operating theatres and recovery rooms were transformed into intensive care wards and new ventilators bought or borrowed from private hospitals, doubling capacity.
This has, of course, come at a cost, with growing numbers of people left waiting for routine treatments, such as knee and hip replacements, while some cancer services have also been affected.
But it has stopped the NHS becoming overwhelmed by the virus, as happened in parts of Italy.
The NHS has not run out of beds - either on general wards or in intensive care - at any point.
And the numbers in hospital are now falling, with thousands of beds available to treat patients if need be.
Test two: A 'sustained and consistent' fall in the daily death rate
Ministers have been clear the peak has passed - and we are now on the downwards trajectory.
The peak was in the second week of April.
The reduction in deaths since then has been slow.
Although the daily death figures can be somewhat misleading - the reports also include deaths that happened days and sometimes even weeks before but have taken time to be recorded.
The data also now includes both deaths in hospitals and in the community, mainly care homes.
If you separate off the two, it is clear there are two epidemics. Deaths in care homes are still rising, while deaths in hospitals - a sign of transmission in the general community - are falling.
Test three: Rate of infection decreasing to 'manageable levels'
This is a trickier one to call because there is limited testing outside hospitals at the moment.
So that means ministers are having to rely largely on the numbers being admitted to hospital with coronavirus as a guide and estimate the amount of infection in the wider population from that.
When it comes to measuring the rate of infection, scientists refer to something called the R number. This is a measure of how many people on average an infected person is passing the virus to.
Without any social distancing measures, the average person would infect between two and three people.
The government's health advisers say the R number is below one.
But that masks the fact it is higher in hospitals and social care.
Germany started easing restrictions when it got it down to 0.7.
Fourth test: Ensuring supply of tests and PPE can meet future demand
Currently the UK has capacity to provide more than 100,000 tests a day, if you include tests posted out to individuals and care homes.
That is a significant improvement on the picture at the start on March - when only around 10,000 a day were being done.
Three mega-labs have been opened to process tests, while 48 drive-thru testing centres, 100 military-run mobile units and a home-testing service have been launched to complement the testing done in hospitals.
But many believe even more testing will be done - testing is still restricted to certain groups.
Tests can still take 72 hours to turn around.
Staff - in hospitals, care homes and, to a lesser extent, other public services - will also need personal protective equipment (PPE) if they are to cope with any rises in cases or at least a sustained stream.
It is pretty obvious that PPE remains a problem - even if the situation is improving.
The British Medical Association is still warning its members are "frightened" by the lack of equipment and having to face difficult decisions over whether to continue treating patients.
The pinch-point for hospitals is gowns.
The government says a deal has been struck with China to supply 25 million gowns, but it is unclear exactly when these will be delivered.
Outside of hospital, the distribution network is still not sufficiently robust to deliver supplies to care homes and other settings quickly enough.
The Army has been brought in to help.
And Health Secretary Matt Hancock says everyone involved is working "day and night".
But as yet this issue is far from resolved.
Fifth test: Being confident any adjustments would not risk a second peak that would overwhelm the NHS
Without a vaccine, this will be a very tricky one to navigate.
As mentioned above, it will need widespread community testing to help contain any outbreaks.
But the government is also piloting a contact tracing system to identify the close contacts of people who do get infected - this will be crucial in keeping infection rates down.
The system, which involves the use of a mobile phone app and army of contact tracers, is being piloted on the Isle of Wight.
If it works, it should be ready for nation-wide launch in mid May.
Where does that leave the lockdown?
Based on the five tests, it is clear we are getting closer to the point where lockdown will be eased.
Much depends on how the testing and tracing pilot in the Isle of Wight goes.
Getting on top of outbreaks in care homes is also important - not only for residents and staff but also because infections in care homes could end up spreading into local communities.
But at the end of the day it comes down to political judgement.
The lockdown itself is harmful - economically, socially and for health.
Ministers will be taking into account more than just these five tests in the decision-making process.