Coronavirus: Home tests not available 'next week'
By Rachel Schraer
Health reporter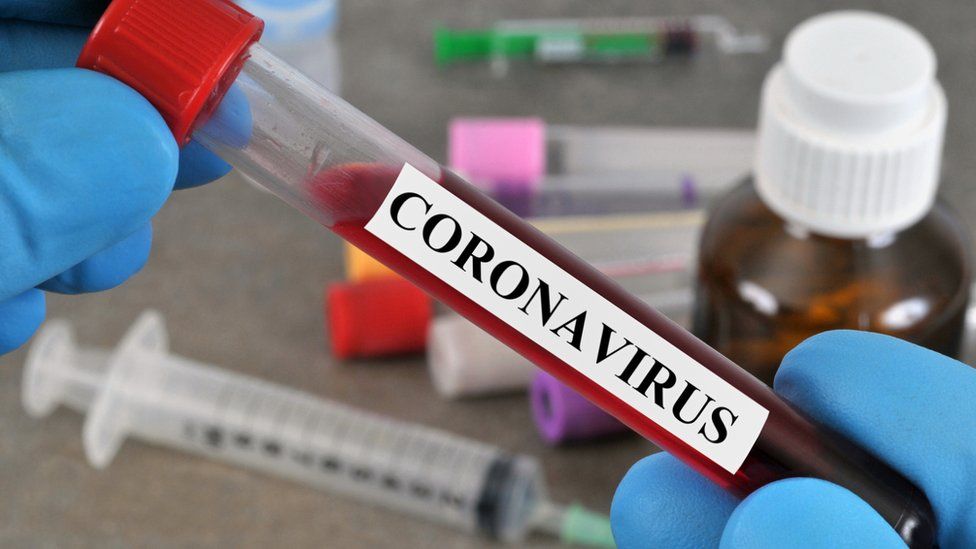 A test to see whether someone has already had coronavirus is being developed but will not be available within days, the UK government's chief medical adviser says.
"I do not think - and I want to be clear - that this is something we'll suddenly be ordering on the internet next week," Prof Chris Whitty said.
The antibody test would let doctors and nurses with immunity to return to work.
MPs heard 3.5 million had already been bought and were being tested.
Public Health England's Prof Sharon Peacock told MPs if they proved effective, "people will be able to order a test or go to Boots to have their finger-prick test done" in the "near future".
But Prof Whitty said: "The one thing that is worse than no test is a bad test."
Experts needed to ensure "the right people get the test first in order to allow workers to go back".
But the priority remained scaling up tests which reveal if someone currently has the illness.
These are available only to hospital patients at the moment, but there are plans to extend them to NHS workers.
During the prime minister's daily press conference, Prof Whitty said if everyone kept to social distancing rules, the outbreak was "probably manageable" although he conceded it would be a "close-run thing" for the NHS.
"At this point in time, as of today, there is not enormous pressure on critical care compared to a bad or even normal winter's day," he said.
But this pressure is expected to increase over the next two weeks.
This message was echoed by infectious diseases expert Prof Neil Ferguson, who was questioned by the Science and Technology Committee of MPs on Wednesday.
He said keeping people inside and increasing NHS staff and beds was likely to prevent intensive care units (ICUs) being overwhelmed nationally.
Prof Ferguson told MPs he believed the government's current strategy would mean "in some areas of the country, ICUs will get very close to capacity but it won't be breached at a national level".
"There will be areas of the country which are extremely stressed but we are reasonably confident - which is all we can be at the current time - that, at the national level, we will be in capacity," he said.
A key government adviser on the country's response to the crisis, Prof Ferguson was responsible for the Imperial College modelling that changed the government's approach and led to stricter social-distancing measures being introduced.
These measures are aimed at completely suppressing the spread of the virus and preventing the health service being overwhelmed.
The combination of keeping people in their homes and making more NHS resources available is predicted to bring demand down to a level hospitals can manage.
There would be some resurgence of cases later, Prof Ferguson said, but these local outbreaks could hopefully be kept at a low level through more intensive testing.
He told the committee that the latest research suggested as many as half to two-thirds of deaths from coronavirus might have happened this year anyway, because most fatalities were among people at the end of their lives or with other health conditions.
The peak of demand for intensive care is expected to come in two to three weeks.
The challenge the UK, and other countries, would then face, Prof Ferguson said, was how to move from a complete lockdown to a situation where some semblance of normal life could be allowed to restart, while still keeping coronavirus cases low.
Part of this would be about significantly increasing the numbers of people being tested, until a vaccine could be found.
There are plans to expand testing capability significantly, however, first for the sickest people, then for NHS workers and eventually to find out if people in the general population have already had the virus.
What do I need to know about the coronavirus?
How have you been affected by the issues relating to coronavirus? Share your experiences by emailing haveyoursay@bbc.co.uk.
Please include a contact number if you are willing to speak to a BBC journalist. You can also contact us in the following ways: