Coronavirus: What tests are available?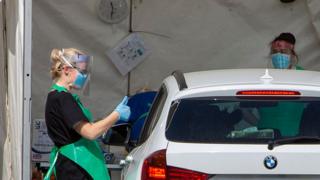 The government has bought thousands of rapid Covid-19 test kits in an attempt to control the virus ahead of winter.
The two new types of test give results within 90 minutes and will be used in hospitals, care homes and other settings.
Individuals with symptoms should continue to apply for coronavirus tests in the usual way, and can expect results back in one or two days.
Getting tested - and then tracing people's contacts - is considered vital to enable health experts to stop a local outbreak from spreading.
What are the tests?
The main test to diagnose someone with a current case of coronavirus involves a nose and throat swab which has to be sent off to be processed at a lab.
About three-quarters of people receive their results back within 24 hours, although postal kits and tests done at pop-up sites can take longer.
But quicker results are needed in some situations, like when someone is admitted into hospital.
Rapid testing can ensure Covid and non-Covid patients are kept apart, and could find pre-symptomatic cases in care homes before they spread.
Two new tests promising to deliver results in an hour-and-a-half have been bought in their thousands by the UK government.
Both still involve nasal swabs, but they can be processed using portable machines rather than going to a lab.
These tests won't show if you have had Covid-19 in the past. That is done by antibody tests, which use blood samples.
Can I get tested?
The lab-based tests are now available to all adults and most children in the UK with a fever, a new continuous cough or a loss of smell or taste.
In England and Wales you can apply for a swab test for yourself, or for anyone in your household, if you or they have symptoms
In Northern Ireland and Scotland, anyone over the age of five with symptoms can get tested.
You can travel to a drive-through testing site, visit a mobile testing unit or get a home testing kit delivered.
The UK also has capacity for about 80,000 antibody tests a day, but these are only offered to health and care staff.
They are also used to test random samples of people to estimate the level of exposure across the country.
Why is testing important?
Testing is essential if the UK's contact-tracing systems are to work effectively to help stop the virus's spread and avoid nationwide lockdowns.
And in theory it can help people, including NHS workers, know whether they are safe to go to work.
It's also useful to monitor the country's level of infection, which can inform NHS and government decisions.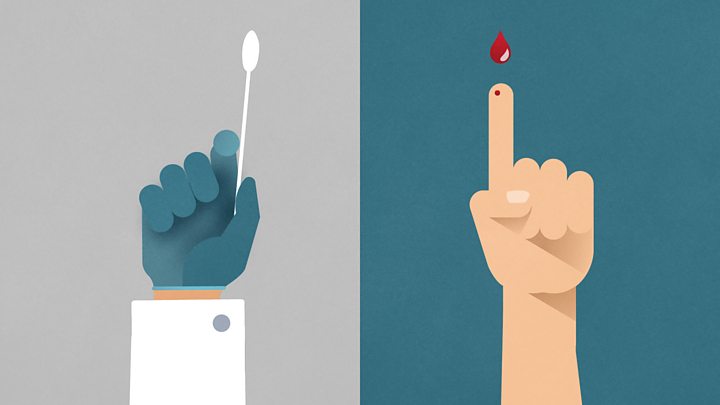 Can people who don't have symptoms be tested?
Staff and residents in care homes should now be receiving regular coronavirus tests whether or not they have symptoms.
Some hospital staff are routinely tested, but there is no national guidance stating they must be.
People living in areas where there is a current outbreak can also be tested, even without symptoms.
How reliable are the tests?
When it comes to the most common type of diagnostic test, scientists at the University of Bristol believe 20% of positive cases could falsely appear as negative, wrongly telling someone they are not infected.
This can be because the swab sample wasn't good enough, the stage of infection someone's at when tested, or problems in the lab.
Prof Andrew Beggs, at the University of Birmingham, says the rapid test produced by Oxford Nanopore is as accurate as the lab-based tests. But the results are yet to be published.
Creator of the other rapid test, Prof Chris Toumazou of DNANudge, told the BBC it picked up 98% of positive coronavirus cases. But it's unclear whether this has been independently checked.
How many tests are being carried out?
Somewhere in the region of 200,000 tests are being provided each day, but about half of those actually get processed daily.
The figure also includes kits posted out to homes - some of which may never be returned - as well as tests carried out as part of a surveillance study by the Office for National Statistics, which aren't used to diagnose people individually.
The government has been challenged over its testing capacity and the data it has presented. and has now changed the way it sets out testing data.
Follow Rachel on Twitter
What do I need to know about the coronavirus?
---
Have you been tested? Or are you waiting for a test?
Please include a contact number if you are willing to speak to a BBC journalist about your experience.