Social care: What are the challenges facing the system?
By Alison Holt & Ben Butcher
BBC News
The care system helps older and disabled people with day-to-day tasks like washing, dressing, eating and medication.
It is under pressure across the UK after past governments failed to reform or fund the council-run system properly.
The pressure on social care during the coronavirus pandemic has led to renewed calls for government action.
On his first day as prime minister in 2019, Boris Johnson committed to "fix the crisis in social care once and for all with a clear plan we have prepared".
But that plan has yet to be published - ministers say they will bring forward proposals in 2021.
The system is devolved across the four nations, meaning governments need to develop solutions unique to their own region.
1. Thousands fewer receiving care
Unlike the NHS, social care is means-tested. To receive help from your local authority, you must have a very high level of need and, in England and Northern Ireland, savings and assets of less than £23,250. In Wales, the threshold is £24,000 for non-residential care but £50,000 for residential care. Scotland operates a different system.
Since 2010, the number of older people asking for council help has increased, but fewer now qualify for support in their own home or in care homes.
The charity Age UK estimates there are 1.5 million people in England who need some help with day-to-day life, but do not receive it.
2. Care homes have suffered during the pandemic
Care home residents accounted for almost a third of all coronavirus deaths in England and Wales up to January 2021, according to analysis by the PA news agency.
Meanwhile, staff sickness and problems with personal protective equipment (PPE) supply increased pressure on the care system.
3. Spending is lower than 2010
Despite increasing demand, spending is still 3% lower than a decade ago.
The money councils spend on social care comes from:
A lump sum from central government that is used to pay for local public services (including social care)
Funds raised by councils themselves, mainly from council tax
Local authorities have generally tried to protect their spending on adult social care, and the government has put in extra short-term money in recent years.
The Local Government Association has said councils are under intense financial pressure, particularly since the start of the pandemic.
4. Fees for care differ across England
The fees that local authorities pay for care, both in a person's own home or care homes, vary hugely depending on where you live.
But across the country, the companies and charities who provide those services complain that councils are not covering the real cost of care.
5. People who don't qualify for free care pay more
The squeeze on council funding in England means that people who pay for themselves are often propping up the care system.
In 2016, the competition regulator estimated that in care homes, self-funders paid significantly more in fees than a local authority resident.
Increasingly, care companies warn they would go out of business without private clients subsidising the system.
Many of those self-funders will have ended up selling their family home to pay for their care. It is one of the reasons why many view the current system as unfair.
6. Scotland spends the most per person
The care systems across the UK are increasingly different in the way they operate, with England the least generous.
For instance, in Wales, no-one who is eligible for care at home is expected to pay more than £100 a week towards it.
The systems in Northern Ireland and Scotland are different for support at home and residential care.
In Northern Ireland, no-one over the age of 75 pays for home care.
Scotland provides free personal care for people who are assessed as needing support at home, whatever their age.
In Scottish care homes, people get free care if they have savings or assets of less than £18,000. Those with savings and assets of between £18,000 and £28,750 have to fund part of their care on a sliding scale, while people with more than that have to fund their own care, apart from a £193.50 a week contribution towards personal care and £87.10 a week towards nursing care.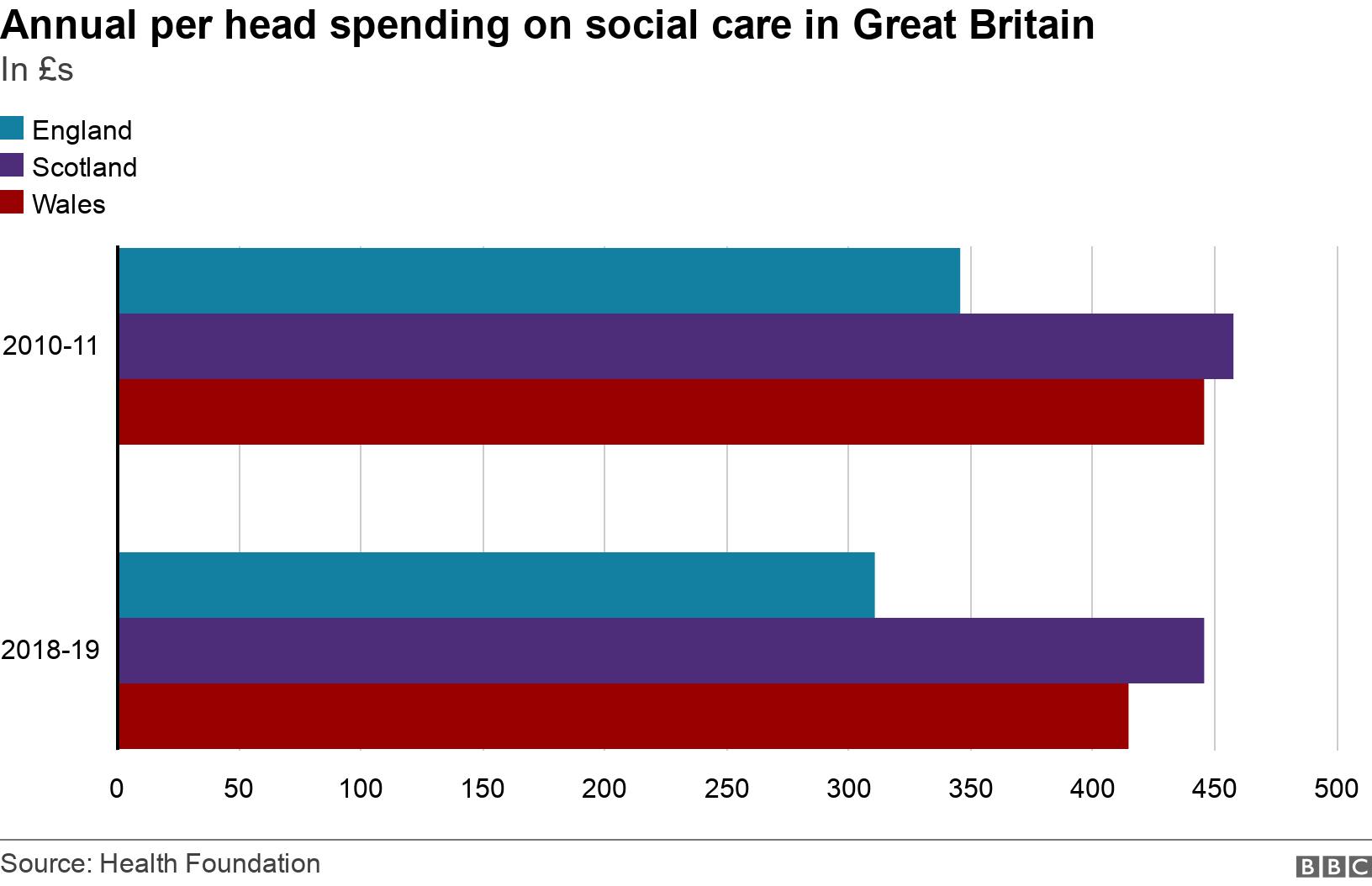 These differences are reflected in the amount of money each nation spends per person on social care. There is no comparable data for Northern Ireland.
7. An ageing population causes problems
The UK has an ageing population and the pressures on the care system will only increase. While living longer is considered a positive, many older people will develop health conditions which mean they need help with day-to-day life.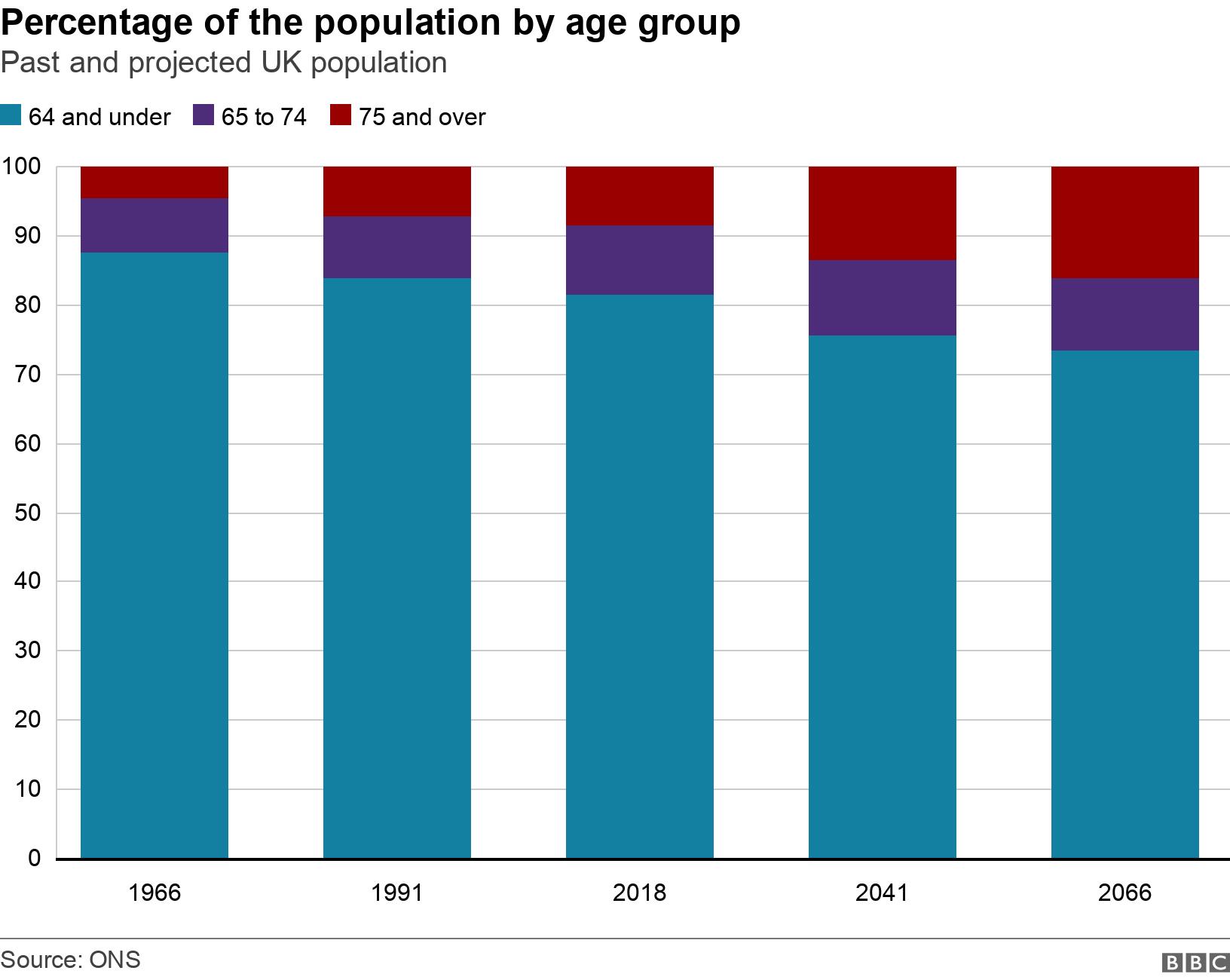 The Alzheimer's Society has estimated that without local authority help, someone with dementia will typically have to spend £100,000 on the care they need.
For a long time they have called this a "dementia tax", as someone who develops the disease will have to cover their own costs until their assets are reduced to £23,250 - the threshold for qualifying for local authority help in England.
8. Lack of social care causes problems for the NHS
There is a knock-on effect for the health service if the care system is supporting fewer people, and only those with the highest needs.
Someone struggling to cope on their own is more likely to have a fall or neglect themselves, meaning they end up in hospital emergency departments.
Then, when they are ready to leave hospital, a lack of social care in the community can lead to them being stuck in a hospital bed for longer than required.
This is why experts say the future of the NHS is tied to creating an effective social care system.
9. Not enough care workers
Finding sufficient people willing to take on the challenging, yet rewarding, work of looking after people in their own home, or in care homes, is a continuing problem.
Nearly a quarter of the 1.5 million people working in the sector are on zero-hours contracts (when employees are not guaranteed a full working week) and pay is often the minimum wage.
Many argue that improving the pay and skills of the workforce is vital to encourage people to consider care work as a career. Increasingly, social care workers are carrying out tasks that would once have been done by trained nurses.
This article was first published in November 2019 and has been updated to reflect recent statistics.