'The NHS turned its back on mum - and it cost us £250,000'
By Nick Triggle
Health correspondent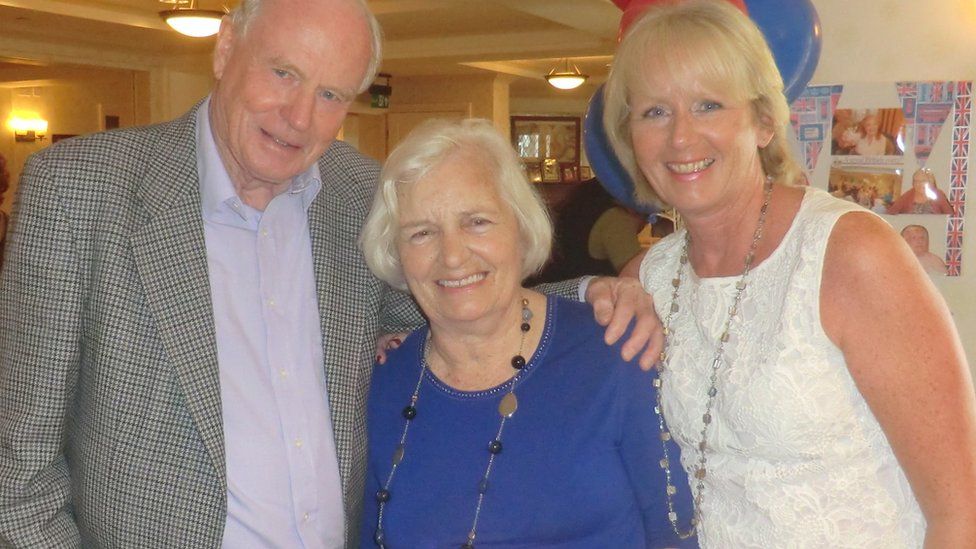 Spending on vital care services for the elderly has been cut by a quarter per head since 2010, a BBC analysis shows. It has left growing numbers of families struggling to get the help they need. One family caught in this trap told the BBC about their struggles.
Fifteen years ago Russell Byfield retired. He had worked hard all his life building up his heating and plumbing business.
It was time to enjoy his retirement with his wife Maureen. They had plans to travel, spend time with their family and enjoy their leisure.
But within a couple of years, all that changed. Maureen was diagnosed with dementia. She was in her early 70s.
The condition developed slowly at first, but gradually the caring responsibilities took their toll on Russell.
He had a mini-stroke and then a heart attack in quick succession 10 years ago.
"It was clear he could not continue looking after mum," says his daughter Sandy Sweet, 59.
"The only option was to move her into a home. Her dementia was progressing and my dad's health was getting worse."
'We found a fantastic home'
At the time Russell and Maureen were living in West Yorkshire, but Sandy and her brother were both living in the south of England.
The family decided the best solution would be for Russell and Maureen to sell the family home and move nearer to their children.
That meant finding a nursing home for Maureen and a new property for Russell.
Russell, who is now 85, ended up buying a bungalow very close to his son's home in Wiltshire, while Maureen, now 86, moved into a nursing home run in neighbouring Berkshire.
"It's a fantastic home. We are very pleased with it."
She said the only problem was that Leeds City Council, which was classed as the "home" local authority because of where Maureen had been living, would not fund the whole cost and the NHS refused to contribute too despite Maureen receiving nursing care.
Sandy says: "We had to pay nearly half of it - about £500 a week.
"It seems so unfair. If she had cancer, the NHS would have been there for her.
"But she had a brain disease and so we didn't get any help from the NHS, despite the fact she needed nursing care."
Nine years on, the family had spent around £250,000.
Sandy says: "We just felt we could not contribute any more. All dad had was his pension and his bungalow."
The finances were reassessed and Leeds agreed to meet the full cost.
"I'm not angry with the council. It is the system that is wrong.
"I met Theresa May at the Tory Party Conference this year - I told her that."
The Byfields are not the only family affected
The family's experience is not unique though. The Alzheimer's Society says thousands of families find themselves in this situation.
The typical cost of dementia care is £100,000, although for some it can top £500,000 during a person's lifetime in care.
Alzheimer's Society chief executive Jeremy Hughes says: "It's heartbreaking to hear stories like Sandy's, her family let down by the system they've paid into all their lives, abandoning them when they need it most.
"Because dementia care is so expensive, hard to access, and often poor quality, a silent army of partners, sons, daughters and friends are having to step in."
He would like to see the inequity addressed by the government - ministers have promised to publish a Green Paper on social care funding in England.
But he is concerned that it has not yet been published - it was expected to be out in the summer.
And it is not only dementia patients who are being let down.
Research by Age UK shows that once you factor in other illnesses and conditions there are 1.4 million over-65s who do not receive the help they need.
It represents a rise of nearly one-fifth in only two years.
Care funding has been cut
It is not surprising. Funding for older people's care has been cut.
An analysis by the BBC found reported council spending on care for the over-65s has fallen by a quarter to £747 per head in England since 2010 once inflation is taken into account - although the government said this did not take into account a separate pot largely funded by the NHS which is aimed care services. It is worth over £2bn a year.
While facing the same pressures of an ageing population, in comparison, Wales and Scotland have largely protected their budgets. There is no comparable data available for Northern Ireland.
Councils, which administer the system, have sympathy for the plight of the vulnerable who rely on their services.
The Local Government Association (LGA) became so fed up with waiting for the government that it produced its own Green Paper.
It called for tax rises so town halls could invest more in the system.
Councillor Ian Hudspeth, from the LGA, says services are at "breaking point".
"Work to find a long-term funding solution for adult social care has been kicked into the long grass by successive governments for the past two decades," he says.
"The current situation is unsustainable and is failing people on a daily basis."
Data journalism by Tom Calver, Ros Anning and Ed Lowther. The care tool was designed by Sandra Rodriguez Chillida and developed by Scott Jarvis.
Methodology: The figures above were calculated from publically available information from NHS Digital, the Scottish Government and StatsWales. Spend is then divided by the elderly population to calculate spend per head in each year. Figures were also adjusted for inflation. The drop in spending for England was calculated by combining the drop from 2010-11 to 2013-14, when the methodology for these statistics was changed, with the drop from 2014-15 to 2017-18.
Related Internet Links
The BBC is not responsible for the content of external sites.