Infected blood victims' support payments 'must increase'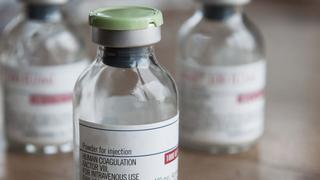 Victims of the NHS contaminated blood scandal have written to the health secretary asking for an immediate increase in support payments, the BBC has learned.
The public inquiry into the scandal is not due to look at financial support until 2020.
Campaign group Tainted Blood said, at the current rate, 112 more people would die before the issue was resolved.
The Cabinet Office said it "will consider" calls for improved support.
Labour MP Diana Johnson - co-chair of the All-Party Parliamentary Group on Haemophilia and Contaminated Blood - told the BBC's Victoria Derbyshire programme: "The state has harmed these people, and the state now needs to step up and compensate them properly."
'Decisive action'
A public inquiry opened last month looking into how thousands of people in the 1970s and 80s were given blood products infected with hepatitis viruses and HIV.
It is thought more than 2,400 people have died, while many others have been left in very poor health.
Last week, inquiry chairman Sir Brian Langstaff wrote to the Cabinet Office describing how some families had "lost everything" and "had to live on the breadline".
He asked the government to take "decisive action" to tackle the issue of financial compensation.
The Cabinet Office has said it "will consider" the recommendations and "respond as soon as possible".
UK-wide 'disparity'
Tainted Blood, the largest support group for victims, has now written to Health Secretary Matt Hancock asking the government to address what it says is an "unacceptable delay" in dealing with finances.
In the letter, seen by the Victoria Derbyshire programme, it calls for support payments in England, Wales and Northern Ireland to be increased to the level received by Scottish victims of the scandal.
"I believe it will be a matter of deep and future shame for this government if it fails to act, and act quickly," said Andrew Evans, chairman of the group.
As it stands there are a number of complex financial support schemes running across the UK.
Payments can range from under £5,000 a year to more than £36,000.
In most cases, Scottish victims of the scandal and their families receive more than victims living in Wales, with those in Northern Ireland and England receiving the least.
The campaign group says someone infected with both HIV and early-stage hepatitis C in Scotland can receive a lump sum of £50,000 plus £37,000 a year in support payments. In England a victim in a similar condition would receive around £26,500 a year with no lump sum.
The widow of someone infected in a Scottish hospital can receive an annual support payment of £27,250 compared with a single one-off payment of £10,000 in England.
The group is now asking asking for parity with the Scottish system, for payments to be backdated, and all widows' payments to be paid regardless of whether the victim has remarried or formed a civil partnership.
Labour MP Diana Johnson said there was "no reason at all why our government couldn't decide now, even though the public inquiry is under way, to say, 'Right, we're going to compensate these people and pay them properly'".
She said that as an interim measure, payments in other parts of the UK should be brought up to the same level as those in Scotland, but that she "still [doesn't] think that's enough".
She said in "many cases" the lives of those affected had been "destroyed".
What is the contaminated blood scandal about?
Around 5,000 people with haemophilia and other bleeding disorders are believed to have been infected with hepatitis viruses in the 1970s and 80s.
It is thought more than 1,250 were also infected with HIV.
Nearly 3,000 of them have since died.
They were injected with a treatment - either Factor VIII or IV - used to help their blood clot.
But Britain was struggling to keep up with demand for the treatment and so supplies were imported from the US.
Much of the human blood plasma used to make the product came from donors such as prison inmates, who sold their blood.
Other victims who had blood transfusions after surgery were also exposed to contaminated blood - as many as 30,000 people may have been infected.
By the mid-1980s the blood products started to be heat-treated to kill the viruses.
But questions remain about how much was known before this, and why some contaminated products remained in circulation.
Screening of blood products began in 1991 and by the late 1990s, synthetic treatments for haemophilia became available, removing the infection risk.
Watch the BBC's Victoria Derbyshire programme on weekdays between 09:00 and 11:00 BST on BBC Two and the BBC News Channel in the UK and on iPlayer afterwards.