NHS England staff must explain if they refuse to have flu jab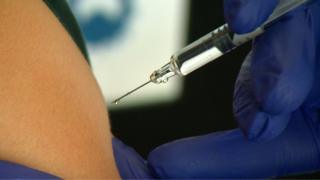 Health workers in England who refuse to take up the offer of a free flu jab will be asked to explain why they do not want to be vaccinated.
The measures have been introduced in an effort to cut sickness rates and protect patients over winter.
Members of staff who decline the jab could be moved away from critical areas if they work with vulnerable patients.
Last year saw the worst flu season in a decade but only 68.7% of staff received the flu vaccine.
When it comes to vaccinating staff there are significant variations between different NHS Trusts.
Last year, more than 90% of staff at the Royal Blackburn Hospital, run by the East Lancashire Hospitals NHS Trust, received the flu jab.
Head of occupational health Phil Denney says it is vital that as many staff as possible are protected against flu.
"The flu jab for me is absolutely the most important thing we can do in the NHS," he says.
"It means we are not only looking after the staff, we're looking after their families and we're looking after the patients that we serve.
"And we're also helping to prevent hospital admissions at the front door."
At the Royal Blackburn, the push to vaccinate as many staff as possible includes not only front-line workers, but everyone else who keeps the hospital functioning.
Staff in the hospital's laundry wash 100,000 articles - sheets, blankets and medical scrubs - each week.
It is a busy seven-day-a-week operation and if the team was to be hit by flu there could be serious repercussions, so they are also vaccinated.
However, other trusts face very different challenges.
Ambulance trust struggles
The East of England Ambulance service operates over a wide area, and crews spend much of their time on the road.
According to figures from Public Health England, by the end of December 2017 only 45.1% of staff at the trust received a vaccine last winter.
The figure eventually reached 55.5% by the end of the flu season.
In an effort to improve uptake a greater number of vaccination sessions are being held in more areas to make it easier for paramedics and support staff to receive a flu jab.
The service's medical director, Dr Tom Davis, says part of the battle is educating staff about the consequences of not getting vaccinated.
"Healthcare professionals not getting immunised can increase the risk of our patients getting the flu," he says.
"So absolutely one of the things we want our staff to consider is the impact on their vulnerable patients, especially if they choose not to have the flu jab."
Some people simply cannot get vaccinated because, for example, they may have an allergy to the eggs that are used in the production of the flu vaccine.
And while it is not compulsory for health workers to have a flu jab, NHS bosses see this as a way of shoring up the service ahead of what could be another tough winter.