Reality Check: Is Scottish A&E outperforming England?
By Reality Check team
BBC News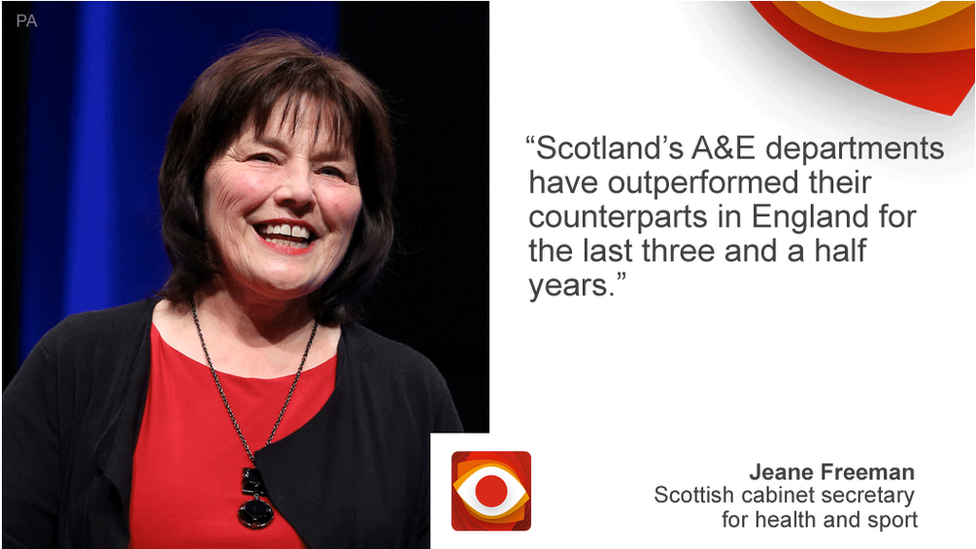 The claim: Scottish NHS accident and emergency departments have performed better than English ones for the last three and a half years.
Reality Check verdict: A higher proportion of patients has indeed been admitted, transferred or discharged within four hours in Scotland than in England for the last three and a half years. Scottish A&E departments have still been missing their 95% target in this area for more than a year.
Jeane Freeman, cabinet secretary for health and sport, told the SNP conference on Monday that Scottish A&E departments have been doing better than their English counterparts.
You have to be a bit careful comparing statistics between the nations of the UK.
Earlier this year, Theresa May got into trouble with from the UK Statistics Authority, which ensures the correct use of official numbers, for comparing 12-hour A&E waiting times in Wales and England.
The UKSA said: "Waiting time comparisons between UK countries are difficult for a variety of reasons, including differences in data collection and in health service structure - the use of walk-in centres for example."
The comparison is also tricky because there is greater demand for A&E services in England than in Scotland. In 2017-18, the former had 27,639 visits per 100,000 population, while Scotland had 24,929.
NHS Digital says the best comparison to make is between Type 1, major A&E facilities in England (in order to exclude things like walk-in centres and minor injury units) and emergency departments in Scotland.
Looking at this measure, the last time England had better four-hour A&E waiting times was in February 2015 - three and a half years ago.
NHS England and NHS Scotland both have a target that 95% of people visiting A&E will be discharged, admitted or transferred within four hours.
The last time NHS England met that target was in July 2013. NHS Scotland has been performing better, but has not hit the target since July 2017.
NHS Digital acknowledges that these statistics don't fully account for the "differing case mix of patients", for example, the age profile of an area or the provision of other forms of care.
Related Internet Links
The BBC is not responsible for the content of external sites.