NHS waste backlog: What are the rules on disposal?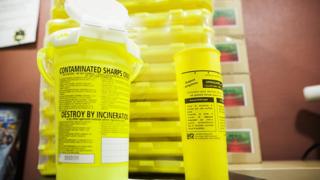 It's emerged that a private company contracted by the NHS has been allowing medical waste to build up at its disposal sites.
Healthcare Environment Services (HES) collects around 584 tonnes of "incineration-only" waste and 1,972 tonnes of non-hazardous waste per month from trusts, according to the Health Service Journal.
A small proportion of this will be "anatomical waste" - actual body parts - which is kept in secure refrigerated units.
The rest will be made up of waste, including discarded blood and used medical supplies (needles, swabs, bandages, dressings, gloves) which have been in contact with bodily fluids.
It might also include toxic chemicals and medicines, like chemotherapy drugs which kill cells.
Some of the waste is also from dentists, veterinary clinics and nursing homes, as well as hospitals.
In England, approximately 273,559 tonnes of medical waste was disposed of in 2017.
This waste must be dealt with safely in order to prevent infection spreading and to stop people coming into contact with harmful substances.
Anatomical waste, which includes recognisable body parts and placenta, has to be incinerated in licensed facilities and transported in special UN-approved containers.
It is against the law to send infectious waste straight to landfill. This means separating it out from other waste to prevent contamination.
Some other medical waste which is categorised as being "offensive" can nevertheless be sent to landfill, for example hygiene waste like incontinence pads and dressings and gowns which haven't come into contact with bodily fluids.
HES says the amount of anatomical waste it collects in England each week only amounts to 1% of the overall tonnage of waste collected.
The waste is not stored for longer than is allowed by permitted guidelines, it says.
Although HES has been accused of storing too much waste without incinerating it, the government has stressed there is no risk to patient or public safety from the recent rule breach. But it emerged on Thursday that it did hold a high-level COBRA meeting about the backlog last month.
A government spokesperson said: "We are monitoring the situation closely and have made sure that public services - including NHS Trusts - have contingency plans in place".
HES has pointed to pressure on the UK's high-temperature incineration capacity as a factor contributing to the backlog.
There were four fewer incinerators available in 2014 - the last time the figure was updated - than there were in 2012.
At the same time as incinerator numbers have been falling, local authorities have been incinerating more waste as part of an EU-wide initiative to eliminate the use of landfill.
And that's put more pressure on the system.
From time to time, medical waste is exported abroad to be incinerated.
For example in the Netherlands, the market for importing waste - particularly from the UK and Germany - has grown considerably since 2010.
What do you want BBC Reality Check to investigate? Get in touch