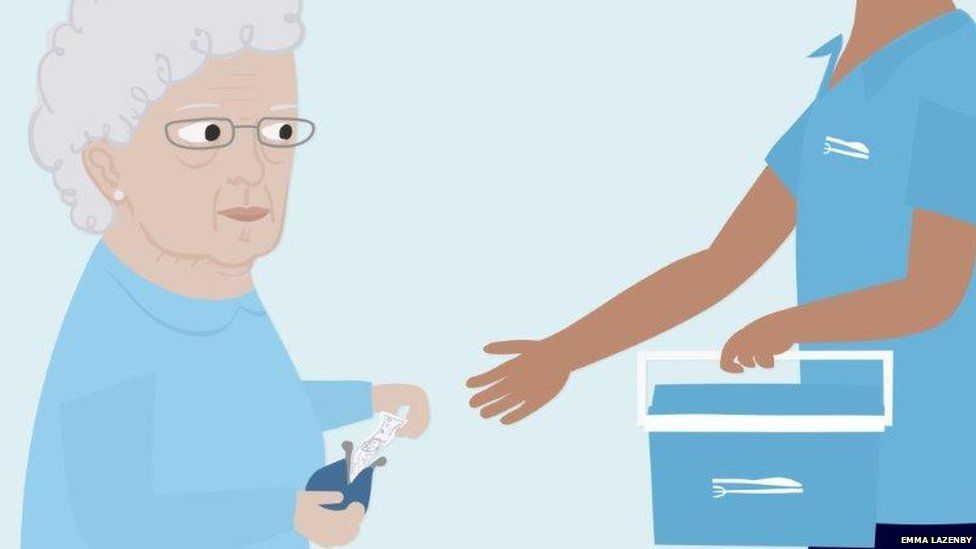 It was hardly mentioned at the Conservative Party conference, but behind the scenes it is an issue which is causing much angst in Westminster: what to do about paying for care in later life in England.
Ministers took the sting out of the issue by promising to publish new plans by the summer.
That slipped to autumn - and now I am told the Green Paper is likely to be closer to Christmas.
Why the hesitation? In truth, it is an issue that governments have ducked for more than 20 years - Tony Blair was talking about reform as he came to power in 1997.
The system, which covers care homes and help provided in the home for tasks such as washing and dressing, is fiendishly complex.
But the issue can be summed up pretty easily.
Those needing care fall into two camps - those who receive help from councils and those who do not.
The numbers falling into the first group have been shrinking at just the time the population is ageing - and those that are lucky enough to qualify for help can find the amount of care they get is pretty limited.
It means growing numbers go without help or have to rely on family and friends.
And then there are those who pay for it. Self-funders can find themselves paying out tens of thousands of pounds in their final years, with some even forced into selling their homes.
There is almost universal agreement that the system is unsatisfactory.
The problem is that the government is not convinced the public is ready to stump up more money for a better system.
Plenty of ideas have been floated in the past few months.
Health Secretary Matt Hancock is on record as saying he is interested in a pension-style scheme which would see people automatically enrolled into paying into a national fund to cover care later in life, unless they opted out.
The Social Market Foundation has focused on tapping into the amount of equity baby boomers have in the property market, suggesting "wealthy" pensioners pay a one-off charge of £30,000 when they turn 65 to fund "free" care.
They defined this as anyone with assets of more than £150,000 and suggested it could be deferred until after death.
This idea is interesting many - NHS England chief executive Simon Stevens is already on record saying housing wealth is the obvious place to go looking for a solution.
The Local Government Association has got in on the act.
It published its own Green Paper over the summer which mentioned the merits of means testing universal benefits, increasing income tax or national insurance.
It also put forward the idea of a tax or social care premium that the over-40s would pay, recognising that younger people face their own struggles because of the housing crisis.
Again, this has its supporters. Two influential House of Commons committees - Housing, Communities and Local Government, and Health and Social Care - have given their backing to the idea.
But neither of these actually provides a ready-made solution.
A penny on income tax across the board will only raise just over £4bn a year, which the LGA says is little more than is needed to plug the shortfall for the current system.
It is why one source close to the Green Paper said it is causing all involved "one hell of a headache".
Related Internet Links
The BBC is not responsible for the content of external sites.