You, me and the Big C: 'Like listening to friends in my living room'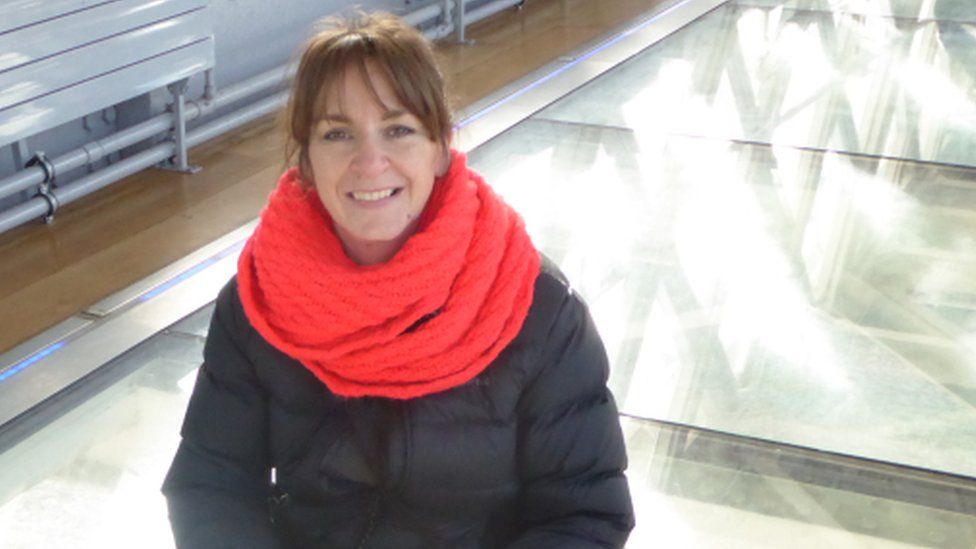 Following the death of BBC Radio 5 Live presenter Rachael Bland at the age of 40, a swell of support and condolence messages have been posted on social media.
Her podcast, You, Me and the Big C, which she co-presented with Deborah James and Lauren Mahon, was, and still is, hugely popular.
The day before she died, her husband, Steve, tweeted that they had reached the top of the podcast chart.
Alison Carter, a retail manager in London, was diagnosed with breast cancer in 2017 and has written a blog about her own cancer journey.
She said she looked forward to every podcast and felt she could relate to so much of what Rachael had said.
"It felt like my generation was talking to me and that's been really powerful," she said.
"So much of the discussions about cancer is around old people. There are a lot of us in our 30s, 40s, 50s who have cancer.
"Rachael clearly had a positive attitude to life which enabled her to talk about the tough stuff too - the impact of 'chemo brain', on body image and on relationships."
Alison said she also took comfort from the frank discussions about the challenges of dealing with family and friends after diagnosis.
"They're not in a place to offer the support that they would like to give," she said.
"Cancer can be hugely isolating. Your body goes to a place you've not been through and your support network don't know what you're going through. The podcast was refreshing."
Although she finds it painful to think about it now, Alison found the podcast about death "the most honest piece of broadcasting I've ever heard".
"The more we talk about it, the less scary it is," she said.
"I get a great sense of comfort from the podcast.
"If you try and joke about cancer, those who haven't got it are shocked. But the podcast was funny, powerful and really helpful."
Roderick Bailey, from Hastings, who was diagnosed with prostate cancer in March 2017, said he had taken great strength from Rachael, Lauren and Deborah's openness but had been staggered at how upset he had been to hear of Rachael's death.
"It felt like somebody really close to me had died. How must her husband, Steve, be feeling?" he said.
He has found the podcast helpful as he prepares for surgery - a prostatectomy - on Monday.
"The tears and laughter have really resonated with me. Rachael's story of one disappointment after another is like mine," he said.
"I worked for Cancer Research UK for 23 years. I never thought I'd personally be facing cancer."
Roderick said the rest of his family could not listen to the podcast and felt he was "too wrapped up in cancer".
"Everyone is fed up of me talking about it but when it's happening to you, you can't turn yourself off," he said.
"I really admire their network of support and the honesty of their chats. I'm looking forward to listening to the next one, which could be from hospital."
Just as I am celebrating end of chemo, today I was shocked to learn about Rachel's death, so immensely and insanely sad, no words!

— Sabrina Carparelli (@sabbia1968) September 5, 2018
Sabrina Carparelli is equally shocked by Rachael's death but in good spirits about her own breast cancer diagnosis, from February 2018.
"I was hesitant to listen to the podcast initially, because you can sometimes have too much information about cancer. But when I did, I was quite taken aback by how lively it was," she said.
You might also be interested in:
As well as listening to the challenges cancer patients face, Sabrina, who finished her chemotherapy treatment on Tuesday, enjoyed the "banter" on the podcasts.
"It was like listening to three friends of mine in my living room," she said.
"I felt at ease. We should be able to talk about cancer. Rachael was phenomenal. There are many podcasts out there and there's a reason theirs reached number one.
"Everybody has to face death. There's no shame in talking about it. The podcasts were a perfect balance between cheerfulness, friendliness and laughter.
"Her life should be celebrated. It's sad that she has died - but she lives on through us."
Produced by Sherie Ryder, UGC and Social News team