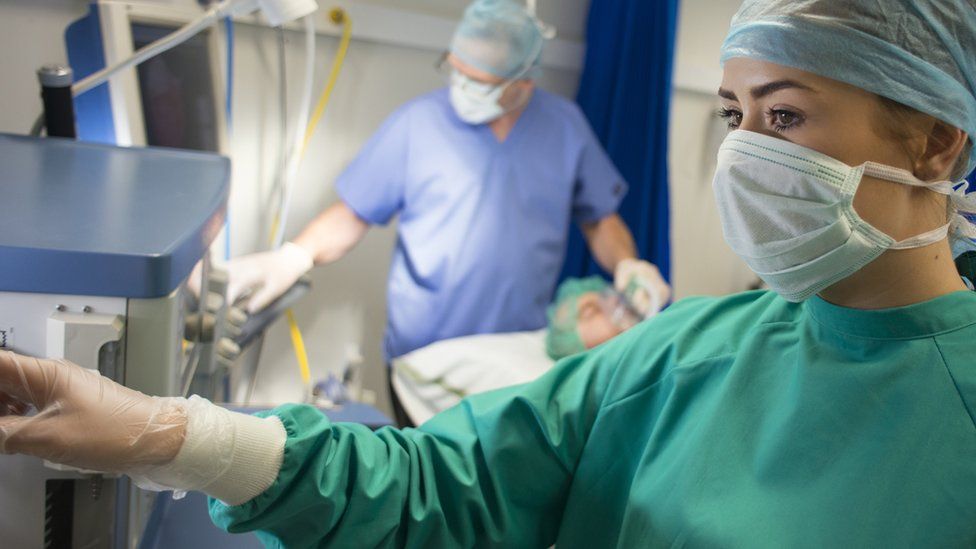 More GP consultations via Skype and barcode tracking of patients and their treatments in hospitals - these are two of the uses of technology the new health and social care secretary was enthusing about in his first speech since taking on the job.
Matt Hancock sees the tech agenda in the NHS as one of his early priorities.
He arrived at the department after Jeremy Hunt moved to the Foreign Office.
Less than a fortnight later he was setting out his stall in front of an NHS audience at the West Suffolk Hospital.
Technology, as he acknowledged, is his passion and he has already launched his own app for communicating with constituents.
He went out of his way to praise the online NHS service, known as GP at Hand, run by the private provider Babylon.
This was launched in Greater London in 2017 and offers patients the chance to have a video consultation with a GP within two hours, or a face-to-face appointment the same day or next day, Monday to Saturday.
Mr Hancock argued that this online service "works brilliantly for me" and he wants to "see more technology like this available to all, not just a select few in a few areas of the country".
This appeared to be giving local NHS leaders and GPs the green light to develop partnerships with Babylon and other tech companies for online patient consultations.
Advocates of GP at Hand, like the secretary of state, argue that it is convenient for a commuting population who don't want to have to stay off work to get an appointment at a local surgery.
They also say that the service will help reduce pressure on GP practices by absorbing some of the patient demand.
But opponents, including the British Medical Association, point out that traditional surgeries will be left to deal with the sickest patients with long-term conditions, while younger and healthier sections of the population are cherry-picked by online services.
GP practices are paid a fee for every patient regardless of their state of health, and they lose this payment when a patient switches to a different provider.
Concerns about GP at Hand have been raised, including suggestions that symptoms of some conditions could be missed and that there is a tendency to over-diagnose.
Jeremy Hunt wrote to the Commons Health and Social Care Committee in early July, noting that while digital services were increasingly being brought forward there was a need to safeguard patients and the wider system.
To that end, Mr Hunt said there was an independent evaluation under way with an interim report in October, which would inform future policy in this field.
Less controversial in the digital health arena is a scheme highlighted by Matt Hancock to allow better tracking of patient care and the use of medical devices.
The Scan4Safety scheme involves barcode readers familiar in the retail world.
These involve scanning of patient wristbands as they move through hospitals and use certain products as part of their care, making it easier to track and trace equipment and drugs which are faulty.
Mr Hancock says this is saving NHS money and improving patient safety, though so far it has been on trial in only six trusts in England.
Technology in the NHS will only go so far, and the new secretary of state is well aware of that.
Looming ahead of him is his first winter in the job and the inevitable pressures which will engulf the system.
He has indicated that he is open to amending key NHS targets, such as the four-hour A&E benchmark.
This has been suggested by the head of NHS England, Simon Stevens.
That might sound fine in theory, as they have been repeatedly missed, but changing the goalposts as winter approaches may not be good politics.
We will hear a lot more of the NHS technology agenda - Mr Hancock's enthusiasm for it will be welcomed.
But the test for most patients will be the length of time they have to wait for care by GPs or hospital staff.
That is how he will be judged.