Parents of premature babies face a further trauma - PTSD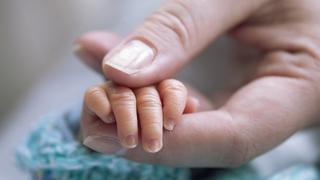 Suzanne Ruart's son Aiden spent three months in a neonatal unit as a result of being born three months early. A year after her son came home Suzanne realised she'd been suppressing symptoms of post-traumatic stress disorder (PTSD).
"After the first time I saw him resuscitated I developed a crippling anxiety that every time I walked into the neonatal unit there would be bad news, and this anxiety has never really left me since.
"I manage it now because I talk a lot about it, but at the time all focus was on Aiden, and so I never let myself think about the feelings I was going through."
New research by the charity Bliss has found that 62% of parents of premature babies reported they had no access to formal psychological support, such as counselling or talking therapies, while their baby was on a neonatal unit.
Of the survey of 589 parents, 16% of parents were diagnosed with PTSD after their time on the neonatal unit.
More than a third said their mental health was "significantly worse" and just 8% felt they'd received the right amount of formal psychological support.
Suzanne said she was told that Bliss offered counselling, but that during the first few days everything was a blur so she didn't take up the offer.
"I needed support on those first few nights when I went back to my hospital room alone, without my baby or husband or any family, and lay and cried the entire night through thinking I may well have changed the future of my little baby by delivering him early."
In the following months, she said that while watching her son having painful procedures she could "physically feel" what he was going through.
"I would have done anything to take the pain instead of Aiden but you just have to stand by and watch.
"Then there is the heartbreak of seeing parents whose babies are not doing as well as yours. The awe of watching the doctors and nurses fight for a little life is inspiring but you see the broken-hearted parents being assisted out of the ward and your heart breaks for them.
"I also felt a strange sense of guilt at times that my baby was on his way up - and they were devastated with no hope left."
Bliss says all parents on neonatal units should have access to psychological and social support, including a trained counsellor.
A Department of Health and Social Care spokesperson said: "We are committed to giving every mother and baby the best start in life. This is why we have invested £365 million to transform perinatal mental health services, so that 30,000 more women each year can access specialist care."
Suzanne thinks more support is needed to "let parents know that it's OK not to be OK."
"There is so much focus on keeping positive and on how the baby is doing - rightly so - that you don't feel you should show it when you aren't coping - you just try to keep upbeat."
The survey also found that 45% of parents said they had no access to formal psychological support when they needed it after leaving the neonatal unit.
"On the day I left the neonatal unit to take Aiden home, I cried like I have never cried before," says Suzanne.
"Some of it was tears of joy to be taking him to where he belonged - albeit on oxygen and a list of drugs - but mostly it was because I didn't want to leave my neonatal unit family who had supported me so amazingly.
"I was also scared about taking the baton of care over from them. How would I cope when things went wrong and would I be strong enough to do it alone?
"This fear crept into my sleep and I woke many nights screaming in bed that Aiden was dead."
She said it was "terrifying" and "very isolating" as you are confined to your home, keeping your baby away from germs and you can't go out to baby groups.
"Around a year after he was home - just as he came off his oxygen support - I had a very powerful, vivid and crippling flashback that made me realise that I had been suppressing many symptoms of PTSD."
She thinks it needs to be made clearer to parents of premature babies that they are at risk of PTSD, and that it is normal to feel overwhelmed by the experience.
"Once I realised that, I knew I had to do something so I looked for advice online and I faced into the memories I'd been suppressing.
"Now, four years on, I can still occasionally be blindsided by a memory, a sight or a sound, but I feel like I am much stronger mentally now that I have recognised that I needed help."