'Opening the grief of miscarriage'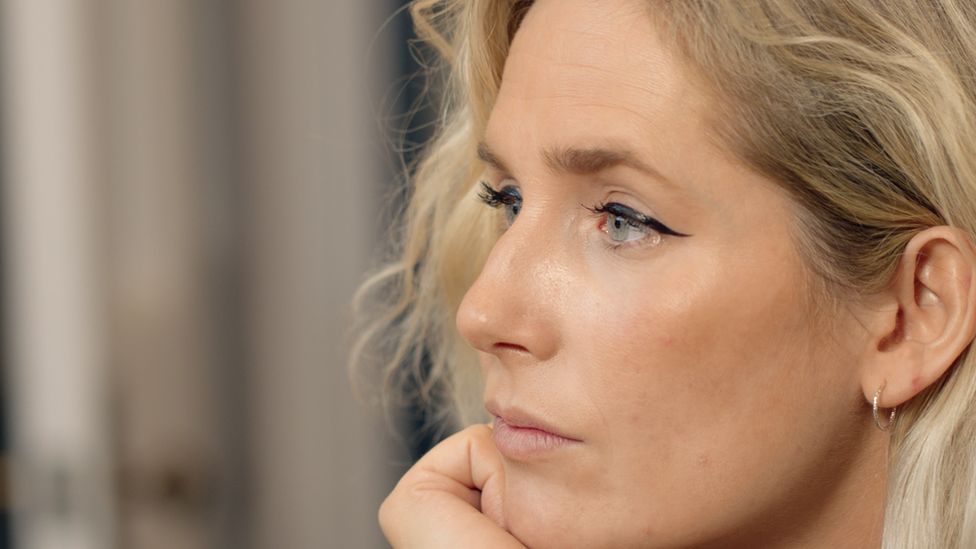 Anna Whitehouse has had five miscarriages. But it was only after her third that she started writing about her experiences online to connect with others in the same position.
"I posted something on my blog and just said, 'I did choose a name too soon. I did decorate a nursery too soon. And there is nothing that can prepare you for that eerie silence on the scan, a silence that you're just willing, willing to be filled with the rapid sound of a heartbeat.'"
She says "opening that grief" and talking to others in the same position was an "essential part" of coping for her.
She started writing her own story because she couldn't find many people online openly talking about their experiences.
"[Miscarriages] happen to one in four. I think that's the bit that I struggled with. I couldn't find that one in four out there. I felt like I was that one on an island, grieving for a person when I was being told, 'No, it's not a person - it's a jumble of cells.'"
Since she started writing, Anna says, many more women have shared their experiences online - and the importance of this has been highlighted by a new survey by the charity Tommy's.
The poll of 1,116 women who had experienced a miscarriage or stillbirth found:
84% felt there was an online community after baby loss
45% had found support and new friends after connecting with others online who had gone through the same experience
"I think the power of social media, the power of sharing, [is to] find people who can lift you up," Anna says.
The poll did, however, find a major downside to social media, with 77% saying they felt anger and 80% jealousy towards friends who posted about their own pregnancies.
Anna admits she struggled with that.
"Every time I heard a birth announcement, it pierced my heart a little. And I wanted to be the bigger person. I was desperate to be the bigger person. I was desperate to be fully happy for my friends.
"But I think you have to accept that when you are grieving for something, your mind isn't where you want it to be and I think don't beat yourself up about that - I think people are very understanding."
Another issue women found with social media was targeted advertising:
66% said they felt "bombarded" by pregnancy news and stories following baby loss
57% were upset to be targeted by online pregnancy adverts
One woman said: "It is so painful to receive pregnancy reminders after the death of your baby. 'You are now 28 weeks pregnant and the baby is the size of a butternut squash!' No, my baby is dead."
When women in the poll were asked how social media had affected them when pregnant:
42% had felt pressure to be happy and hide any worries or concerns
over a third had felt pressure to have a "perfect bump and pregnancy"
23% had looked at pregnant celebrities on Instagram and felt jealous
Tommy's is launching a campaign, #TogetherforChange, calling for more open dialogue to challenge the stigma of silence around baby loss.
"Baby loss isn't just 'one of those things' or a 'bunch of cells'," says Siobhan Gray, from the charity, "and these feelings of guilt and jealousy can be exacerbated and engrained by our daily phone-scrolling through feeds of seemingly perfect [lives].
"We know it's not real - but it can be hard to remember that life certainly isn't picture perfect.
"Tommy's hope that by challenging the social media taboo and the notion of a 'perfect pregnancy', people will come together for support following baby loss and become one voice challenging for medical answers and greater awareness."
Anna now has now has two daughters - May, aged four, and Eve, who is seven months old - and 172,000 followers on Instagram.
And she talks about her daughters online "because they're the sort of hope I think I wished I'd been able to see when we were in the darkest places physically and emotionally".
"I see them as two little beacons of hope for anyone else who is going through recurrent miscarriage."
Related Internet Links
The BBC is not responsible for the content of external sites.