'My mum thinks I'm an MP, she has early-onset Alzheimer's'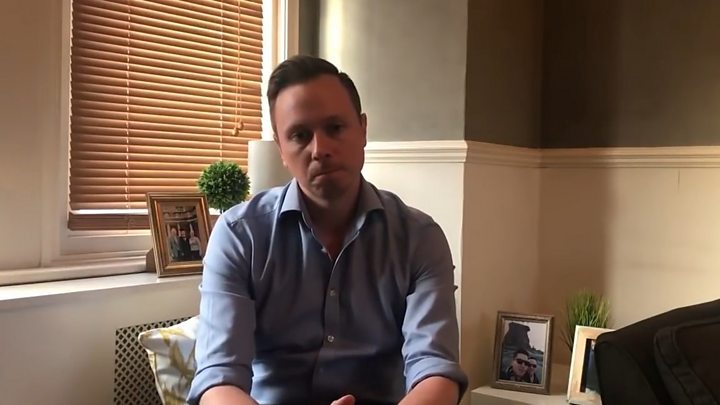 In late spring 2014, Chris Chapman got a card from his great aunt congratulating him on his recent election as an MP.
It hadn't happened. There hadn't even been a general election in 2014, though he had just become a Conservative councillor in Tower Hamlets. Confused, he rang his aunt.
"Your mum told me," she said.
Two years earlier, Chris's "incredibly sharp, funny and quick-witted" mum - Lynda - had been diagnosed with early-onset Alzheimer's, aged just 53.
"I could probably have explained to her at that stage that she had got mixed up," he told the BBC.
"But I thought, the way she's going, if I do successfully make it she's not going to know. And she was so proud. So I didn't correct her."
Recently, Chris drove his mum to the dementia ward at Fulbourn hospital in Cambridgeshire, where she will now live. Still just 59, her condition has deteriorated rapidly.
"We've lost the person that mum was," he said. "My mum who I grew up with is not here anymore.
"She didn't know where I had been taking her and she couldn't remember my name that day, just as she's not been able to for countless days preceding that."
He had to fill out a form - things his mum likes (Kate Bush, the Eurythmics, animals) and things she doesn't, things that scare her. This, he thought.
He kissed his mum goodbye and left. In the hospital he had struggled to keep his composure. In the car, he sat and cried.
"There's this overwhelming sense of guilt," he said.
"Having to drive, knowing where I was going and knowing why we were going there was horrific. You doubt yourself the whole time. You know you're doing the right thing, but it doesn't stop the guilt.
"I put her there. I took her there. It still hasn't gone away. I hope it will eventually."
There was little else that Chris could have done. His dad, Richard, had been caring devotedly for Lynda since the first signs of the disease appeared and his younger brother, Matthew, had moved back into the family home to help. Chris and his sister, Rebecca, visited as often as they could. But the strain was starting to tell.
"Mum had been declining very rapidly over the past months and weeks," Chris said.
"No drugs would help her. There is no treatment. The hopelessness of the disease is absolute. That hopelessness permeates everything."
Having run out of options, Chris arranged a home visit by the crisis mental health team. The crisis team came to the house and advised the family to move Lynda into hospital as soon as they could confirm a bed was available. Shortly afterwards, Chris was in the car with his mum. The family felt an ambulance would have been more distressing.
"After the initial cognitive difficulties, the disease progresses," Chris said.
Lynda can no longer care for herself.
"My mum cannot dress herself. She cannot feed herself," he said.
"In addition to the physical symptoms there is the psychological impact. When she's in pain, she cannot tell us why. She cannot tell you that she's scared or confused or angry. Instead she will just cry. Seeing your mum cry on a daily basis is a special kind of pain."
When Lynda had first started to exhibit symptoms, the family approached "several" GPs for help. Chris says they "admitted that Alzheimer's and dementia are not areas they knew that much about".
They turned to the Alzheimer's Society, who, Chris says, have been fantastic. The charity gave the family a number for Cambridgeshire adult social services. Unlike the NHS, social care is not free at the point of delivery in England. Many people have to pay for at least some of their care.
"Within a minute of the call they'd started to ask questions about financial assets and our ability to fund care," he said.
"The fact that this would be the first line of questioning after you've found the courage to contact them, to ask for help, is really difficult.
"What will this mean financially? Will we have to sell the house? For us it's not a worry about inheritance or anything like that, it's just the last thing you want to think about.
"With almost any other disease you wouldn't have to think about those added levels of stress."
A Cambridgeshire County Council spokesperson said: "At first contact we try to gather as much information as possible to enable us to explore all the options available to meet the person's needs.
"This may include some initial questions about the person's financial circumstances, because any support provided to meet eligible social care needs is subject to a financial assessment to determine how much the person will contribute towards their care.
"It is important people are aware of this from the outset."
Chris hopes for change - in attitudes as well as policy. He's found himself having to bite his tongue when people whom he's told about his mum - meaning well - have responded by saying that they, too, can be a little forgetful sometimes.
"If I could stop just one person making an insensitive comment to someone who's going through this it will have been a small victory," he told the BBC.
Conversations of that sort led him to upload a video to YouTube outlining his family's experiences. He finds it difficult to talk about, but believes dialogue is important if change is to happen.
In the run-up to the 2017 general election, the Conservatives were accused of doing a U-turn on controversial plans to amend social care funding. Critics had labelled the proposals a "dementia tax". Chris, who unsuccessfully stood as a Conservative candidate in Ilford South, had welcomed them.
"I was glad to see that as a party we were going to tackle this challenge head on," he wrote in Conservative Home in June 2017, though he believes his party "paid a heavy price at the ballot box".
Age UK director Caroline Abrahams said a fairer system was "so desperately needed" but the Conservatives' proposals "were insufficiently thought through".
"I want to raise awareness around the provision of care and access to care," Chris told the BBC.
"You can't put more people through what we've been through. Lots of people are suffering with this disease. There's no-one who doesn't think we need to solve these problems.
"I didn't really understand what dementia was. With other illnesses I had more of an understanding. Policymakers need to talk to families of sufferers to understand the utter despair and hopelessness that we feel. We need a solution."
It is that impact on his wider family - his father in particular - that has been among the hardest things for Chris to deal with.
"Since mum went in he has been overwhelmingly gripped by depression," he said.
"I'd seen him cry twice in 30 years before this. I've seen him cry every day since. He turned to my mum after he entered the dementia ward and said: 'What am I going to do with the rest of my life?'
"I don't know if or when he will come back."