The deaf patients 'left behind' by the NHS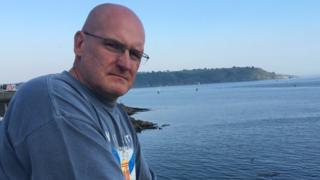 A lack of face-to-face interpreters is meaning deaf patients are missing key operations and being informed of serious medical issues - such as a miscarriage - via a tablet computer, the Victoria Derbyshire programme has learned. Many of those affected say they want to be treated as equals by the NHS.
When Jeff Parfitt became distressed during a biopsy endoscopy, he wanted an interpreter to explain what was happening.
But there were not any available.
He panicked, pulling the endoscope - a tube with a tiny camera on the end - out of his body.
It was a vital procedure, but it had to be postponed.
Mr Parfitt, who was born deaf, was left shaken.
The hospital where Mr Parfitt is regularly receiving treatment for his lymphoma has started using video interpreters, on a system called Sign Live.
It allows users to pick up a tablet, dial a number and instantly be connected to a video interpreter.
Developers say the video-based BSL Services is "life-changing" and can offer "inclusion, accessibility and equality" to the deaf community.
But some British Sign Language users with serious health conditions say NHS hospitals are using the service in inappropriate situations, and that they are routinely experiencing technical problems - sometimes during serious appointments.
This has been the case for Mr Parfitt in the past, when the system has failed mid-conversation, making him "quite frustrated and angry".
The 49-year-old says that even if the system was reliable, he would rather communicate with someone in person.
"I can see their body language. I can get that message clearer," he explains to us via a face-to-face interpreter.
"When you have a flat message [on a tablet], there's no emotion there."
Many sign language users prefer to use an interpreter of their choice for a medical appointment - often because they are discussing sensitive information.
The face-to-face interpreter Mr Parfitt previously used, Rebbecca Aust, was the one who told him he had cancer - and then helped him pass the news on to his family.
'State of panic'
In contrast, one sign language user - who wished to remain anonymous - says she was told she had miscarried via a tablet.
"It was the first time I'd ever had an iPad interpreter and I didn't really understand what was going on," she says. "I was in such a state of panic."
Others have contacted us saying they have never been offered a face-to-face or video interpreter and have to rely on family to communicate with doctors - or writing things down on a piece of paper.
The British Deaf Association says this can lead to medical terminology and diagnoses being wrongly communicated.
The charity has also dealt with cases where family members have had to tell their deaf loved ones that they are dying.
Some British Sign Language users, however, are in favour of the video interpreters in instances where sensitive or serious news is not being discussed.
Amanda Holland is deaf and works at Derriford Hospital in Plymouth, where Mr Parfitt is a patient.
"It's much easier now, I have an interpreter there whenever I need one," she explains.
"I just get the iPad and click on the app. You wait 10 to 15 seconds, and then you are connected with the interpreter."
Amanda shows us how the app works, but the system breaks. Our flowing conversation is reduced to guesswork and hand gestures.
We dial up again - but are given a different interpreter. And again. And again. Until we eventually get the same one.
Later, it cuts out again.
Sign Live, who develop the platform, say internet speeds in NHS hospitals are often not strong enough for video interpreting services to work properly - and that medical staff must be aware of their constraints.
Creator Joel Kellhofer - who was born deaf - says the technology is not intended to replace face-to-face interpreters, especially in cases where serious information is being divulged.
Charities say the use of video interpreter is symptomatic of the wider problem of a lack of resources for deaf people to live as equals.
But Derriford Hospital's Claire Jukes says the use of Sign Live is "not a money-saving scheme".
"It's about making our services as available as possible so we can maximise the communication that we have with [deaf patients]."
The NHS has not yet responded to a request for comment.
The Department of Health and Social Care said it was "unacceptable if deaf patients are not receiving the support they need to access NHS care".
It added: "We expect [NHS] trusts to make arrangements to accommodate their needs and we changed the law so that health and care providers are legally required to provide people with a disability or sensory loss with information that they can access and understand."
'Wouldn't be happy'
Charities want change to come fast.
"Deaf people already have a lower life expectancy, much higher likelihood of poor mental health, and are more likely to have higher cholesterol or undiagnosed diabetes," says James Watson-O'Neill, chief executive of the deaf health charity Sign Health.
"Yet every day, deaf people are struggling to book appointments and communicate with doctors and nurses because they find there is no sign language interpreter. How can that be acceptable?"
Mr Parfitt is also hopeful of change. He believes if those in power were deaf, changes would soon be made to the way they are treated.
"You can just imagine if the world switched places and I became hearing and everyone else became deaf," he says.
"People wouldn't be happy."
Watch the BBC's Victoria Derbyshire programme on weekdays between 09:00 and 11:00 on BBC Two and the BBC News Channel in the UK.