Dementia patients 'abandoned' by system
By Nick Triggle
Health correspondent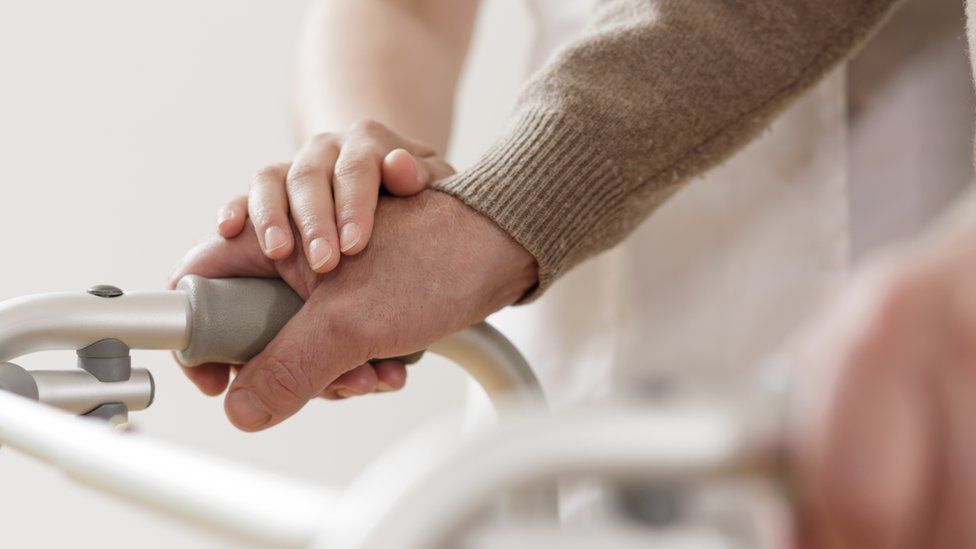 Vulnerable people struggling with dementia have been abandoned by the care system in England, a charity says.
The Alzheimer's Society said people had been left to "fend for themselves" because of inadequate community care from the NHS and councils.
To make its case, the charity published data showing there had been a 73% rise in potentially unnecessary hospital admissions among dementia patients.
It comes as ministers draw up plans to reform the council social care system.
A Green Paper is being promised by the summer.
The Alzheimer's Society said this was desperately needed given the findings of its report.
The charity compiled data from 65 hospital trusts - nearly half of the total - on admissions for so-called preventable conditions.
These included falls, dehydration and urinary tract infections.
With better care and support in the community, admissions for these sort of conditions can be avoided.
Between 2012 and 2017 the number of admissions recorded by the trusts rose from just over 31,000 to nearly 55,000.
The charity accepts some of the rise could be down to better recording, but said that could not account for the full increase.
'Dementia care is totally broken'
One of those caught up in the problem was Helen Jebson King's father, Leslie.
He ended up in hospital twice last year after falls.
The first time, he spent months in hospital before being discharged. And then, after his second admission, he died.
"It's so sad because it was so avoidable," Helen says. "It made me realise dementia care is totally broken.
"People with dementia should be protected and supported in their homes, not ending up in hospital.
"It's not the place for them to be, stuck on a ward with no specialist support, feeling restless and confused."
The charity also gathered evidence from paramedics. One said it was "utterly depressing" taking people with dementia to hospital for conditions that could have been spotted and treated much earlier.
A Department of Health and Social Care spokesman said: "No-one with dementia should have to go into hospital unnecessarily, and we're determined to continue drive up standards of care."