Keeping livers 'alive' boosts transplant success, trial finds
By Alex Therrien
Health reporter, BBC News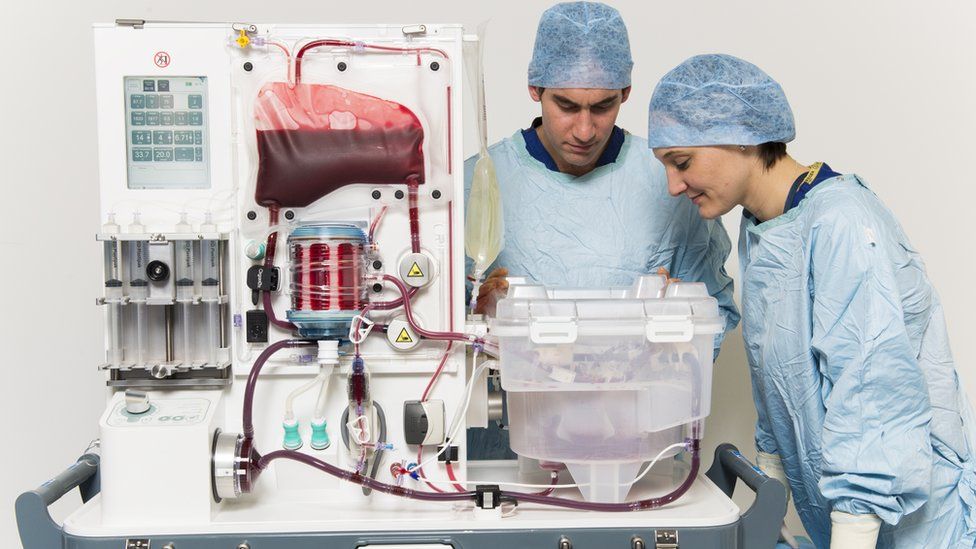 Keeping donated livers "alive" with a machine prior to transplants boosts the chances of a successful operation, a landmark trial has found.
Usually livers are kept in ice prior before the surgery, but many become damaged and unusable as a result.
For this study, scientists put them in a perfusion machine, pumping the organs with blood, nutrients and medicines.
More of these "warm" livers went on to be transplanted and showed less damage than the "cold" ones, the trial found.
Scientists said the study could help to reduce the significant proportion of people who die waiting for a new liver and potentially "transform" how organ transplants are carried out.
The randomised controlled trial involved 222 liver transplants in seven European centres.
It compared liver transplants where the organs were first preserved in an ice box with those kept "alive" outside the body using a so-called normothermic perfusion machine.
Out of the 220 transplants scientists analysed, the study found there was 50% less tissue damage in the "warm" livers - a key marker of how likely the organ is to survive as well as the transplant patient themselves.
Scientists were also able to successfully transplant more of the warm livers than cold ones.
Just 16 out of 137 warm livers needed to be discarded compared with 32 out of 133 cold ones, meaning 222 transplants were able to go ahead. All but two were analysed by the team.
Prof Peter Friend, one of the authors of the study in the journal Nature and one of the inventors of the machine, said currently about a third of donated livers could not be used for transplantation due to a range of factors.
These include livers taken from elderly people or those in poor health, which were more likely to fail, damage occurring while the organ was removed from the donor's body and damage sustained while being kept in ice.
About 20% of patients die while waiting for a liver transplant, he said.
Keeping the liver "alive" outside the body helps it recover from the damage it suffers during the process of being removed from the donor's body, authors said.
"There's a huge issue in terms of the [high] number of patients compared to donor organs, and yet we're not using all of the donor organs that are available," Prof Friend told the BBC.
"If we can go some way towards utilising the livers that are not transplanted it would have a major impact."
BBC medical correspondent Fergus Walsh
There are machines that can keep the heart beating and nourished outside the body.
I have witnessed one of these heart-in-a-box machines in operation - and could see - and even touch - a pig's heart beating under the plastic covers.
There are also machines that can keep kidneys preserved at body temperature.
There has been such significant progress in this field that this trial may signal the beginning of the end of keeping donor organs on ice - although it could be several years before every transplant centre has this technology.
David Radford, 63, from Oxford, needed a transplant after having liver cancer.
He took part in the trial and was one of those who received a "warmed" liver.
Mr Radford said his surgeon told him that when he performed the transplant "he had never seen anything quite like it before".
"Normally when he inserted an organ into the recipient it took about 30 seconds or so before it started working and there was a major dip in the blood pressure," Mr Radford said.
"But with me he was quite surprised that there was no change in the blood pressure at all and everything seemed to start working immediately."
Mr Radford has since been skiing and now regularly does classes of tai-chi, yoga and kung-fu.
"It hasn't impaired me at all. If anything I feel a lot fitter than before."
Much smaller studies have looked at the use of the technology before but this is the first large randomised controlled trial to compare it with ice-box storage to see which is most effective.
Prof Friend said he thought the technology could potentially transform how organ transplants are carried out.
"The concept of keeping organs alive and functioning appears to be completely transferrable between different other organ types," he said.
Liver perfusion is currently performed on the NHS in a small number of specialist centres in the UK.
But experts say the technology is expensive and a cost analysis will need to be carried out before it is offered more widely.
Stephen Wigmore, professor of transplant surgery at the University of Edinburgh, who was not involved in the trial, said it was a "landmark" study.
"Whereas before the conclusions that could be drawn [about organ perfusion] were slightly weak and anecdotal, this is scientifically robust in its design and statistical power, so we're more certain about the outcomes being good in this study."
Barry Fuller, professor of surgery at University College London, said the research presented a "very significant advance" in the use of the technology.
"The challenge now is to make the technology widely used and logistically manageable and affordable."