A&E stats don't tell full story of a difficult winter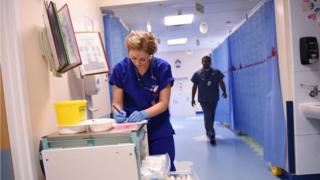 January was bad for the NHS in England - but perhaps not as bad as it seemed in the early days of the month, with chaotic scenes in and around hospitals.
Overall, 85.3% of patients were treated or assessed within four hours at accident and emergency units, up slightly from December and January 2017.
But it was still one of the worst months on record - and way off the 95% target.
Long waits on hospital trolleys because beds were not available were the worst on record.
And there was a further cost - thousands of non-emergency operations were postponed after instructions from NHS England to clear the decks.
But how authoritative and complete are the figures for January?
Strictly speaking, they are not directly comparable with December and previous months because NHS England has removed data covering some patients going through A&E.
A quick perusal of the fine print alongside the numbers does not make clear this has happened.
So what is going on with the numbers?
The BBC last month reported that there had been confusion last autumn among hospital managers about how to report the newer streams of patient care on offer at or alongside A&E units.
These are often run by GPs and branded as urgent-care or minor-injuries centres.
The theory is that by diverting some patients at the front door of A&E into these centres, pressure on emergency care can be reduced.
In October, the regulator NHS Improvement advised hospital managers to include as many of these centres as possible in their monthly data.
In at least six trusts, performance against the target then increased noticeably.
But it was not clear whether some hospitals were including more of these units than others.
NHS England did not spell out at the time that the basis of the data collection had changed.
If you can't see the NHS Tracker, click or tap here.
BBC investigation
After a BBC investigation by Faye Kirkland, the UK Statistics Authority intervened and said changes to the recording of data could have led to people reaching "misleading conclusions".
The stats watchdog called for an explanation by NHS England.
A letter then went out from NHS Improvement calling on trusts to strip out the walk-in centres and list them separately on their data returns.
Now NHS England has responded to the stats watchdog.
In a letter, a senior official says: "As you pointed out, there has been some confusion surrounding the reporting of A&E performance since the letter issued… on 13 October."
The letter goes on to say that some patients, including those who go straight to A&E from GP surgeries, have been taken out of the January data reported on Thursday. This is to allow further analysis of how they should be reflected in the figures.
"We have outlined that the current data return should not contain any of the newly identified, or emerging, services," it says.
"Instead, these services should be separately identified and submitted via a newly created separate return."
In other words, January's data does not include some types of patients that were in previous months' figures.
NHS England says in "a spirit of transparency" it will publish the data from this separate stream of services as soon as the analysis has been completed.
But it does not say when this will be and there are no explanatory notes with the data publication on Thursday.
Officials have simply guided us that "it should not make a significant difference to the overall figures".
Consistency and clarity
So why does all this matter? Four-hour A&E performance is the highest profile NHS benchmark, so moving some parts of the service in and out of the figures is important.
Consistency and clarity can be achieved only if changes are set out and explained, but this has not happened.
It looks like a mess. Trusts might now have to recalculate all their data going back to October and perhaps the months before to achieve a consistent set of figures.
Patients, politicians and NHS staff will want to feel that over a year the data is directly comparable in each month.
We await the reaction of the stats watchdog and further information from NHS England.