Nurses: The way the profession is changing
By Alex Therrien
Health reporter, BBC News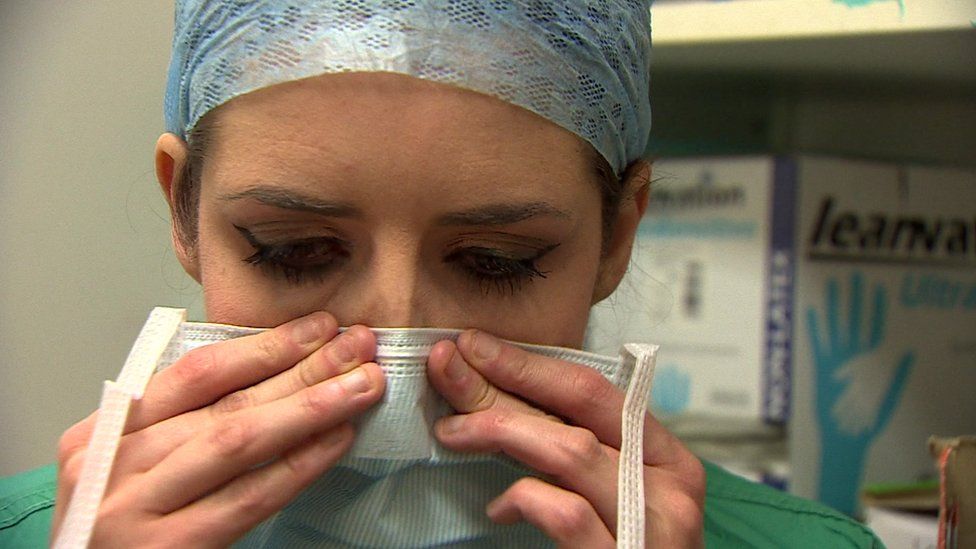 From the running of general practices to carrying out surgical operations, the role of nurses is changing. So what are some of the things modern nurses do?
Surgery for skin cancer and carpal tunnel syndrome are probably operations you would expect a surgeon to do, but nurse Sara Dalby performs these and other procedures routinely.
A surgical care practitioner, a senior nurse with specialist training who works under the supervision of a surgeon, she also assists in theatre for major operations.
But when she qualified as a nurse, in 2003, she had not considered the prospect of doing such work.
"I didn't even think I'd go into theatre, necessarily," Ms Dalby, who works at Aintree University Hospital, in Liverpool, told the BBC.
"But when I started going into theatre and I saw the practices and I thought how interesting it was, and then the opportunities came to be able to develop to do that myself, that's what I went into."
Ms Dalby has also co-developed modules for university students and people training to become surgical care practitioners.
"One of the most fantastic things about nursing as a profession is the variety of roles and the different scope of practice you can do," she said.
"I think what's really nice about being an advanced practitioner is that you get to develop but you still stay on the front line.
"You still deliver care to patients every day rather than perhaps going into a management position or an education role."
The nurse-led general practice
Cuckoo Lane Practice in Ealing, west London, is similar in many ways to other general practices. It is a bustling surgery at full capacity, serving more than 5,500 patients.
But there is one key difference - it is one of the few practices in the UK to be nurse-led, rather than run by GPs.
Not only is the practice run by two nurses, most of the appointments are carried out by nurses, too.
These nurses have received extra training so they can do most of the work normally done by GPs, such as prescribing medication.
The practice also employs two GPs, particularly for patients with "especially complex medical needs".
It has been awarded an "outstanding" rating by the Care Quality Commission - the only one out of 79 practices in the borough.
Julie Belton, one of the two directors of the practice, said patients appreciated the care they received from the nurses.
"This is stuff that nurses are good at - their care, their compassion, and they're clever," she said.
"There's this assumption, 'I can't do this - I'm not a doctor,' but actually with the right training and the right set up the world's your oyster."
The award-winning male neonatal nurse
Colm Darby, from Belfast, works in an area of healthcare more commonly associated with women - neonatal nursing.
For seven years he has worked with newborn babies who require intensive care.
And in December he was awarded the title UK Neonatal Nurse of the Year.
Mr Darby said he now saw more men either working in paediatric nursing or studying to join the profession.
He said: "A lot of young men are willing to say, 'Yeah, I want to do that role, typically a woman's, but I'm happy to say I want to do it,' without the fear of being judged for it."
Mr Darby said it was important that men took up more nursing roles because they offered a different, often more "analytical perspective and one that in some cases will appeal more to other men".
"In nursing, it's good to have a variety of opportunities for patients to be able to feel they can talk to whoever they want to," he said.
"It's important that we offer not just a multi-disciplinary team in relation to health professionals but in our makeup of people."
You need a degree in nursing and must be registered with the Nursing and Midwifery Council
You will need to choose one of the four nursing specialisms (adult, children, mental health, or learning disability)
Visit the NHS Careers website to find a university offering nursing degrees in England or in Northern Ireland, Scotland and Wales
Each university sets its own requirements, but it is usually about five GCSEs plus two A-levels or equivalent
From August last year, new students in England on most nursing and midwifery courses no longer get an NHS bursary and instead have to pay tuition fees like other students
Source: Royal College of Nursing