Reality Check: Is NHS funding worse in Wales?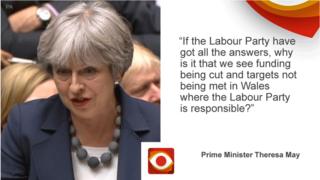 The claim: In this week's Prime Minister's Questions, Theresa May said health funding in Wales was being cut and targets not being met.
Verdict: There have been cuts in the past, but funding has increased in real terms every year since 2013. Targets are not being met, but neither are they being met in England.
Responding to Labour leader Jeremy Corbyn's criticism of the government's handling of winter pressures on the NHS in England, Theresa May attempted to turn the tables.
"If the Labour Party have got all the answers, why is it that we see funding being cut and targets not being met in Wales, where the Labour Party is responsible?" she asked.
Health is a devolved responsibility of the Labour-led Welsh government which, like its counterpart in Westminster, has been criticised over both funding and management.
Between 2009-10 and 2012-13, health spending was cut in real terms by about 3.6% in Wales.
During the same period, the English health budget was increasing, albeit at under 1% a year in real terms, which was less than the average yearly growth of 4% seen under the previous Labour government.
However, since 2012-13, health spending in Wales has increased from £6bn to close to £7bn in 2016-17. The Wales Audit Office notes an average 2.9% annual increase in real terms during this period.
This tops spending increases in England, which have averaged 2% per year since 2013. In fact, Wales now spends £64 more per person on health than England, according to HM Treasury.
Another thing to note is that while the Welsh government is responsible for deciding where money is spent, most of this money is allocated by Westminster.
While the Welsh government had almost £16bn available to spend in 2009-10, this had dropped to about £14.5bn by 2016-17, as allocated by the Barnett formula.
It is indeed up to the Welsh government how it prioritises that money, as Theresa May pointed out.
Missing targets
The prime minister was correct to state that targets are not being met in Wales.
Wales is performing worse than England at hitting the target of admitting, transferring or discharging patients within four hours of arriving in accident and emergency units.
In 2016, England performed better in key diagnosis areas such as hernia, pneumonia and heart disease, while waiting times for important procedures are shorter than in Wales.
Welsh patients have to wait three times as long for hip operations, for example.
But on other key procedures such as heart bypasses and kidney transplants, the waits were shorter. Cancer diagnoses were similar in the two countries.
If you can't see the NHS Tracker, click or tap here.