Funding the NHS: Is it finally time for a new approach?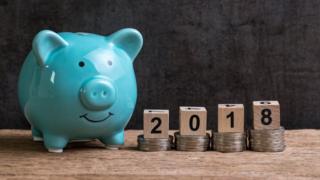 Even by the usual standards of New Year pressures, it has been a traumatic week for much of the NHS.
In England, an unprecedented call has gone out from NHS leaders that a month's worth of non-urgent operations and appointments should be postponed. That's been echoed in other parts of the UK.
The prime minister and the health secretary, responsible for the service in England, have apologised to patients.
There's a growing sense at a senior level at Westminster that enough is enough and that a new approach is needed. The events of this week, with stories of patients enduring long waits in ambulances and on trolleys in A&E, have reignited the debate about the future of the NHS and social care.
There is now significant momentum behind calls for a long-term cross-party solution. Taking the issue away from the heat of short-term political point-scoring is the aim of those who want a new consensus in the 70th birthday year of the NHS.
There was a significant intervention by Nick Timothy, formerly Downing Street joint chief of staff under Theresa May. He quit the post after the disastrous Conservative election campaign in 2017 but is understood to remain closely in touch with the Number 10 team around the prime minister.
No more party politics
In an article for the Daily Telegraph, he said the health system was "unsustainable" without structural reform and more money.
He also said the government had "little political space" for radical changes and called for a cross-party Royal Commission into the future of health and social care.
In an exchange on Twitter, Liberal Democrat MP Norman Lamb, who has called for some time for such an approach to the NHS, asked Mr Timothy whether it was worth having a discussion. Mr Timothy's response: "Any time, Norman. I'll drop you a line."
In November, Mr Lamb co-ordinated a letter to Theresa May signed by 90 MPs from the main parties including the Conservatives' Nicky Morgan and Andrew Mitchell and Labour's Caroline Flint and Frank Field.
In it they said normal party politics had failed to come up with a sustainable settlement and only a cross-party forum could deliver it.
Mr Lamb believes that a Royal Commission would take too long and more urgent talks are essential.
A new kind of tax
Sarah Wollaston, Conservative chairwoman of the Health Select Committee, is another advocate for a non-partisan debate. She has argued for transforming national insurance into a health and social care tax to provide more clarity to the public about where their money is going.
She believes there is a case for getting workers over the age of 40 to pay more income tax and for wealthier pensioners to pay more in contributions. In turn, the burden on younger workers might be reduced. It's an approach supported by Nick Timothy.
A ring-fenced tax for health and social care has been resisted in the past by the Treasury. Such a policy is known by economists as hypothecation. Opponents, including Treasury mandarins, believe it ties the hands of chancellors.
But, intriguingly, a former top civil servant at the Treasury, Sir Nick Macpherson, has come out in favour of a ring-fenced tax which is renewed every five years.
Even Health Secretary Jeremy Hunt has called for reform. In an idea first floated in a BBC interview, he made the case for 10-year health spending plans. He argued that the current system of spending reviews of five years or less does nothing to help the long-term planning which the NHS needs.
Public debate on money
Much of this thinking flows from the reality of a hung parliament. It will be very difficult for the Conservatives to get any significant reform legislation through the House of Commons.
Some are asking whether there is any point in the government going ahead with its planned policy paper on social care next summer when what is really needed is a joined-up plan for health and social care.
Labour frontbenchers are cautious about the idea of sitting round a table with the Conservatives and Liberal Democrats. They argue that this could be kicking the issue into the long grass.
There is a suspicion of Tory self-interest in wanting to take health out of the political arena. Labour's public position is that the government needs to make up for recent years of underfunding with a significant financial boost.
The idea of a consensus approach to the NHS is not new. It's been easy to dismiss in the past as naive and unrealistic.
But there is now significant movement in the political undergrowth. The advocates argue that only a public debate about what money is needed, how it will be secured and what the service should be expected to deliver will secure the future of the NHS as it moves from 70 to 80 and beyond.