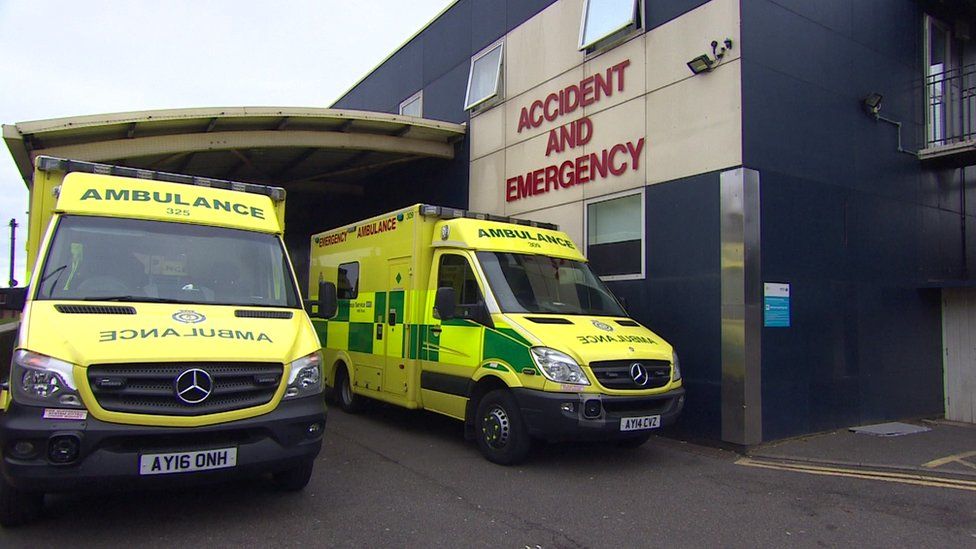 Winter is here, the NHS is under mounting pressure and national A&E targets are being missed. So how does Luton & Dunstable University Hospital consistently buck the trend?
Current figures show 98.6% of patients are treated, assessed or discharged within four hours in A&E, comfortably ahead of the 95% target.
Some in the health service question whether an obsessive focus on the 95% mark can distort performance and undermine patient care.
Others acknowledge that it's a valuable benchmark for monitoring the timely treatment of patients.
Luton & Dunstable took on the challenge of getting to the target and staying there from 2012 - but it didn't happen overnight.
Leadership was a key element in Luton & Dunstable's progress on A&E performance.
Pauline Philip arrived as chief executive in 2010 and let all staff know that the 95% target was a priority for the whole hospital.
As one doctor noted "she wouldn't ask anyone to do something she wouldn't do".
So if there was a problem late on a Sunday evening in A&E, she would come into the hospital to help remove any barriers in the system which might be impeding the treatment of patients.
Dame Pauline, who was honoured this year, realised the importance of partnerships outside the hospital.
She was ready to pick up the phone to the chief executives of local authorities to call for help in removing barriers in social care which might be preventing patients leaving hospital.
It was no surprise when Simon Stevens, chief executive of NHS England, asked her to head up national urgent and emergency care.
On secondment from Luton & Dunstable, she is at the centre of NHS England's effort to monitor the service's response to winter pressures.
Marion Collict, Director of Operations, Risk & Governance, has no doubts about the importance of drive from the top level of the trust: "Strong purposeful leadership and investment in people and the working environment has been key to the delivery of the emergency department target and it should be noted that the same purposeful leadership was also applied to the achievement of the cancer and 18-week targets."
Managing the flow of patients is carefully planned. Patients who could be appropriately treated by GPs are referred straight to an urgent care centre near the front door of the hospital.
The danger of overcrowding in the emergency department was recognised and the area was expanded to include the GP centre.
Senior doctors are on hand to decide whether some patients arriving can safely be sent away or encouraged to seek advice elsewhere, for example from a local pharmacist.
Management are insistent that this is a challenge which goes right across the hospital rather than being seen as an A&E problem.
If there are not enough beds available for new patients, delays build up in A&E.
Consultants and other experienced doctors are deployed to closely monitor patients who have been admitted to hospital from A&E with a view to moving them on when safe to do so, which is when freeing up beds as quickly as possible becomes the primary objective.
David Kirby, a senior consultant in emergency medicine at the hospital, sums up the approach: "We have a team of people dedicated to this process and serve only this emergency department to get through the hospital and the system and back out, so we can so we can see new arrivals and new emergencies"
Delays transferring elderly patients back into the community because of social care problems cause immense strain across the hospital system.
Luton & Dunstable has worked relentlessly with local authorities to minimise delayed discharges.
A senior member of the hospital staff with extensive social care experience assesses all elderly patients from the moment they are admitted to hospital.
She has access to money from the Better Care Fund (the vehicle designed to join up NHS and local council care) and can authorise spending to make it easier for older patients to recover safely from their conditions at home.
Staff from local health commissioning groups and local councils visit the hospital on certain days to go through the notes on every patient seen in the emergency department that day and then sent home following assessment.
The aim is to find out whether better care in the local community would have prevented them ending up in A&E.
Nobody at Luton & Dunstable is taking anything for granted.
They know that unexpected events and pressures can throw any hospital off course, especially in winter.
But with many other hospital managers beating a path to their door to find out how targets are hit, they are happy to pass on what they have learned over the last few years.