Welsh and Scottish health ministers call for folic acid in flour
By Katie Silver
Health reporter, BBC News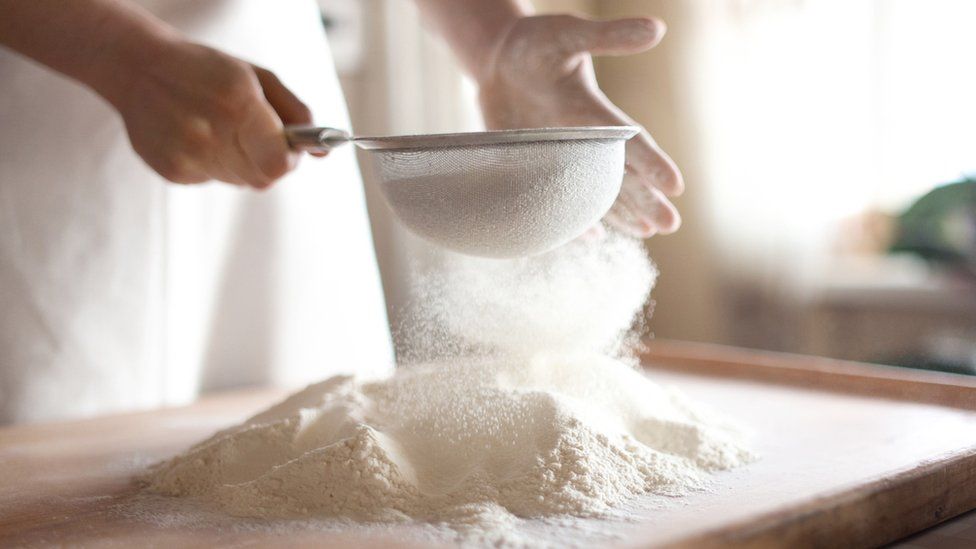 The Welsh and Scottish health ministers want Health Secretary Jeremy Hunt to make it compulsory for UK suppliers of flour to fortify it with folic acid.
In a joint letter, they argue this will help reduce neural tube defects, such as spina bifida, in unborn babies.
Figures from Food Standards Scotland show roughly four out of five women of childbearing age in the two nations are deficient in the key nutrient.
The US and 85 other countries already have a policy in place.
"There remains a compelling case for action across the UK to reduce neural tube defects incidence, particularly in the most socio-economically deprived areas."
Good sources of folic acid:
spinach, kale, Brussels sprouts, cabbage, broccoli
beans and legumes (e.g. peas, blackeye beans)
yeast and beef extracts
oranges and orange juice
wheat bran and other whole grain foods
poultry, pork, shellfish and liver
fortified foods (e.g. some brands of breakfast cereals - check the label).
Folic acid occurs naturally in dark green leafy vegetables but the findings found three-quarters of women across the UK don't get enough.
The ministers said their position is supported by the Department of Health in Northern Ireland, where 83% of women of childbearing age have folate deficiency.
Government advisers have recommended adding folic acid to flour for 18 years.
In the meantime, some food manufacturers have reduced the amount of folic acid they add to other foods, such as cereals, in anticipation of the fortification of flour.
A Department of Health spokesperson said they will carefully consider the recommendations and "respond in due course."
In Scotland, 158 babies were born between 2007 and 2011 who were suffering from neural tube defects while 131 pregnancies were terminated after these were detected over the same period.
A spokeswoman from the British Pregnancy Advisory Service (BPAS) also backed the call, saying: "We strongly support the mandatory fortification of flour with folic acid to reduce the incidence of neural tube defects in the UK, which often result in the termination of a much-wanted pregnancy.
"There are very few public health interventions which have such a strong evidence base as this one."
Andy Wynd from the charity Spina Bifida Hydrocephalus Scotland said: "The issue of flour fortification is particularly relevant in Scotland as more children are born with spina bifida in Scotland than anywhere else in the UK."
Citing research from other countries, Mr Wynd said that adding folic acid could reduce neural tube defects in Scotland by some 70%.
Related Internet Links
The BBC is not responsible for the content of external sites.