'Have a stoma and live or don't have one and die'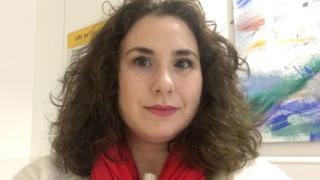 Imagine being told that you have a life-threatening illness. Imagine having to relearn how to carry out previously straightforward tasks such as using a public toilet. Imagine not only having to come to terms with all of this but also facing hostility because you have a hidden disability.
Natalie Toper from London knows all about this.
Three years ago, just before her 32nd birthday, Natalie was diagnosed with late-stage bowel and rectal cancer.
She was told she would need an ileostomy, an operation involving the small intestine being diverted through an opening - or stoma - in the abdomen. A bag is then placed over the stoma to collect liquid and waste.
The procedure can either be temporary or permanent.
Before she even met the stoma nurses who would provide support, she was simply handed a stoma bag sample and told she would need to wear one permanently, for the rest her life.
She had her operation in May 2014 - a date she commemorates each year with what she terms a "stomaversary" card.
Deciding to do her own research, Natalie was horrified, disgusted and angry.
"I felt like I was being punished for a crime I didn't know I had committed," she recalls. "But the choices were, 'Have a stoma and live or don't have one and die, and die quickly.'"
Natalie opted for the former but discovered some new challenges, such as travelling on crowded public transport, especially when trying to get a disabled seat.
Another is the need to carry around a large amount of sanitary equipment when out and about. As well as a stoma ring, which protects the skin, and a bag, the kit may include medical grade wipes, skin protector and a rubbish bag.
Finding somewhere hygienic to change is often a major problem.
The mother of one says she often faces hostility when trying to use public disabled toilets.
Natalie explains: "Each and every time I have been met with verbal and physical abuse by both the able-bodied and visibly disabled communities, for trying to access facilities I am fully entitled to use."
This has ranged from being manhandled to being rammed by disability-scooter users.
She continues: "Every stomite [a person who wears a stoma] I have spoken to has experienced similar situations to myself. One of my friends even stopped going out because of the abuse."
Natalie tries to get around this problem by drinking less and making sure she has put on a clean bag before going out.
However, the most difficult challenge to deal with is dating as Natalie never knows how or when to say she has a stoma.
"If I am upfront and say I have a stoma at the beginning of a relationship, and explain what one actually is, men will turn their noses up and walk away," she says.
"If I wait a while, I get accused of taking the decision to date someone like me away from them, and again they walk."
In a bid to change attitudes, Natalie has started a petition for stoma signs to be added on to disabled toilets.
Conditions are starting to improve slowly. An example is the supermarket Sainsbury's promising to make its toilets more inclusive for their customers with stomas.
Natalie says she fears if she doesn't campaign on the issue, no-one else will.
By Bernadette McCague, UGC and Social News team